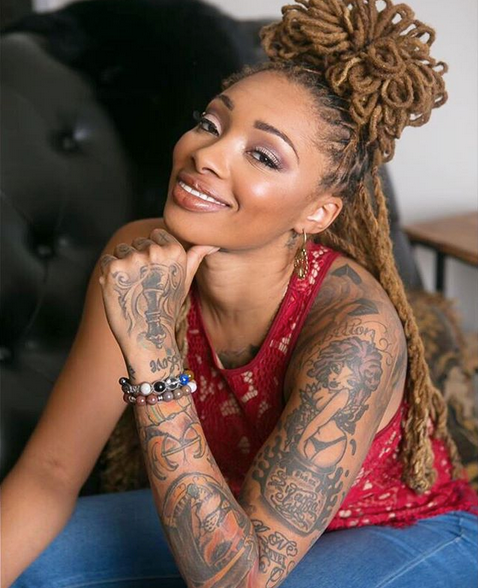 Dutchess isn't playing ANY games with anyone starring or producing "Black Ink." Chick whipped out a million receipts and exposed TF out of EVERYONE. Get it all inside…
Chile…..
Sit down for this one because its MANY THINGS.
"Black Ink" just premiere its newest season and the first episode said Dutchess' name so much we thought she was going to pop out somewhere. But that wasn't the case. Why? Well, she's no longer on the show.
The rumor mill claims she was FIRED, but chick has RECEIPTS that she quit. And that's not all the receipts she has in her arsenal. She legit rolled up to the intervoew with a full on book of them.
The former "Black Ink" star stopped by Power 105's "The Breakfast Club" to address all the rumors that are swirling around about her. And she has the PROOF to back up everything she said.
For starters, Dutchess claims the production company, Big Fish, does whatever they can to get ratings, including trying force Dutch to either marry her ex-fiancé Ceaser or break up. Yep, they gave her THAT ultimatum.
Dutch wasn't with it, along with several other things, so she QUIT. And here's the proof:
Oh, and there's more….
The Pretty In Ink honcho said Ceaser did NOT GIVE her the shop she owns in North Carolina like he claimed in a previous interview. Chick pulled out paperwork to prove his name isn't on ANYTHING for her shop and seemingly never was.
Since she no longer wanted to be on "Black Ink," she said Big Fish offered to give her spin-off show that she turned it down. She had receipts for that as well.
Speaking of shops, she NEVER sent any legal documents gunning for HALF of Ceaser's "Black Ink" empire because she's well aware you have to actually be married to be entitled to anything. Bloop! 
That time she caught Ceasar cheating in an earlier season, she said production had to use a producer to pretend like she was the woman her ex was cheating on her with. The actual woman he was cheating with sent a cease and desist where they could NOT mention her name on the show. So, one of the female producers filmed a scene kissing Ceaser.  Gross.
As for all the homes we see the cast in on the show: They're all Airbnb homes. (Does this go for the Chicago cast too?  Because...)
She said when they first started filming, she allowed production to film in their home, but they tried to play her. She said Ceaser's cousin was staying with them and was sleeping on an air mattress. When the footage was shown on television, producers/editors made it seem like she and Ceaser were actually sleeping on the air mattress and that's when she decided they could no longer film in their home.
One reason Dutchess didn't want to marry Ceasar was due to the fact that he owed so much child support. She said while they were together, she paid up to $20,000 in child support payments. And chick whipped out the actual receipts to prove she paid it. She is better than us.
No surprise here. She revealed Ceaser and her former co-star Sky lie for storylines. And then she got into the interview Sky's son did with Gossip Viv inside of her tattoo shop. Dutchess said Sky's son Genesis and his father Alton came to her shop and asked to have their story heard. She didn't seek them out for the interview.
Also, Dutchess claims Sky lied about giving her kids up for adoption (they were taken) and she LIED about having twins. Sheesh!
Team tooooo much.
Take a listen to the FULL interview and sip this tea cautiously:
Thoughts?
Photo: Dutchess' IG