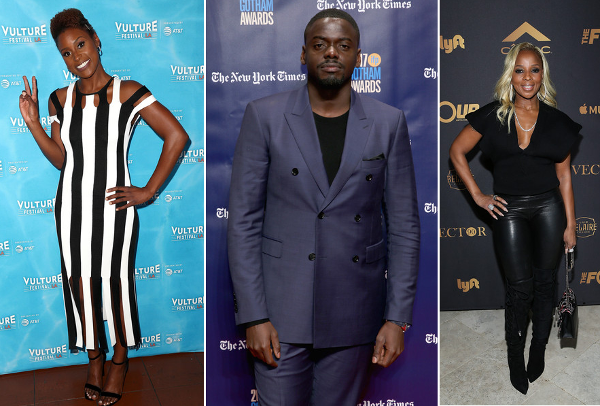 The Golden Globes are on the borderline of getting their own #SoWhite campaign, but the YBF folks who did nab a nomination are thrilled AF. Find out who's headed to the ultimate movie & tv award show red carpet inside...
Come thru with the second nomination, Issa Rae! Our fave "Insecure" chick nabbed her second Golden Globe nomination as lead actress in a comedy series.  Yassss!  Both she and her on screen bestie Yvonne Orji celebrated saying:
Thanks for the congrats, everyone! Much love to my #InsecureHBO family & congrats to the other nominees! #GoldenGlobeshttps://t.co/ZLMoyq11v0

— Issa Rae (@IssaRae) December 11, 2017
Yeeeeeeaaaassssssssss @IssaRae! 2-Time Golden Globe Nominee for @insecurehbo!!!!! Turn upppp!!!! Congrats to alllll the nominees thus far!

— Yvonne Orji (@YvonneOrji) December 11, 2017
Issa was nominated last year in the same category, so hopefully this second time is the charm.
Director Jordan Peele didn't get a Best Director for a Comedy nod like he TOTALLY should have, but his flick Get Out is officially nominated for Best Picture in the Comedy or Musical category (that category choice was a strategic move that clearly paid off). And lead actor Daniel Kaluuya also nabbed a nomination for Lead Actor in A Comedy or Musical.
I'm so damn proud of Daniel and the cast and crew of GET OUT for these nominations!

— Jordan Peele (@JordanPeele) December 11, 2017
Daniel's co-star Allison Williams is celebrating as well:
Mary J. Blige landed two nominations - one for her supporting role in her new movie Mudbound, and one for her original song "Mighty River" from the film. She was also nominated in the Best Original Song category in both 2007 and 2012, so let's see if she can pull it out this go round.
Mary caught up with Entertainment Weekly right after the noms were announced Monday morning.  Here's what she said:
MARY J. BLIGE: Oh my god, it feels amazing! I can't stop thanking God. I can't stop praising God. I can't stop being happy. I'm just so grateful — too grateful. It's a beautiful thing.

Where were you when you found out about your nominations?
I was in bed. I'm in L.A., so it's early still.

Did someone wake you up with the news?
No, my publicist was blowing me up, and I answered the phone. She excitedly told me everything, and I just woke up screaming and thanking God.
Nice!
While Tracee Ellis Ross got snubbed this year (even though she's killing it as new mom again Rainbow on "black ish" this season), the hit ABC series got another nominaton, and so did Anthony Anderson.
YEESSS!!! Congrats to the entire @blackishABC family and @AnthonyAnderson! See you at the #GoldenGlobes! #blackishpic.twitter.com/2r6R8bfVSg

— Tracee Ellis Ross (@TraceeEllisRoss) December 11, 2017
Congratulations to my #blackish family on our @goldenglobes nominations. Thank you to everyone that has watched and supported our show every week for the last 4 seasons! We could not have done this without you! #justakidfromcompton#goldenglobespic.twitter.com/cFISxGOAig

— Anthony Anderson (@anthonyanderson) December 11, 2017
Speaking of leading men nabbing tv nomination, we hope Sterling K. Brown has it in the bag this year:
He came, he saw, he conquered. Our hats are off to @SterlingKBrown! #GoldenGlobes#ThisIsUspic.twitter.com/CY9X04YRHh

— This Is Us (@NBCThisisUs) December 11, 2017
The "This Is Us" star was nominated for his Best Supporting role as Chris Darden in The People vs. O.J. last year. The show itself nabbed a Best Drama Series nomination as well. Definitely well deserved.
So proud of our #ThisIsUs fam (including @SterlingKBrown and @ChrissyMetz for their noms)! Can't wait to get all gussied up and hang at the #goldenglobes. https://t.co/OeWT2QbVdq

— Mandy Moore (@TheMandyMoore) December 11, 2017
Congrats to my @NBCThisisUs family and to @SterlingKBrown and @ChrissyMetz for the @goldenglobes noms! Good news indeed!!

— Justin Hartley (@justinhartley) December 11, 2017
I can't believe it! Congratulations to all the nominees, especially our @NBCThisisUs family AND @SterlingKBrown! https://t.co/PCMaBu70ws

— Chrissy Metz (@ChrissyMetz) December 11, 2017
No blacks were nominated in the director category (no women either) or in the leading actress categories. 
A few other YBF folks will be twirling down the 2018 Golden Globes red carpet.  Denzel Washington nabbed a nom for his leading role in the drama Roman J. Israel, Esq., Raphael Saadiq shares the Best Original Song nomination with MJB, and Octavia Spencer was nominated for Best Supporting Actress in the drama Shape of Water.
Congrats all around!