Cam'ron opens up about his failed relationship with JuJu after 10 years of being together. Find out what the nail in the coffin was, plus what Ashanti says about how Murda Inc.'s federal indictment drama hurt her career and her what she thought about her ex-boyfriend Nelly being accused of rape inside...
10 years down the drain.
Cam'ron and JuJu were in a serious relationship for 10 years, but they have since called it quits.
The reason? Well, there are two main reasons.
According to the Harlem native he said the relationship "wasn't fun anymore" and he also said social media came between them while chatting with Power 105's "The Breakfast Club."
Apparently, Cam and JuJu broke up earlier this year claiming the split was "mutual." He said he told her the relationship just wasn't fun for him anymore and that it was nothing like how it used to be when they first got together. He blamed Instagram as the culprit for many of their arguments.
http://i64.photobucket.com/albums/h164/ybfchic/December%202017/camjuju.jpg

"It was kind of mutual," the rapper explained. "For me, it just wasn't fun anymore. When Instagram came out, it was fun in the beginning and then it became serious. [Juju would say] 'Why you following her?' Or, 'You like that person picture,' or 'People are saying this.' And I'm like, 'Yo, you gotta be my best friend for because that's what I'm in it for.' … It just stopped being fun and I think she felt that way too."
He said in the beginning of their relationship JuJu was his bestfriend. As the relationship went on, she stopped being that for him.
"Once Instagram came out, I'm the one who was promoting her and marketing her, showing her body and showing people how beautiful she is, like, 'Look, I got a beautiful woman,' without being too untasteful about it to me," he continued. "Basically it just stopped being fun."
So did JuJu starring on "Love & Hip Hop" have anything to do with their uncoupling? Nope. He said his lawyer is the one who negotiated her deal on the show and he nabbed her the highest paid contract of any new cast member.
Outside of JuJu questioning Cam about his Instagram antics, there was also a situation that went down between the "LAHH" star and a chick named Roxxi. Apparently, Roxxi is one of Cam's "homegirls" and she got wreckless on social media towards JuJu. Cam decided to stay out of the drama and JuJu felt some type of way about it. Hmph.
However, Cam said he doesn't have any hard feelings against his ex-girlfriend. When asked why not just stay in a relationship with her, he explained, "it's just not fun anymore."
Find out what he said about JuJu at the 21-minute mark, plus why he and Mase are beefing below:
In another recent interview...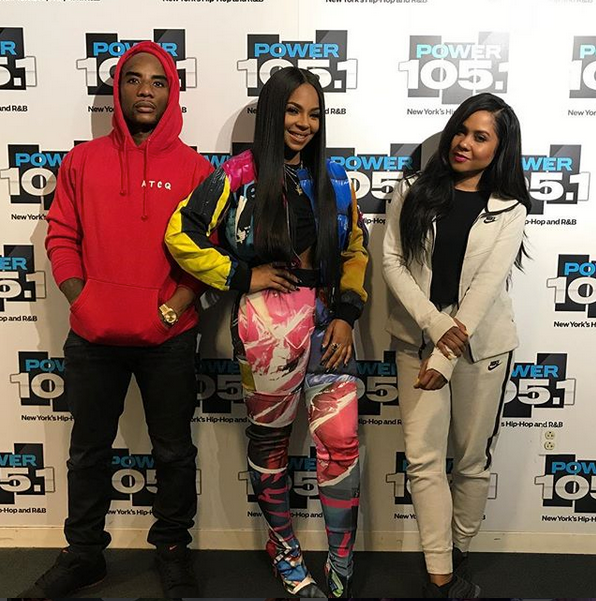 Ashanti has a new single she's promoting, "Say Less," and has a new album coming out in 2018, so she has been doing interviews all over NYC.
The R&B songbird, who currently on tour, stopped by Power 105's "The Breakfast Club" to chop about her relationship with Murda Inc., her ex-boyfriend Nelly's rape allegations, and whether a regular guy would have a chance with her.
During the interview, the "Say Less" singer said the federal indictment against the Murda Inc. label put a damper on her career an image. She said she had nothing to do with the indictment, but brands were dropping their contracts with her. "I was guilty by association," she explained. However, she and Ja Rule are closer now than they have ever been.
With sexual harassment allegations running rampant in the industry, Shanti spoke on how a famed producer tried to play her. He presented all of these free things for her if she decided to go out with him. She declined, so he began asking her for thousands of dollars for his services. She said she had to get her "big brothers" involved to settle it.
As for whether a "regular" guy has a chance with her (i.e. a UPS worker,) she responded, "A guy that's not in the in music industry? I don't know. I don't know if a regular guy would be able to understand the industry. An industry dude doesn't even understand the industry. It's hard."
Speaking of relationships, she was asked her thoughts on the rape allegations that were brought up (and then dropped) against her ex-boyfriend Nelly. She responded, "Say Less."
Oh, and get this. Jay Z was originally supposed to be on Ashanti's "Foolish," but Murda Inc. honcho Irv Gotti decided to drop Hov from the track at the very last minute.  Irv told her she needed to do this one solo. Not only that, Shanti was supposed to be featured on Fabolous' "So Into You," but Irv took her off of it. Bloop!
Peep the interview below:
Photos: Instagram