Weeks after LiAngelo Ball was "suspended indefinitely" by UCLA after his stupid crime he committed in China, he's now being yanked out of the school by his helicopter dad.  Deets inside...
That's a wrap for LiAngelo Ball at UCLA.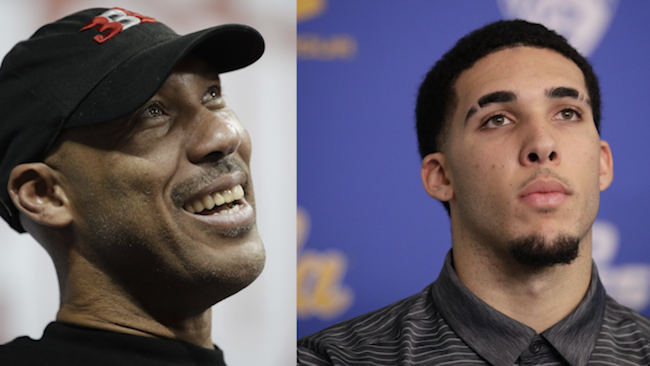 The middle Ball brother was following in his big brother Lonzo Ball in doing a one-and-done at UCLA before entering the NBA Draft, this according to his very loud (some may argue extra supportive) father.
Once he was suspended indefinitely, his career at UCLA became pretty much impossible.  Seeing that to qualify for the NFL Draft you have to be both over 18 AND one year removed from college, it put the Ball in a pickle about what to do next.  But it definitely is the most logical prediction Lavar would yank Gelo out so he could play elsewhere while awaiting NBA qualification.
Today, Lavar announced LiAngelo is not going back to UCLA, because he's being punished worse than he was in China.
Oh really?!
"I'm not sitting back and waiting," LaVar Ball told ESPN. "He wasn't punished this bad in China."

"We get back over here and the consequences were even stiffer than China. So basically they're in jail here."
Lavar says he hasn't figured out where Gelo will play next, but he's extra confident he can do a better job of preparing him for the NBA than college.
 

"I'm going to make him way better for the draft than UCLA ever could have," he said. "He's not transferring to another school," he told ESPN. "The plan is now to get Gelo ready for the NBA draft."
Oh?!
There were already doubts about his eligibility for the league with LiAngelo and both of his brothers ignoring NCAA rules and seemingly endorsing their own sneaker brand Big Baller Brand.  As for how they're going to get around all this other drama on top of that, time will tell.  But y'all know Lavar aint never letting up...
Also, LiAngelo seems to be just fine after the suspension. He was loved up with his girlfriend Izzy Morris on his 19th birthday last week:
Photo: USA Today Sports/AP