Zendaya is kicking off 2018 with a FAB new cover on InStyle's January 2018 issue. Meanwhile, Deb Antney is dropping gems for the ladies on how to make a come up. Deets inside…
Zendaya is kicking off 2018 InStyle!
The 21-year-old actress, who stars in the upcoming film The Great Showman, is gracing the cover of InStyle magazine's January 2018 issue. And she's a sight for sore eyes.
The gorgeous starlet beams in a turquoise and pink velour set by Chloé, serving up 70s realness with her Diana Ross-esque hairstyle.
Inside, the young activist touched on what everyone has been talking about lately: sexual assault in Hollywood.
"The bravery of the women who came forward is a huge step toward making sure it's safer for me and other young women who are just coming up," she said "I'm at that prime age right now. Twenty-one. Starting off. That's when people take advantage and abuse their power and do terrible shit. I think it's definitely a sisterhood."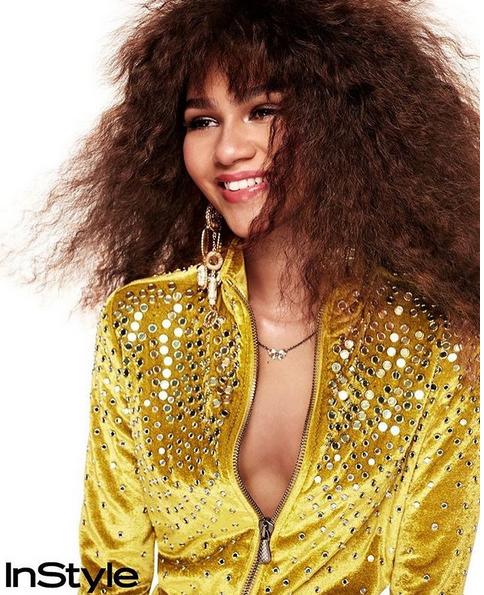 Outside of acting and singing, Daya is a force to be reckoned with in the fashion industry. She's already released her own apparel collection and shoe collection alongside her stylist and friend Law Roach, Daya by Zendaya. Now, she's working on a unisex fashion and accessories line.
When it comes to fashion, the sky is the limit for Daya.
"I just felt that if I'm going to do a clothing line, that's the only way I see it being done. That's the future of fashion," she says of making the brand gender-nonspecific.
We're looking forward to see what designs she comes up with. Read Zendaya's full interview here.
Get into Daya's fashion must-haves below:
In other news...
Deb Antney is no stranger in the music industry. She has helped launch careers for some of the game's biggest stars like Nicki Minaj and her own son, Waka Flocka.
The "Love & Hip Hop: Atlanta" star sat down with "Sister Circle Live" to offer up a few tips for women looking to get into the industry. And it doesn't include "sleeping your way to the top." In fact, it's the total opposite.
"Legs closed, and pocketbooks open. It's time to get back to get back to the business ladies," she shared.
The Hip Hop manager said we've lost our households, children and men because we're focused on the wrong things…like plastic surgery. Peep the clip above.
Thoughts?
Photos: InStyle