Black singer Antonia Jenae claims billionaire Richard Branson sexually assaulted her on his island and he offered up a lame a** apology. Meanwhile, Terry Crews is speaking out after the Hollywood executive he accused of groping him returned to work. Deets inside...
These sexual assault allegations against high-profile men are coming out left and right.
Backup singer Antonia Jenae has come forward to reveal billionaire Richard Branson had the nerve to fondle her breasts after a party on his island. The #MeToo movement prompted Antonia, who once sang backup for Joss Stone, to speak about how she was sexually assaulted throughout her life and one incident happened at the hands (or face) of billionaire Richard Branson.
In a lengthy Facebook post, Antonia claims Richard took it upon himself to stick his head in between her breasts and "motorboared" them after he tried to convince her to show him her boobs like this Indian statute he had at his pool on his island. She went to Richard's island after performing at a Joss Stone concert in 2010.
"I took it as a 'joke'. As everyone was saying goodnight, he proceeded to 'motorboard my breasts with his face, In front of my boss at the time, who was also a woman, in front of her dad, and the makeup artist and hairstylist. I was so shocked. I think everyone was, no one said or did anything."
Here's her full post below:
Sounds about right. No one ever comes to the aide of a black woman.
A spokesperson for Richard addressed the alleged assault, claiming the billionaire doesn't even remember the incident happening. Of course he doesn't.
"Richard has no recollection of this matter. Neither do his family and friends who were with him at the time. There would never have been any intention to offend or make anyone feel uncomfortable. Richard apologizes if anyone felt that way," the spokesperson said.
What a weak a** apology!
Speaking of assault...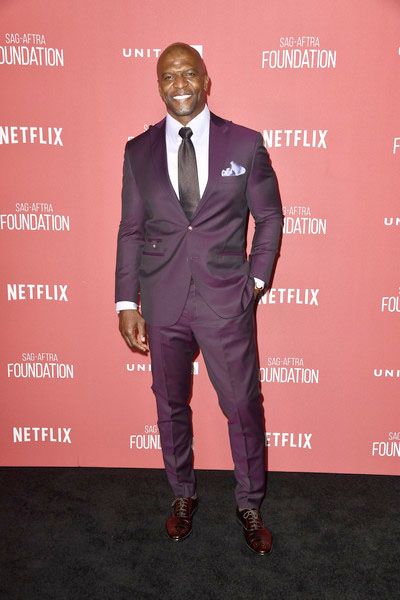 Terry Crews opened up recently about being groped by high-profile Hollywood executive Adam Venit during a party last year. Now, he's responding to news that the exec has returned to work after he was suspended for a month from the William Morris Endeavor (WME) talent agency.
The "Brooklyn Nine Nine" actor tweeted:
SOMEONE GOT A PASS https://t.co/yLPwpWGtT8

— terrycrews (@terrycrews) November 27, 2017
Following that tweet, Terry shared a letter written by co-CEO of WME Ari Emanuel in which Emanuel "demanded" that Mel Gibson be black-listed following the actor's anti-Semitic remarks. It was published by The Huffington Post in 2006. Terry claims he sent the same letter to Emanuel updating the name to be about Adam Venit:
Copy of the actual @HuffPost letter I gave @AriEmanuel in which he DEMANDED Mel Gibson be blacklisted for anti-Semitic remarks.

I exchanged Adam Venit for Mel, and sexual assault for anti-Semitic.

He said "it's different" and handed the letter back to me. pic.twitter.com/7wwt4nskEU

— terrycrews (@terrycrews) November 27, 2017
Hmph.
After coming out about the incident on social media, Terry filed a report with the Los Angeles Police department in November. During an interview with "Good Morning America," he opened up about why he took so long to come forward, saying,
"When the [Harvey] Weinstein thing started happening, I got PTSD. I was going, 'Oh my god, this exact thing happened to me. I understand why they won't come forward.' And I'm gonna tell you, a lot of times people go, 'Why didn't you come forward sooner?' When a person of forward breaks that boundary and violates that boundary, you're a prisoner of war."
Props to Terry for following through on this and proving that sexual assault can happen to ANYONE.
Photos: Getty