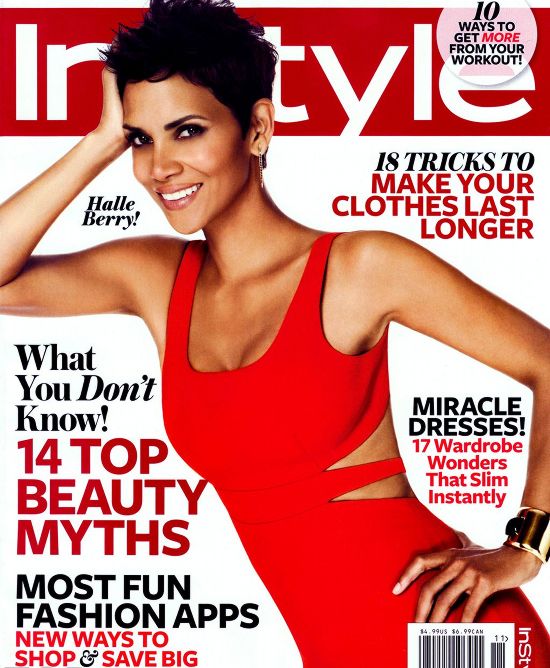 Halle Berry is red hot for the November 2012 cover of InStyle magazine.  The YBF chick, rocking a ruby Calvin Klein Collection cut-out dress and a gold Jack Vartanian cuff for the cover, is flaunting how she doesn't age a bit.  Check the cover & an inside shot....
The Oscar winner is starring in the upcoming movie Cloud Atlas (Oct. 26th) alongside Tom Hanks, and she's channeling her effortless sexy for the cover and pages of the upcoming issue of InStyle magazine.
In the sexy inside shot, Halle's rocking head to toe black with an Hervé Léger by Max Azria swimsuit, Calvin Klein Collection leather pants, Azzedine Alaïa gloves and Manolo Blahnik suede pumps.
The 46-year-old mom to Nahla Ariel dished on her husband-to-be and trusting her instincts.  A few highlights:
On her biggest regret

"Throughout my career I have been talked out of things I wanted to do, and when I look back I think, I should have followed my instincts."

On why fiance Olivier Martinez is different from other guys

"I'm a hopeless romantic, and I won't stop till I get it right!  [Olivier's] silly, a clown, and very much the life of the party, which is good for someone like me.  Danny Downer…been there, done that. Now I like Louie Lightfoot!"

On her outlook on aging

"Don't stress about your age or fight it. Appreciate the young women who look like you once did, but don't strive to be like them. You're moving into a new phase of your life—embrace it. That's what I hope to do."
The issue hits stands October 19th.  Gorge!
Photog: Giampaolo Sgura