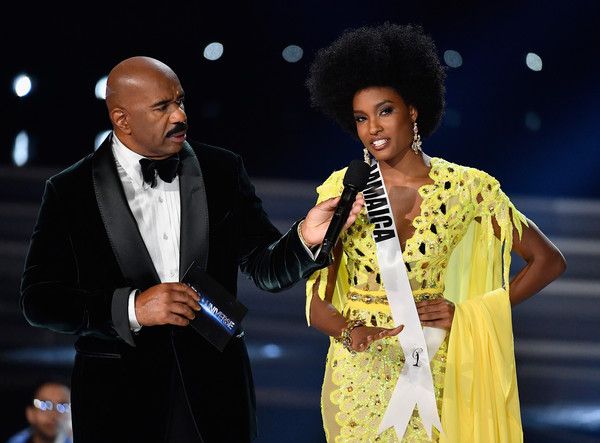 The Miss Universe Pageant seems to always come with some type of drama, and this year was no different. Deets inside…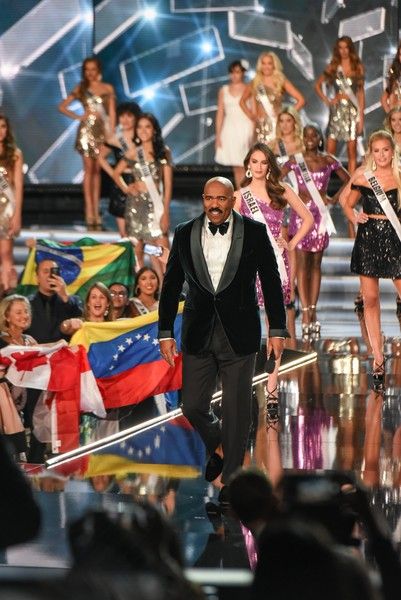 Thankfully, Miss Universe host Steve Harvey didn't cause any drama during last night's big Miss Universe 2017 pageant. But, that doesn't mean there wasn't any.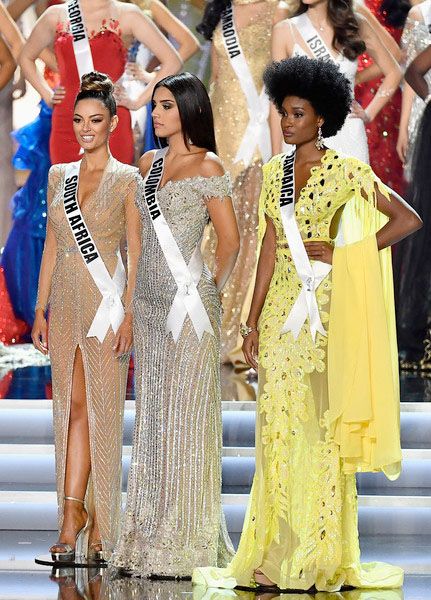 Let's talk about the winner situation since that seems to be the hot topic after the ceremony.
Miss South Africa Demi-Leigh Nel-Peters (above, far left) won the 2017 crown, beating out 91 other contestants all fighting for the crown. If you took a peek at social media during the show, it was clear who the fan favorite was and we're not just saying this because she's black. Literally all of social media was gushing over Miss Jamaica Davina Bennett's fabulousness and effortless beauty.
We mean, look at her:
The 21-year-old Jamaican beauty, who is pursuing a degree in marketing at the University of the West Indies, was fierce, bold and uber gorgeous.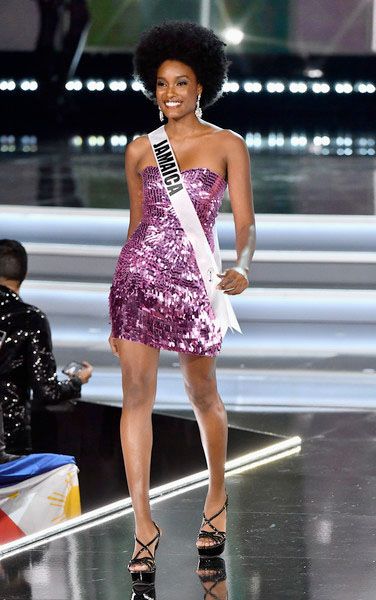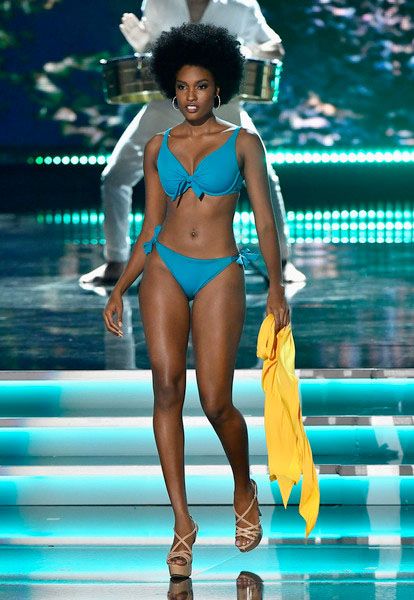 Dear @missuniversejam, You were the real winner tonight. Pure class. #MissUniverse#MissJamaica#Flawlesspic.twitter.com/5kH1fcVCEz

— Kevin Nadal, Ph.D. (@kevinnadal) November 27, 2017
BOOM! #MissUniverse#Jamaica Davina Bennett advanced to top 5. She looks stunning in evening gown. @Davina_Bennett_

(Courtesy of FOX) pic.twitter.com/cxBo5DRQEq

— Team Jamaica (@JamaicaOlympics) November 27, 2017
Breathtaking.
Not only was she gorgeous, she gave a killer answer during the Q&A portion of the show:
"The most quality that I am most appreciative of is my drive, my determination. I am the founder of a foundation that spreads awareness for the deaf community, and this platform is such a great platform to let persons know that these persons need opportunities and need equal opportunities as those in society. And so Miss Universe competition will be the platform for me to use this foundation to spread awareness for all the deaf and mute around. Thank you."
But, that wasn't enough for the judges.
Miss Jamaica ended up becoming the 2nd runner up and folks in the crowd weren't happy about it. Hear them boo below:
Folks on Twitter weren't happy about it either, saying she was robbed of the crown:
Literally me when they announced #MissJamaica as 2nd runner up. I'm so disappointed! #MissUniversepic.twitter.com/TEjTJ8nvgz

— simple_enigma (@ibrooks84) November 27, 2017
I just wanna say Miss Jamaica was robbed

— cristina (@cristinnnaaa_) November 27, 2017
When you stay up three hours after yuh bed time watching Miss Universe just fi see dem tief Jamaica crown pic.twitter.com/CnyuviBLmQ

— darth buddha (@Neauxp) November 27, 2017
We agree.
However, Miss Jamaica was grateful for the experience:
Then, there was some judging drama before the actual show as well.
Before the Miss Universe pageant, there was drama with one judge ONLY following Latina contestants on social media. RED FLAG! Of course, people are going to think Judge Lele Pons would be bias in her judging of the contestants being that she was only following Miss Mexico, Miss Venezuela and Miss Colombia. It's reported, pageant officials told Lele to unfollow the ladies as it compromises the competition. And she did.
There's that.
Photos: Getty