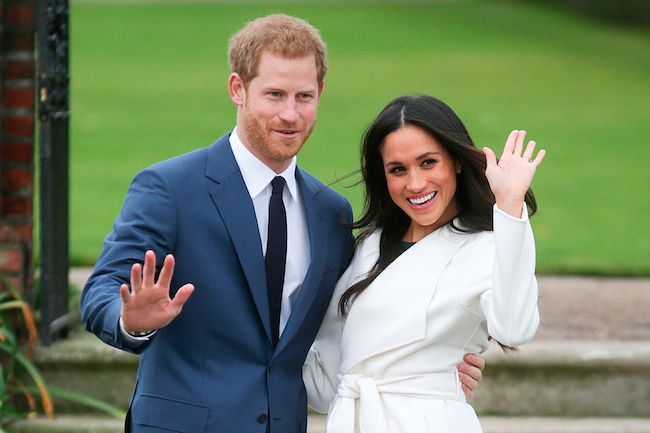 Get your Awwwws and Swoon-faces ready, because Meghan Markle and Prince Harry just made their first post-engagement appearance together. We've got them in all their love galore in their first photocall together. And the reactions to this Royal Engagement have us like YASSSSS! See it all inside...
Before their spring 2018 wedding, we were just blessed with a super cute engagement shoot photocall with the newly engaged Prince Harry & Meghan Markle.
It's not every day black girl magic gets injected into the Royal Family, so we're all the way here for these super cute pics of one of our fave couples. The humanitarian couple made an appearance in a garden outside Kensington Palace just minutes ago where plenty of photogs were waiting to snap their pics. And yes, we got a glimpse of her ring.
Meghan stepped out in a fab white coat from Canadian company Line The Label and an emerald P.A.R.O.S.H. dress, and was understandably smiling from ear to ear. Wouldn't you be?
Harry was asked by a photographer, "How did you know she was the one?" His response: "The very first time we met."
*Squeals*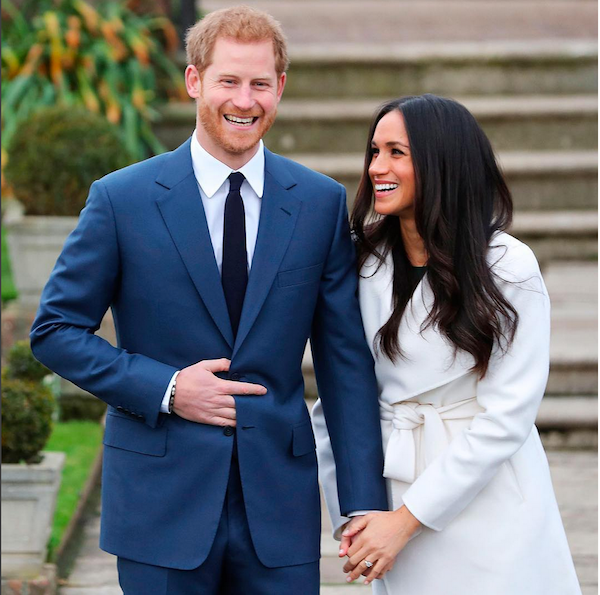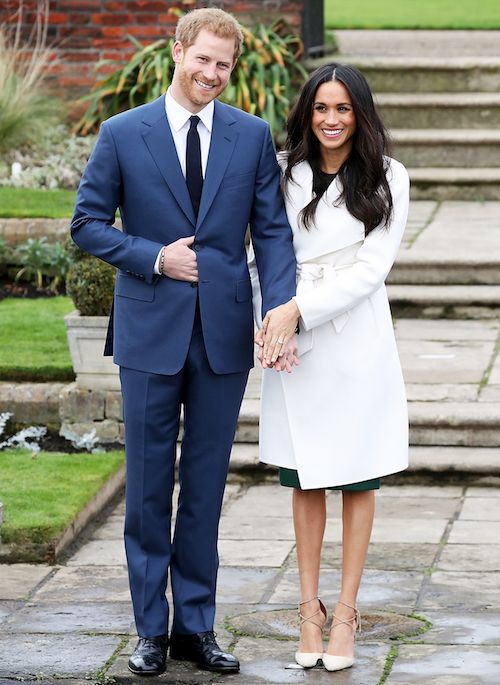 Thank you for all the well wishes around the world #MeganMarkle#PrinceHarrypic.twitter.com/Ky89cCFdaF

— Prince Harry (@HRHHenryWindsor) November 27, 2017
Thrilled and happy #PrinceHarry#MeganMarklepic.twitter.com/nCeL67rovV

— Prince Harry (@HRHHenryWindsor) November 27, 2017
And most importantly, the ring details. Meghan's engagement ring is a custom design by the groom himself.  It's a mixture of a Botswana diamond and two diamonds from Princess Diana's collection:
Prince Harry designed Markle's engagement ring with a main stone from Botswana – a place with personal significance for both, according to Kensington Palace.

Two other stones are from Princess Diana's personal collection. https://t.co/QiuhXmivebpic.twitter.com/1aoVd9iIRc

— NBC Nightly News with Lester Holt (@NBCNightlyNews) November 27, 2017
Beautiful.
As we prepare our black AF Royal Wedding viewing party outfit, everybody's losing their sh*t on Twitter. These reactions: Everything.
ISSA WIN. Her mom has dreads for Christ's sake. WE CAN ALL BE ROYAL FAMILY PRINCESSES NOW! https://t.co/6ED7mCYCWk

— Kamie Crawford (@TheRealKamie) November 27, 2017
the monarchy is a relic of colonialism that—
[reads headline]
GO PRINCESS! BLACK PRINCESS! [hits ferocious cabbage patch] BLACK PRINCESS! BLACK PRINCESS! https://t.co/iOf0cupqsM

— wikipedia brown (@eveewing) November 27, 2017
First we had a black President & now we have a black woman (#MeghanMarkle) joining the British Royal Family! Even though people like Trump try their best to prevent those of African decent from rising to the top, nevertheless they persist! Congrats to Prince Harry & Meghan Markle

— Ed Krassenstein (@EdKrassen) November 27, 2017
I'm gonna skip the obvious "Harry's father and stepmother are both divorced" and get right to the point.

It really burns some people up inside that Prince Harry is marrying a Black woman. Tell me I'm lying. https://t.co/WwPOPNoqgu

— Blacks Eisenhardt (@AndrayDomise) November 27, 2017
Meghan Markle's awesome parents. https://t.co/36iO4AnJHS

— Saeed Jones (@theferocity) November 27, 2017
Okay but real talk, the black women church hats facing off with the Brit women hats at Harry and Meghan's wedding is gonna be epic. https://t.co/G9D9bcV1Sp

— Atima Omara (@atima_omara) November 27, 2017
Go #MeghanMarkle! #BlackGirlMagic!

— Touré (@Toure) November 27, 2017
Prince Harry: "Good luck, and don't f*ck it up." #AM2DMpic.twitter.com/seLJMzJ22d

— AM to DM (@AM2DM) November 27, 2017
Photos: Getty