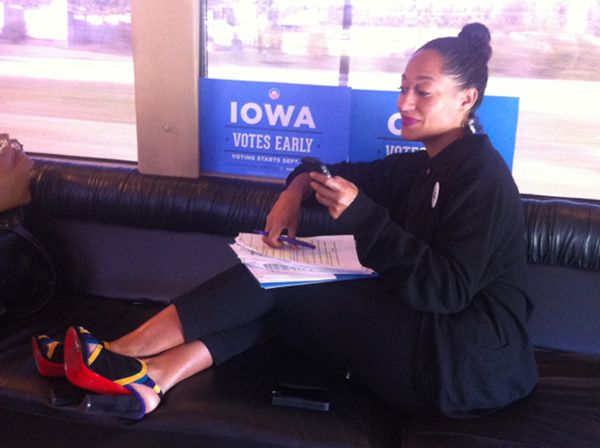 TheYBF.com caught up with fab chick Tracee Ellis Ross while she hit the campaign trail for President Obama in Iowa.  She decided to put her efforts into the battleground state of Ohio and get young YBF folks to vote early.  Check out why she tells us she's voting for Mr. President, and check out what Jay-Z has to say about voting inside...
Actress Tracee Ellis Ross is putting her celebrity to good use.  Last week, she rode into Ohio to make sure the votes swing in favor of Obama. 
With people in the state already voting, Tracee hopped on the DNC/Obama For America "Gotta Vote" Bus Tour.  She traveled to Dayton and Columbus to encourage voters to take advantage of early voting and make sure they are registered to vote.
Tracee dished to TheYBF.com exactly why she's taking on the responsibility.
On why she's hitting the campaign & voter registration trail
"So I'm speaking up and volunteering because I care about the people in my community and this country, because I care about Human Rights, Civil Rights and Women's Rights, because I know how important this election is."
On why President Obama is the best choice for women
"And this election is HUGELY important for women. This is an area I feel very passionate about. President Obama gets it. He believes women should be able to make decisions about their own bodies."
On the importance of voting
"The act of voting is one of the ways that you stand up and say that you matter, that you claim that you are enough to make a difference, that you say I know what's at stake, it affects me and I have a voice."
More pics of the former "Girlfriend" with students from Wright State University in Dayton, OH:
Nice!  By the way, she just launched her own website about her obsessions around fashion, hair and everything else.  Check it HERE.
Mr. Brooklyn is dropping his own knowledge and opinions on why exercising your right to vote is better than letting others make decisions for you.  Check out his brand new campaign video done by the Obama team here:
About President O, Jay said:
"For so long, there was this voice that was silenced out there as far as exercising your right to vote. I think it was a voice that was silent because people had lost hope. They didn't believe that their voice mattered or counted."

"Now people are exercising their right, and you are starting to see the power of our vote. He made it mean something for the first time for a lot of people."
Agreed.
BONUS: First Lady Michelle Obama repped for her Presidential husband today by tweeting her pic of her absentee ballot: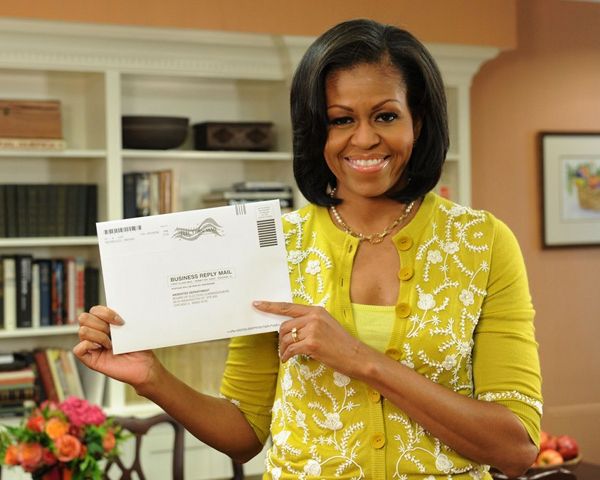 She tweeted, "Hey, @BarackObama, I just dropped my absentee ballot in the mail – I couldn't wait for Election Day! Love you! –m"
Ugh.  The level of cuteness...