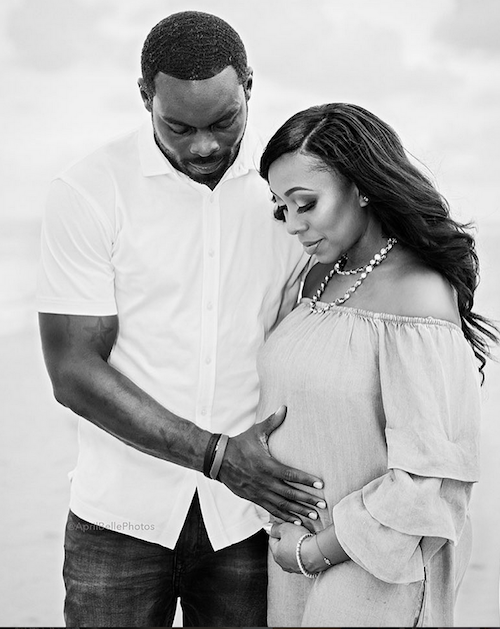 The Vicks just welcomed their new baby boy!  See the super sweet first daddy-son pic inside, plus big baby news from our fave gymnast of all time...
NFL baller turned commentator Mike Vick and his "Baller Wives" star wife Kijafa just welcomed  their newest baby boy, Michael Jr.
The now mom of 4 posted up news with sweetest pic of daddy and Jr.:
Awww! 
Kijafa's been taking maternity pics (tons of them) all throughout her pregnancy and happily sharing them with the world.
Congrats to The Vicks!
Speaking of big baby news:
Gold medalist Dominique Dawes (and the original magical black girl Olympic gymnast) is pregnant with TWINS!  The 41-year-old mom of 2 is about to become a mom of four...this January!
The fab chick made the emotional announcement yesterday on her birthday, posing it up with her two daughters. 
Dominique revealed in February that she and her husband had been struggling with conceiving, and unfortunately suffered a miscarriage.
She decided to be transparent in sharing her story on social media saying:
Yes, I am putting myself out there and saying this is the toughest thing I've ever been through, acknowledging the fact that we lost a child in utero. I know so many women out there have been through this, but it doesn't make it easier. First, I was in complete DENIAL& ASHAMED...I've been holding onto HOPE that there is still a fighting chance that this isn't true, but I'm facing the certain reality that it is the hard truth. ACCEPTANCE!
She continued:
Every pregnancy is so intimate and personal. It still hurts. But, having God, a loving husband (who has totally stepped up and cleans the dishes every night now) and my 2 most precious and prized gifts--my two baby girls to comfort me and stand with me through these tough days. Knowing the reality and accepting this miscarriage, has brought me to a better place. At first I was ashamed and blamed myself, like I did something wrong. Now I'm looking forward with HOPE for the future! I know there are women out there who have and are going through this reality.
The story has a happy ending, though, as the twins will be here in less than two months.
Congrats Dominique!
Photos: Instagram