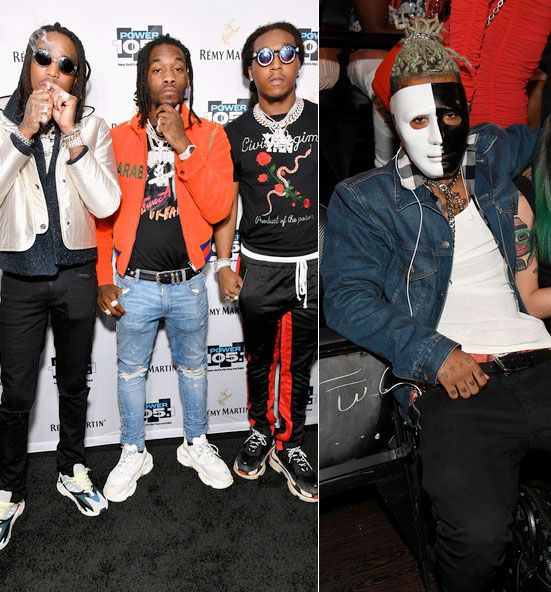 Rapper XXXTentacion claims Migos jumped him and now he's whipping out receipts to prove it. See the new footage of the full fight and see how he dragged Offset's girlfriend Cardi B in the drama.
Also, get the latest on shoplifting UCLA player LiAngelo Ball and his teammates returning to the US from China inside…
What's beef?!
Rapper XXXTentacion has a serious problem with Migos and ish hit the fan when a physical altercation broke out in L.A. on Sunday. XXX posted security camera footage of the actual fight. None of the Migos rappers were involved in the fight. However, people from their entourage were involved.
Peep the clips below (swipe to see both videos):
Before footage of the fight leaked, XXX hopped on social media and posted a series of videos to let everyone know he was jumped by some "p*ssy a** n*ggas" aka Migos' associates. He had visible bruises on his face and said he wasn't running away from a fight because he's a man. The controversial rapper also said they pulled a gun out on him and his girl and he's gunning for their money.
Peep a clip below:
Breaking: xxxtentacion was just jumped in LA after being held at gunpoint with his girl. pic.twitter.com/d1oIxB7eq6

— DJ Akademiks (@IamAkademiks) November 14, 2017
XXX made it clear he is not going to go to the police, but he IS going to SUE them:
XXX took things even further by dragging Offset's girlfriend Cardi B in their drama. He posted (then deleted) the message below:
Xxxtentacion has a message for Cardi B pic.twitter.com/7VtuaOoWZc

— RapSpotlights (@RapSpotlightss) November 14, 2017
This guy is doing the most.  Actually, everybody involved is.
In sports news...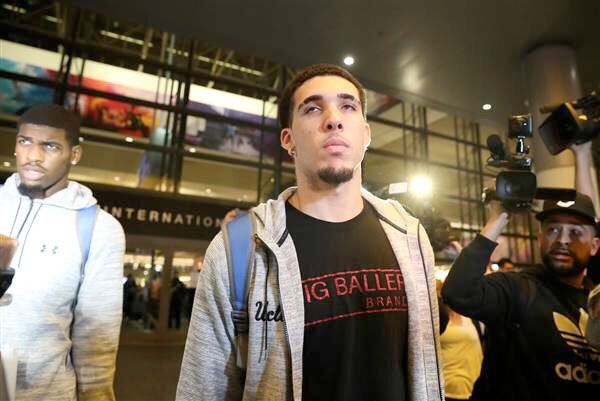 Three UCLA basketball players have returned to the US from China after being accused of shoplifting from a Louis Vuitton store. And one of the players happens to be LaVar Ball's son, LiAngelo Ball. 
China is one of the LAST places you want to get caught shoplifting.
Freshman LiAngelo and his freshman teammates, Cody Riley and Jalen Hill, arrived at Los Angeles International Airport on a flight from Shanghai last night (November 14th). They rushed through reporters as they made their way to board a bus. Peep the clip below:
The UCLA team was in China for a game against Georgia Tech in Shanghai on Saturday. By the way, UCLA beat Georgia Tech in a close game, 63-60. The rest of the team returned to the US on Saturday. The three shoplifting players were held back for questioning. Apparently, Trump called up Chinese officials and "worked out a deal" to get them back home.  This is according to #45.
Right now, its up to UCLA on whether the players will be punished since the matter did not occur on the basketball court.
As usual, No. 45 is sticking his nose into sports and is taking all the credit for the players being brought back to the States:
Do you think the three UCLA Basketball Players will say thank you President Trump? They were headed for 10 years in jail!

— Donald J. Trump (@realDonaldTrump) November 15, 2017
The failing @nytimes hates the fact that I have developed a great relationship with World leaders like Xi Jinping, President of China.....

— Donald J. Trump (@realDonaldTrump) November 15, 2017
...They should realize that these relationships are a good thing, not a bad thing. The U.S. is being respected again. Watch Trade!

— Donald J. Trump (@realDonaldTrump) November 15, 2017
Whatever Trump.  We'll watch YOUR pockets instead, since we're sure they're being heavily lined in all these "make nice" deals....
Photos: Getty/Reuters