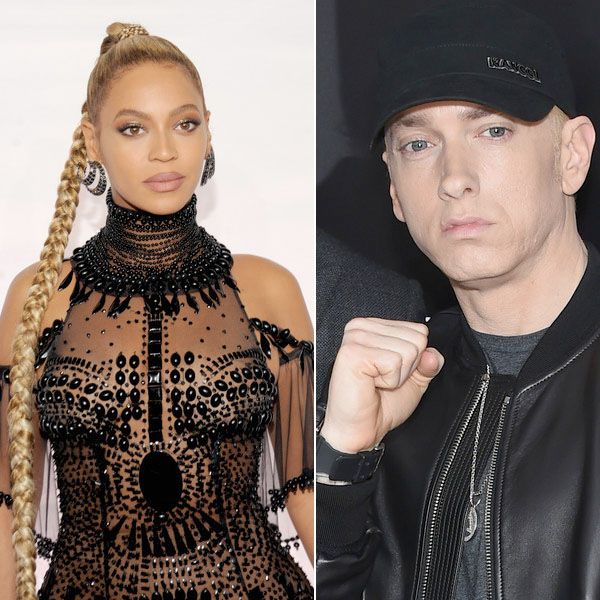 Music titans Eminem and Beyonce have joined forces for a new track, "Walk On Water." Take a listen inside…
Eminem made waves with his extra political freestyle during the 2017 BET Hip Hop Awards cypher. Now, he's dropping his first track in four years.
The Detroit native joined forces with Beyonce to deliver a new single titled,"Walk On Water." The track features Bey flex her vocals as she sings the chorus:
"I walk on water, but I ain't no Jesus. I walk on water, but only when it freezes."
Meanwhile, Em wrestles with being an idol to a younger generation while giving props to legends like Nas, Rakim, Tupac, Biggie, LL Cool J and Prince. After each verse, you hear paper ripping in the background as if he's not satisfied with the rhymes he spit.
"Will this step just be another misstep / To tarnish whatever the legacy, love, or respect I've garnered?," he raps.
According to Rap-Up, this is the first taste fans are getting before Em releases his next album, which will be the follow up to his 2013 The Marshall Mathers LP 2. "Walk On Water" is likely the first single from the new album titled, REVIVAL. It's expected to drop November 17th. Right after his album drops, Eminem will hit the stage on "Saturday Night Live" (November 18th) for a performance.
Take a listen to Em and Bey below:
In movie news…can you believe 8 Mile was released 15 years ago? Yep. The movie came out November 6, 2002. Sheesh!
By the way, Eminem is set to perform his new track "Walk On Water" at the 2017 MTV Europe Music Awards in London on Sunday. We wonder if Bey will make an appearance.
Photos: Getty