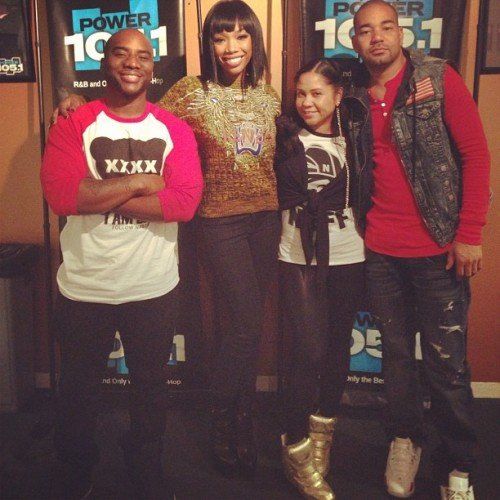 "Put It Down" singer Brandy chatted with The Breakfast Club this morning to promote her Two-Eleven disc dropping tomorrow. Listen to B talk about her music and about being in love inside.....
Power 105. 1's "The Breakfast Club" interviewed Brandy about her Two Eleven disc this morning where she revealed that she thought her days on the top of the charts were over.  She talked about her disappointment over her other music projects that weren't as successful as she would have hoped, and how she felt discouraged.
When it comes to music, Brandy said she continued to record because she needed to "share" her gift.  She said because music is her "purpose," she would feel empty if she wasn't singing.   
And now that "Put It Down" is a hit record, she spoke about the man in her life, Ryan Press, who seems to also put it down.  She revealed that she is very much in love, and yes, she wants a REAL wedding & marriage soon.
She also talked about working on The Marriage Counselor, but said she didn't have any scenes with her ex-stylist and brother's ex-girlfriend Kim Kardashian and they haven't spoken in years.   She also talked about Monica and revealed they are great friends outside of the industry and are closer than ever.
Watch the interview here: