So, Will and Jada Pinkett Smith are addressing that $5 million Tyrese claims they gave him. And apparently, they didn't give him a dime. Deets inside…
At this point, we all can agree something serious is going on with Tyrese. The outlandish crying videos and lengthy Instagram captions have been making headlines since law enforcement began investigating him over child abuse allegations. By the way, no charges were filed as the investigation has been dropped.
However, Ty is still being weird on social media. Following his umpteenth crying video, the Fast & Furious actor posted about his "hero" Will Smith and his wife Jada Pinkett Smith being in his corner. He went even further to say the Smiths gave him $5 million to help him stay afloat because he claims he's broke.
Here's what he said: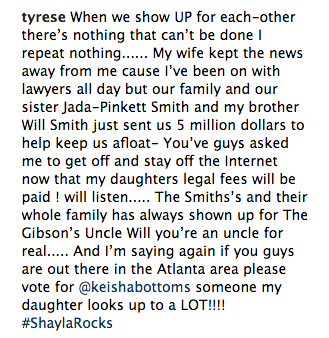 Well, according to sources close to the Smiths, this is the farthest from the truth. Said sources revealed Will and Jada have not given Tyrese any money at all. Hmm...what's really going on? Just another reason why we say someone in Tyrese's camp needs to take his social media away from him for a while until he gets himself together. He's doing the absolute MOST.
On the bright side, Ty has squashed his beef with Dwayne "The Rock" Johnson and he's not leaving the Fast & Furious franchise. He better hope they don't kill him off on the next installment.
By the way, the singer/actor says he's headed to Abu Dhabai for the Formula 1 races to get his mind off all of the drama he has going on here. Check it:
Photo: Getty