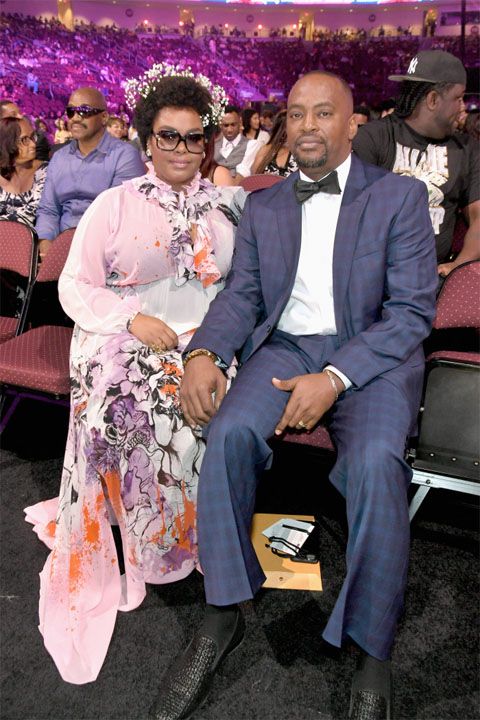 Jill Scott has been married just over year and has already filed for divorce from her estranged husband Mike Dobson.  And he's speaking out about her "evil" ways and why he was blindsided by the divorce filing. Everything inside…
Last summer, Jill Scott tied the knot to her husband Mike Dobson. Remember? Big Daddy Kane performed during the reception and it was super LIT. Now, the good times have come to an end.
According to Bossip, the 45-year-old singer has called it quits with her 49-year-old estranged husband. She reportedly filed on September 15th citing "irreconcilable differences" and "inappropriate marital conduct that such further cohabitation would be unsafe and improper," this according to her divorce petition.
Damn. What's really hood in the Scott-Dobson household?
Under Tennessee law (where she filed and where they got married), that verbiage could mean "anything from cruel treatment, infidelity, verbal or physical abuse or sexual impropriety." However Mike Dobson claims none of that happened during their marriage. He's speaking out about the uncoupling and revealed that Jill is an "evil woman" who will do whatever it takes to have her way.
Mike said he was blindsided by the divorce filing.  He claims he has never cheated on her, he never laid a hand on her and he never made her engage in an unwanted sexual contact. However, he did say they had agreed to separate while working on their relationship and they agreed to keep wearing their wedding rings.
"She's an evil woman," Mike said "I'm telling you. It's like what Jill Scott wants, Jill Scott gets. People are in her ear, and if someone comes in to challenge the dumb s**t, they made me be the bad guy and that got me outta there."
He added: "She's got issues. There's no men in that family, there's only women. And when a man comes in, it's like a challenge."
Mike went on to say he's not going to let Jill paint him out to be the bad guy, which is why he's probably speaking out first.
"She's made other men look bad, but I'm not the one. I said (to her) 'you've met your match,'" he said. "She likes to have men that she can control. You're not gonna control me. What's right is right, and what's wrong is wrong."
He said he's going to fight dirty because Jill, according to him, likes to emasculate men. One example, she allegedly listed he was unemployed on the divorce documents. Mike said has held a position with the city of Atlanta since 2011 though.
"She likes to emasculate men – that's her problem," Dobson said. "I told her, she's from Philly, but I'm from New York, and if you want to try to disgrace me, try to slander me, I can fight dirty."
Luckily (for Jill), they had a prenup.
Another one bites the dust.
Photos: Getty