Kevin Hart was on a mission to take over the NYC Marathon and that's exactly what he did. Celebrate with Kevin, plus get the details Toya Wright and daughter Reginae Carter are dropping about Toya's new bundle of joy inside…
He did it!
Kevin Hart made a goal to finish his first NYC Marathon strong and he did just that. The 38-year-old actor copped his gold medal after running the full 26.2 miles in 4 hours, 5 minutes, 6 seconds. And get this…
He ended up beating 42-year-old retired football player Tiki Barber by crossing the finish line 33 minutes earlier. Y'all know he'll be bragging about this. Rightfully so. Ha!
"Marathon complete. Got my gold medal. It's an amazing feeling. I can check this goal off my list," Kevin said in an Instagram video. Check it below:
Before the marathon...
The comedian posted up with his running buddies, captioning,"Our running team for the day!!!!! Shouts out to @shafferdc @frederickwjr & @blue_benadum ....We would have shouted out @justtrain but he bitched out & quit on us..... "gym morning" my ass man!!!! #HustleHart #RunWithHart #NoQuitinUs #NYCmarathon ....Click the link in my Bio and donate to my amazing cause & help me raise money for our youth!!!!"
While his pregnant wife Eniko Hart couldn't be there to support, she was cheering him on from home: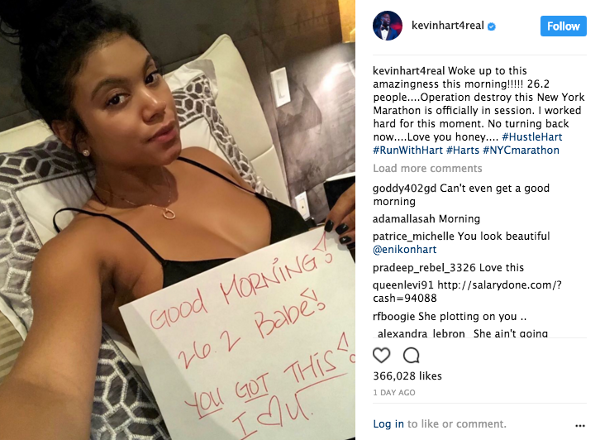 And look, Kevin was one busy man this weekend. Right after running the marathon, while most runners could barely walk, he hopped on a flight to LA to celebrate his son Hendrix Hart's birthday: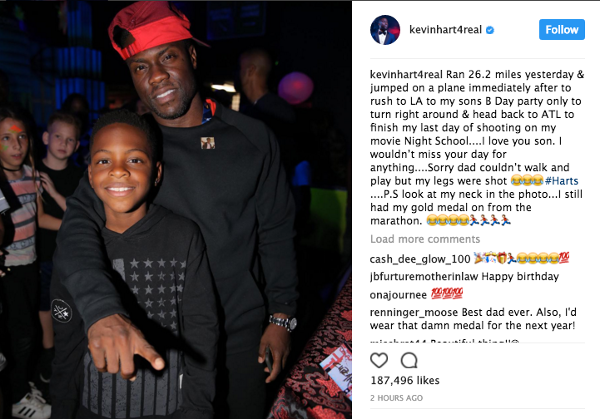 The super-dad revealed, "Ran 26.2 miles yesterday & jumped on a plane immediately after to rush to LA to my sons B Day party only to turn right around & head back to ATL to finish my last day of shooting on my movie Night School....I love you son. I️ wouldn't miss your day for anything....Sorry dad couldn't walk and play but my legs were shot #Harts ....P.S look at my neck in the photo...I still had my gold medal on from the marathon."
Sheesh!
Couldn't they do this any other day when they surely have the funds to? We're sure they knew about both dates well ahead of time. But, we guess...
In baby news...
Pregnant Toya Wright and her daughter Reginae Carter are dishing details about Toya's upcoming bundle of joy. The mom-again is gearing up to welcome baby #2 and issa girl!
It appears Toya is going to name her new baby with a 'R' name like her eldest daughter (and her supposed baby's father). Reginae spilled a little tea on Instagram, posting a picture of her mother with the caption, "R&R's Mommy."
Last week, Toya and Reginae celebrated the new baby at a Gender Reveal party surrounded by all of her family and friends, including Tiny Harris, Kandi Burruss, Monica, Rasheeda and more. It's rumored that Atlanta sports manager Robert "Red" Rushing is the father of her child, but she has yet to officially confirm this. In a recent interview, she said she wants to keep this relationship more private. Can't say that we blame her after all of the drama with her ex-husband MempHitz. 
Most of her friends where #TeamBoy, but it was revealed that Toya is having another girl. A plane flew over the party (yes, a while plane) with a banner that read "Issa Girl!"
Peep the pics and videos below:
Congrats again Toya!
Photos: Splash/Kevin's IG