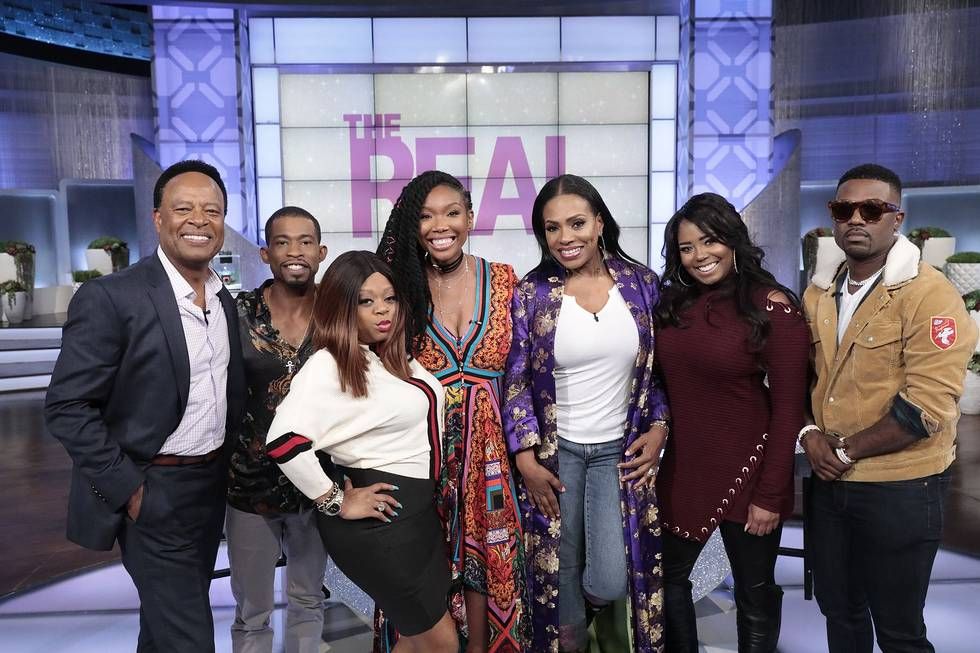 Brandy is tired of y'alls pregnancy allegations.  But she IS open to talking about a "Moesha" reboot.  Woot!  Find out what happened when the whole cast reunited on daytime tv recently inside...
"Mo to the...E to the...MOESHA!"
Don't act like y'all didn't start singing that theme song just like we did.  Ha!
A very not-pregnant Brandy joined her former "Moesha" castmates for a reunion on "The Real" recently.  And despite Countess Vaughn looking like she would rather be anywhere else, it was everything.
Brandy, Ray J, Sheryl Lee Ralph, Shar Jackson, Countess Vaughn, William Allen Young, and Marcus T. Paulk It was the first time they've all gotten together in 16 years, so it was an emotional reunion to say the least.
Here's what everyone had to say about a possible reboot:
Hey, if "Full House," "Roseanne," "Will & Grace" and every other 90's/early 2000's show can get a reboot, so cam "Moesha." The cast, talked about their experiences on the sitcom and what they've been doing since it went off the air.
The reunion was even more emotional due to everyone missing their late co-stars, Yvette Wilson and Lamont Bentley, who played Andell Wilkerson and Hakeem Campbell.
We look forward to somebody making this reboot happen.
As for those pregnancy rumors, Brandy's sister-in-law Princess Love has addressed pregnancy rumors on B's behalf.  When folks as of this past week kept saying Brandy was hiding a pregnancy and possibly carrying Princess & husband Ray-J's baby, she corected them right quick.  She hopped in an IG comments section saying:
"@rhomielove she's not our surrogate lol and yes I can have kids," Princess clarified. "I just saw her last week she's not pregnant."
Oop.  So there you have it.
BONUS: Now folks are saying they think Princess looks pregnant herself.
EXTRAS:
1.  The Hollywood exec Terry Crews accused of sexually harrassing him has been revealed.  STORY