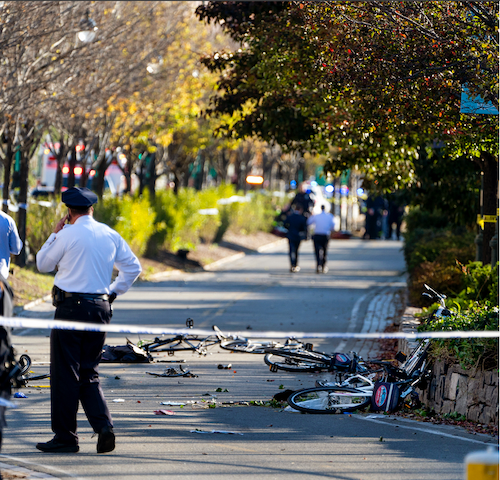 A motorist drove onto a busy bike path near the World Trade Center on West Side Highway this afternoon in #Manhattan striking several people. Now, at least 6 people are dead and 15 injured, and the FBI is investigating this as a terrorist attack. Updated details inside...
UPDATE [6:31p ET] The suspect has been seen being apprehended in the picture below (posted by IG user IllmaticNYC). He supposedly screamed, according to ABC News who says this is what they're told, Allahu Akbar (Allah is the greatest).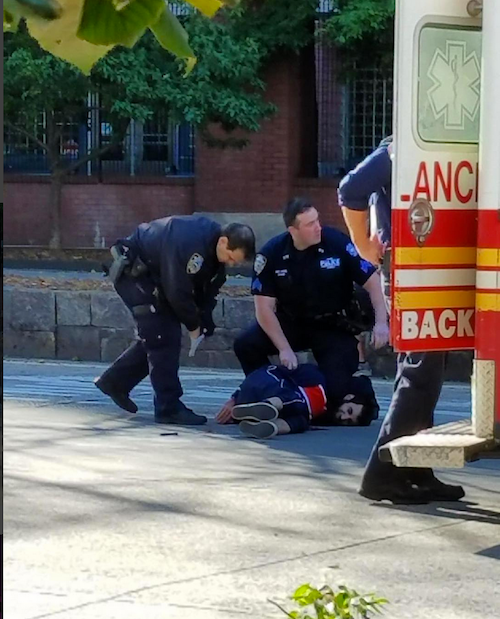 UPDATE [5:51p ET] The suspect has been identified as 29-year-old Tampa resident Sayfullo Habibullaevic Saipov who immigrated from Uzbekistan in 2010, according to ABC News.
UPDATE [5:40p ET]: Video has surfaced of the suspect in today's attacking on innocent people in downtown #Manhattan. He was carrying a pellet gun and a pant ball gun. The incident took place on West St. & Chambers St. near Stuyvesant High School. NYPD now confirms there are 8 dead and 12 injured.
The earlier reports of shots fired, were shot by one NYPD officer while trying to take the suspect down.
---------------
Horror has ensued in the Tribeca area of Manhattan. Just hours before the Halloween parade is set to begin tonight on nearby Canal Street, a driver in a rented Home Depot pick up truck barreled down the bike path of West Side Highway near Chambers Street headed further downtown.
ABC News and NYPD confirm at least 6 people have been killed and 15 injured.
The driver plowed into cyclists, pedestrians, and a school bus full of children who were then penned inside the bus.  The suspect ran out of the car, loking quite disoriented and possibly injured, brandishing weapons.
He was taken down by police after they shot him from behind.  He was taken into custody and to Bellevue Hospital.
The suspect reportedly rented the Home Depot truck in New Jersey, drove through the Holland Tunnel, then entered West Side Highway once crossing into Manhattan. 
While the motive is completely unclear at this time, reports from the FBI state this horrific incident is being investigated as a possible terrorist attack.  New York City Mayor Bill De Blasio also confirms this was indeed an act of terror.  Earlier reports claimed it may have been the result of a road rage dispute between two drivers.
NYPD confirms two weapons were recovered near the scene. It's unclear if they are authentic weapons or imitation.
Photos from the scene have surfaced. WARNING: Some may be sensitive and alarming.
The area is heavily trafficked with people and cars, especially on a gorgeous and festive fall afternoon like today.  This loss of innocent life is completely unfortunate.  
AUDIO: "We have multiple casualties," NYPD officer says while approaching scene of NYC attack. "This is a mass casualty situation here." pic.twitter.com/QGmiuSs18j

— CBS News (@CBSNews) October 31, 2017
The annual Halloween parade is still set to go on at 6pm as scheduled.
Our thoughts and prayers are with everyone affected.
Photos: Associated Press