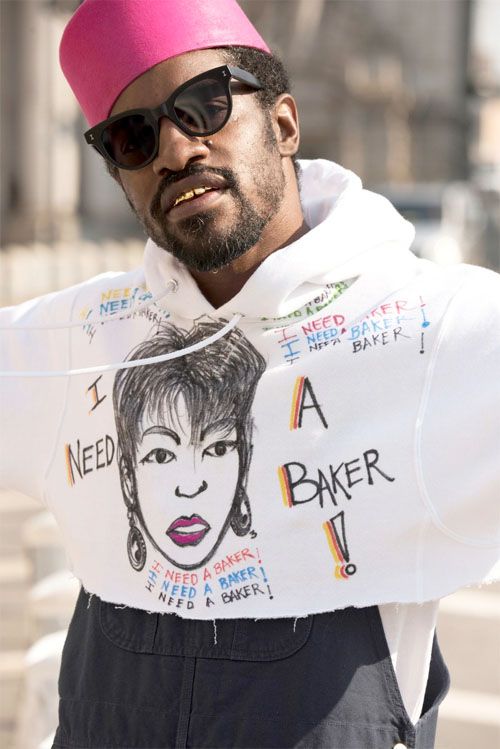 Andre 3000 wants to takes his talents to the fashion world with an Anita Baker inspired line. Get the deets, plus find out what he said about his father's death impacting his music inside….
Andre 3000 is looking to take his talents to the fashion industry. And what better way than paying homage to a musical great.
The Outkast rapper is looking to create a line of Anita Baker t-shirts to pay tribute to the musical legend. And the idea came about on a fluke. 3 Stacks said he saw some Anita Baker t-shirts online and ordered a few. Once he received them, he wasn't satisfied with the quality, so he figured…why not do it right?
The 42-year-old entertainer told GQ Style in a recent interview:
"As you get older, the people you love pop back up. I was going through an Anita Baker phase, and I started trying to buy a T-shirt. So I go on the Internet and I find this site that had shirts with photos of Anita on them. So I bought two or three of them. Then when I got 'em in the mail, they were like—the part of the shirt where the picture was printed on there was so hard."

"Right, it feels like this big piece of wood on your chest. So it's like, 'Man, this clearly has to be bootleg.' I felt bad about it, because it's like, I know Anita ain't got shit to do with these shirts."

"I'm an artist, and I'm buying bootleg shirts of another artist, so I felt bad. So I was like, Maybe, so my conscience feels good, let me try to find an address for Anita and send her a little check. And it'll be a joke, like, "Anita, I just bought these shirts, I feel bad about it, here's $50." Then I started thinking, Wouldn't it be great to design a line of Anita Baker tees and present the line to Anita? Maybe she needs some merch."
Andre and GQ's writer came up with the plan to feature pics with Andre's Anita Baker designs for this GQ special, then pitch it to Anita afterwards.
What will Andre do if Anita says no to him using her likeness?"Hey, it's fine. It was just an idea. There's no way to lose here."
Let's keep our fingers crossed she's down because we're feeling all of these.  And here too.
He's officially a New Yorker these days, and he explains why he moved from Atlanta saying:
"I guess why most people move to New York City: a change, a new start. My kid went off to college, and my parents died—both of 'em within the last six years. I was like, I've kinda outlived Atlanta. It's not like I go to the studio—I'm just sitting around wasting time and doing stuff I'm not supposed to be doing."
The move to a place where he could sort of blend in was also due to a type of social anxiety he was diagnosed with:
"I've only written one check in my life. When I was 17, they still had checkbooks, and my mom taught me how to write a check and do my balance. So I had one check on my balance, and then OutKast took off. I have not paid a bill since. People ask, What does it feel like? As humans, we want attention. We want to be validated. At the same time, it's strange attention, and a lot of it. If you have an excess of anything, it becomes strange.

...that was part of my reason for coming here. I was diagnosed with this social thing. I didn't notice it until I became an entertainer. I don't know if it's the shock of all kind of people coming up to you, or the expectations, but I got to this place where it was hard for me to be in public without feeling watched or really nervous."
3 Stacks talked about how his father's passing impacted his music.  He sadly lost both of his parents in the last 6 years.
"Like, I wanted to put out my own project. Things I've been working on. But that's for my personal [satisfaction], you know? And when my dad passed away, there was mourning for him dying, but there was a whole 'nother wave of mourning because I realized, Whoa, he died in his house alone. And I wondered: Had he done everything he wanted to do?"
When asked if he thought his father died in peace he responded:
"I don't know. I don't think so. He had all these troubles the last few years. He had to get his heart valve replaced and prostate cancer and colon cancer, and it's kinda back-to-back-to-back at a certain point. But I think we made amends, and that was a cool thing. I do miss not being able to talk to him about him living alone and not ever being married. I think I would have gotten a lot of great insight. I think he would have told me something"
Glad they were able to make amends before his passing.
As for why Andre has never taken the plunge into marriage, he says:
"Growing up, I would always see these great women, like, Oh, man, she's cool. Or, She's really cool—she has her stuff together, and they have a great chemistry. But for some reason, he kept not making it happen, and that's always happened with me. I know my son looks at me like, Yeah, man, she was cool. Or, Oh, man, she's, like, great, beautiful. And it's always me not going to the next step. So I know my kid sees it the same way."
You can read Andre 3000's full interview here.  He's dishing on his ready-made bomb shelter in his NY apartment ("If they drop the bomb, you got 20 minutes to get here.  We're gonna need a whole lotta water to make it for two weeks."), enablers, and why his mom was everything to him.
Photos: Jason Nocito via GQ