The 10-year-old brother of the young girl who claims Nicki Minaj's brother Jelani Maraj raped her took the stand today to share what he allegedly saw him do to his sister. Deets inside…
The rape trial against Nicki Minaj's brother Jelani Maraj went forward today with the victim's 10-year-old brother taking the stand.
It's reported the little boy sat on the stand inside Nassau County Supreme Court today wearing a black tuxedo while holding a yellow star-shaped toy as he gave his testimony. In court documents, it was revealed the little boy had walked in on Jelani raping his sister. He told jurors he was threatened to keep his mouth shut about the incidents.
Page Six reports:
[The boy] detailed what he saw in a basement bedroom in 2015 — as his family members quietly wept in the gallery.

"What happened was I was looking for [her]," the boy said, referring to his then-11-year-old sister, who has accused Maraj, their stepdad, of repeatedly raping her. "My pencil broke and I didn't have any others."

The boy, who was 8 at the time, said his sister's pants were "around her ankles."

"I saw his underwear close to his knees," he testified about Maraj.

Asked by prosecutors what happened next, he quietly said, "I thought it wasn't right. It looked weird to me, so I ran upstairs."

Maraj, the boy testified, later found him and slapped him in the face "about 10 times."

"He asked me if I had seen anything. I said, 'Yes,' " the boy said. "He slapped me on the cheek."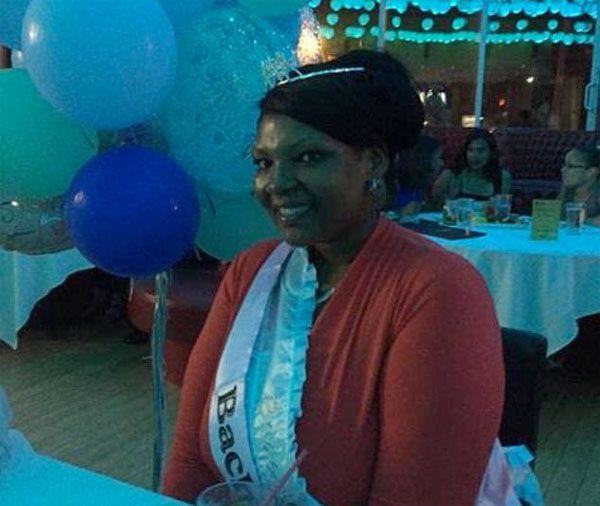 The young boy went on to say Jelani threatened the boy by threatening to kill his mother (Jelani's wife) Jacqueline Robinson (seen above). "Jelani said I wouldn't see her again if I told on him," he explained. "His face was kind of mad."
Prosecutors believe Jelani was having sex with the young girl, who is now 14, as much as four times a week.  The young boy also said he remembers hearing his sister's bedroom door close at night, and creaking noises (as if from a bed) coming from her room.
Last week, a doctor took the stand and her medical records strongly suggested she was having sex. Investigators also found a pair of the girl's pajama pants with Jelani's DNA on it.
"I can say with a reasonable degree of certainty that [the girl's] medical exam can prove penetration," said Dr. Aaron Miller after reviewing photos.
Nicki Minaj was named as a star witness in the case a few days ago, but Nicki says it's not true...allegedly. It's reported the "No Frauds" raptress will be the crux of the defense as they're creating a narrative that Jehlani's estranged wife, Jacqueline Robinson, is after Nicki's money and concocted this whole rape story in hopes of receiving $25 million.
However, folks in the Young Money rapper's camp tell TMZ she's not taking the stand. The camp says Jelani's lawyer lied to media outlets and did not list Nicki on the witness roster as they stated.  Interesting.
Photos: Nicki's IG/Twitter via Daily Mail