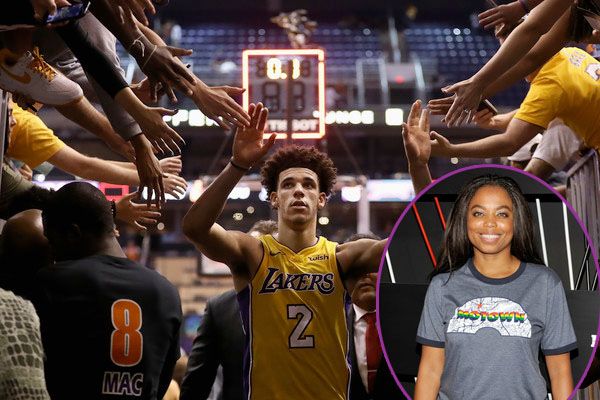 In today's sports round up, Jemele Hill is returning to ESPN, Lonzo Ball proves why he was the No. 2 draft pick, and DeMarcus Cousins explains why he yelled "f*ck you" to a female fan. Get it all inside…
She's back!
ESPN suspended Jemele Hill after she made comments about No. 45, dubbing him a racist and a white supremacist in a series of tweets. But, she's coming back.
TMZ photogs caught up with the "SC6" co-host at the airport where she opened up about her suspension, saying she deserved it for putting the network in a "bad spot." Hmmm...
She said she violated ESPN's policy, so she had to suffer the consequences.
"So, here's how this works: It doesn't really matter what I think. It matters to people, but here's the reality: ESPN acted what they felt was right, and, you know, I don't have any argument or quibble with that," she said. "I would tell people, absolutely, after my Donald Trump tweets, I deserved that suspension. I deserved it. Like, absolutely. I violated the policy; I deserved that suspension."
However, she will NOT take back what she said about Donald Trump.
"The only thing I'll ever apologize for is, I put ESPN in a bad spot. I'll never take back what I said. I put them in a bad spot, that's the truth of it. I regret the position I put them in. I regret, a lot of the people I work with, the position we put our show in. I'll never take back what I said."
Check it:
Well, good. The outspoken sports anchor will reunite with her co-host Michael Smith on Monday (October 23rd). Welcome back Jemele!
In basketball news...
There were HIGH expectations for No. 2 draft pick Lonzo Ball, especially with all the antics his father Lavar Ball was involved in. He only put up three points in the LA Lakers' opening game against the LA Clippers and the Lakers took an L. SMH.
But, he has redeemed himself.
During the game against the Phoenix Suns on Friday night, the Lakers rookie had a hell of a game. The point guard put up 29 points, 11 rebounds and 9 assists, helping the Lakers beat the Suns, 132-130.
Not only that, Lonzo made history, surpassing Patrick Beverly's career high of 26 points in just his 2nd game.  He was just one assist shy of becoming the youngest player in NBA history to post a triple-double.
So what does he do to celebrate? Drop a new song! Yeah, apparently he raps too. He dropped his new track "Super Saiyan," which is a reference to Japanese anime franchise Dragon Ball.
Take a listen to a snippet below:
For the fans #SuperSaiyan#OutNowpic.twitter.com/nbzLdV47xA

— Lonzo Ball (@ZO2_) October 21, 2017
The song is available to download on iTunes, Apple Music, Tidal and Spotify.
Oh, and before Lonzo passed Patrick Beverly's record, his pops had to do some trash talking after his son's lackluster first game.
The helicopter dad told ESPN:
"Yeah, you shut the m-----f----- down. And your check still ain't going to go no higher than what it is. Yeah, you shut him down. OK ... Who is Patrick Beverley? He played all last year and nobody said nothing about him. Now we are looking at your first game. Why? Because Lonzo's name is attached to it." "So you got to be [all hard]," he added. "Let's see what you do the next five games, if you are going to be pumped up towards everybody like that and go back to your 0-for-5 shooting and your two or three rebounds. Nobody is going to care about you. But you put my son's name in it and you put my name in it, now you got some action and you got some people talking."
THIS guy...
In other basketball news...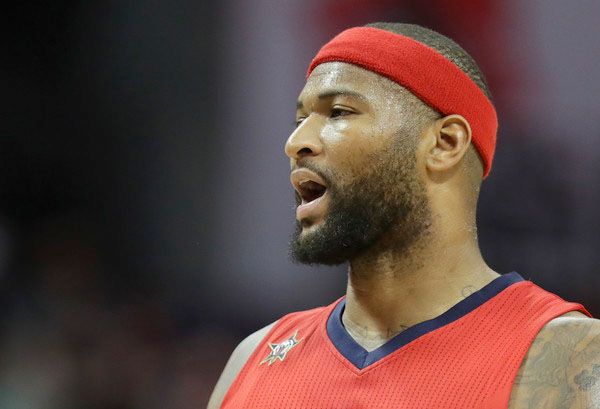 New Orleans Pelicans forward DeMarcus Cousins has been fined $25,000 for directing inappropriate language towards a fan, according to Kiki VanDeWeghe, Executive Vice President, Basketball Operations.
Now, he's speaking out about it.
It was 50 seconds left in the fourth quarter of the Pelicans' 103-91 loss to the Memphis Grizzlies on Wednesday (October 18th) when DeMarcus yelled "f*ck you b*tch" to a female fan in the stands.
Sheesh.
DeMarcus claims the woman had been dropping the F-bomb throughout the game, but the referee never checked her. So, he checked her himself.
After the game, he explained, "She dropped a couple 'F' bombs and flipped me off and I don't think that was right. That's pretty bogus. He (the referee) sat there and heard her speaking to me in a nasty way. I shouldn't have responded to it, but I'm a human being and I'm also a grown man and I'm not going to let another person just disrespect me. I feel like he (the referee) should have handled it, but he decided not to but he handled my end of it."
Well, there you have it.
This was DeMarcus' first technical foul of the season after receiving 18 last year. The technical foul has since been rescinded.
Photos: Getty