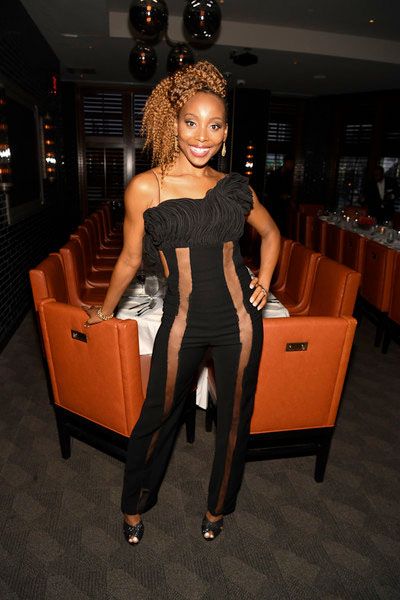 In TV news, Erica Ash is gearing up to take over television with her own legal drama. In movie news, Taraji P. Henson and Will Smith are featured in their respective movie trailers. Meanwhile, Joseline Hernandez opens up about her co-parenting relationship with Stevie J. Get it all inside…
Erica Ash will be taking the BET scripted TV crown now that "Being Mary Jane" will be coming to an end.
The "Survivor's Remorse" star has nabbed her own lead in BET's upcoming legal drama "In Contempt." And we'll get 10 episodes for the first season.
The Hollywood Reporter has the deets on the new series:
The procedural is in the fast-paced world of a legal aid office in New York City and follows Gwen Sullivan (Ash), an opinionated attorney whose passion for her job and clients make her arguably the most talented public defender in her district.

The cast also includes Megan Hutchings (Reign) as Tracy Campbell, a public defender and Gwen's friend and roommate; Christian Keyes (BET's Let's Stay Together) as Charlie Riggs, an attorney with an ego who is Gwen's boss and friend with benefits; Mouna Traoré (BET's Book of Negroes) as Vanessa Winters, a rookie attorney learning what it means to be woke; Tobias Truvillion (Empire, The Blacklist) as Bennett Sherman, Gwen's longtime secret crush and former law professor; Richard Lawson (Poltergeist, Grey's Anatomy, Real Husbands of Hollywood) as Earl Sullivan, Gwen's father; Ronnie Rowe Jr. as Gwen's professional nemesis; and Daniel Kash as Gwen's boss.

The drama, which is in production in Canada, was created by Terri Kopp (Law & Order, Third Watch, BET's Rebel), who serves as showrunner. Blue Ice Pictures president Lance Samuels and Daniel Iron (BET's The Book of Negroes) executive produce for the company. BET will wholly own the project.
Sounds interesting.
Congrats Erica!
In movie news...
Taraji P. Henson and Tyler Perry are teaming up for the third time for another blockbuster.
This time, the "Empire" star will flex her acting chops in the upcoming drama Acrimony. Taraji will play a wife who grows tired of her husband (Lyriq Bent) and his devious ways. It looks intense as Taraji has us all sucked in with her impeccable acting abilities.
"Don't tell me I don't have the right to be angry. You don't know what he did to me," she said in the trailer.
The cast also includes Tika Sumpter, Danielle Nicolet, and Ajiona Alexus (who plays a younger version of Taraji's character and on "Empire"). It's directed by Tyler Perry Studios.
Peep the trailer above. Acrimony hits theaters March 30, 2018.
For another new movie...
Get ready for some action!
Will Smith goes back to his crime fighting roots in an upcoming Men In Black-esque film.
The Hollywood veteran gets suited in a police uniform to fight crime in David Ayer's fantasy thriller Bright. The film follows follows a world where magical creatures live side by side with humans and the police have a division that handles crimes involving magic. Will's character is forced to work with Orc (Joel Edgerton) to find something that unsavory elements are prepared to kill for – a powerful wand.
Peep the newest extended trailer above.
In reality TV news...
"Love & Hip Hop: Atlanta" star Joseline Hernandez is speaking out about her co-parenting relationship with her daughter's father (or as she likes to call him, baby daddy) Stevie J. Surprisingly, they seem to be doing well with co-parenting little Bonnie Bella. But, we all know how quickly that can change. However, it's nice to see they're doing good right now for her sake. Swipe left to peep the clips above.
Photos: Getty