Rihanna rolled out in NYC looking like a whole snack! Get into her fall fashion, plus see the Pop princess support singer SZA inside…
It's officially fall and Rihanna is playing up on the season's fashion like only she can.
Since she's always ahead of the fashion curve (even when she's rocking vintage pieces), the "Work" singer strutted her stuff in a denim Tom Ford jacket, matching skirt and boots. Fresh off the runway!
Chick was gone with the wind fabulous as the wind breezed through her locs.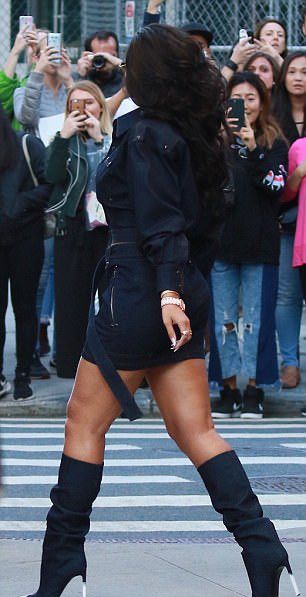 She was making her way to VOGUE's Forces of Fashion Conference held at Milk Studios to dish on her new makeup line, FENTY Beauty, her FENTY x Puma collaboration, and, of course, fashion.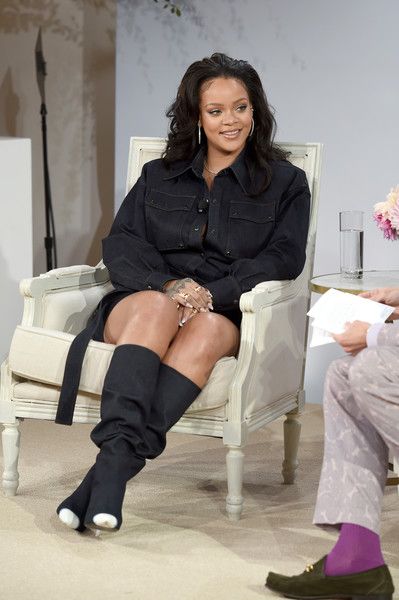 Below are a few highlights:
On being held to a different standard as a celebrity designer:"Rightfully so, I would be a fool to expect anything less. I also believe that everyone should be accountable, especially the designer of the brand. What I love the most is when someone who is not a fan of mine walks into a store and loves a piece, loves the product, whether it's makeup or clothes. That tells me a lot; it means that you genuinely love what I have to offer—I like when things are respected solely for how great they are."

On Fenty x Puma's wildly immersive runway shows:"It's creating the environment to tell the story of the product, and the product in that case was the clothing. I wanted people to feel what I was trying to say and what the clothes were trying to portray by creating an environment that represents the clothes. It's important that the right clothes are shown in the right place."

On her current fashion obsessions:"You know what I'm really enjoying right now: I love the tailored looks that feel fresh and youthful. Sometimes even with sneakers or my hair just up in a ponytail. Fashion always has a way of coming full circle, and now I'm seeing on the runway looks that my mom wore, and I'm like, does that mean that I'm old or that it's new and fresh? That's my favorite stuff."

On her personal style evolution:"It started with bad style, but you've got to start somewhere. You live and you learn and you make mistakes. I'm always up for a challenge, and if I don't get it right the first time or the first hundred thousand times, I keep going. [I think] really knowing myself, really knowing exactly what my boundaries are. For me there aren't many boundaries with fashion, really. I want to do everything and in the most extreme way possible, but [my style evolution] started with me knowing myself and knowing what I want."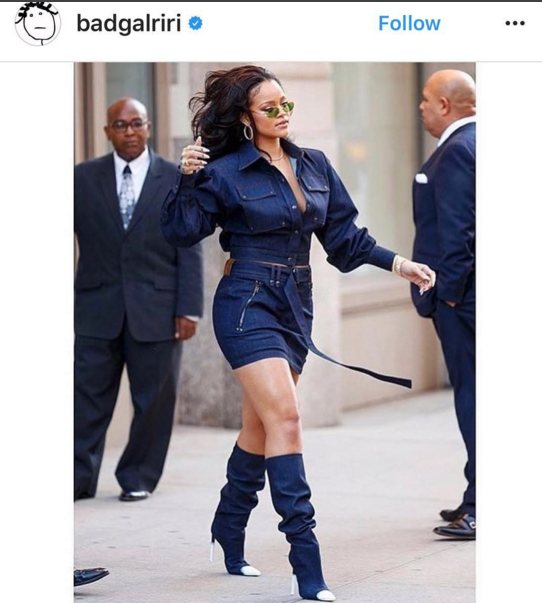 VOGUE honcho Anna Wintour looked pleased. 
Get it Rih. 
Before she hit the event...
The Bajan beauty was spotted heading the gym. Get it tight Rih.
By the way, Rihanna's new Fenty Beauty Galaxy Collection was released today. Get you some.
Days earlier...
SZA's CTRL album went gold:
The "Love Galore" singer decided to do a pop up concert at NYC's The Box to celebrate her album's success. And guess who popped up? RiRi!
Aye! When Queens support Queens...
Peep a few pics and clips from the night below:
Photos: Backgrid/Splash/Getty/Rihanna's iG