In cased you missed, Tamar Braxton has fallen ill again, Gilbert Arenas and Mia Khalifa pulled a fast one on fast to promote their new show and Oprah went to the bank for the first time in 29 years. Deets inside…
Oh no!
We're sending up prayers for Tamar Braxton as she is back in the hospital. It's unclear what sent her to the hospital this time, but she previously revealed she suffers from blood clots in her lungs and she also has a condition called thoracic outlet syndrome, which caused her to have a rib removed. She also suffers from vitiligo.
You'll recall, the 38-year-old had to quit "Dancing With The Stars" last year after suffering from pulmonary embolism.
It's unclear what caused her to check into the hospital, but we're sending up prayers. She posted the picture below with the caption, "#teamoverit #notagain #thisbluebirdisNOThappy"
Hope everything is OK.
In other news...
Gilbert Arenas is known for being petty on social media. So, when the former NBA star tried to blast former porn star Mia Khalifa for being thirsty in his DMs we weren't surprised. Peep the exchange below.
Turns out, Gilbert and Mia are gearing up to co-host a sports show together via Complex News and this was a PR stunt to get folks talking.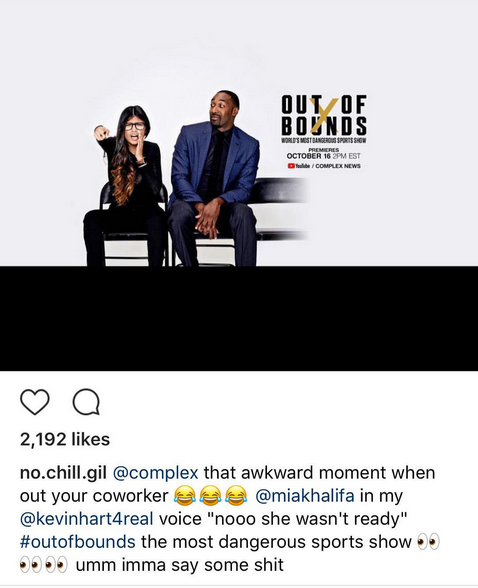 Here's what fans can expect from their new show titled "Out Of Bounds":
Complex brings social media banter to life with its newest series "Out of Bounds." Former NBA star Gilbert Arenas and popular internet personality Mia Khalifa team up on the daily sports talk show which explores the cultural impact of today's biggest sports leagues, players and headlines. Complex News host Pierce Simpson will serve as "Coach Pierce," moderating the hot takes between Arenas and Khalifa, and nothing is off limits during the daily debates. The series premieres Monday, October 16, on Complex News' YouTube channel.

The new series reimagines sports and lifestyle media and personifies the rawness of social media commentary in an authentic way. Arenas, who spent 10 years in the NBA and seven seasons with the Washington Wizards, is unfiltered in his perspective as an industry insider, while Khalifa brings wide-ranging sports knowledge and die-hard D.C. teams fandom, plus her unparalleled Internet success.

"I always knew that I wanted to work in sports media after retiring, and Complex just made sense. Being able to talk sports while being myself is truly rewarding," said Gilbert Arenas.

"I am thankful to Complex for the opportunity and to Gilbert for being a part of it. I can't wait to offend and upset a whole new fan base," said Mia Khalifa.
"Out Of Bounds" will air Monday-Thursday 11 AM PST on Complex News' YouTube channel.
In other news you may have missed...
Well, this isn't hard to believe. Oprah hasn't set foot inside of a bank since 1988. Well, up until recently.
The media mogul played a game of "Show Me More" on the "Ellen DeGeneres Show" where she revealed she recently went to the bank, stood in line and deposited $2 million.
"It felt fantastic," Oprah said about depositing the money.
We're sure it did Lady O. Doing what us common folk do on the daily likely feels good since she doesn't get to do it everyday.
Peep the clip below:
Photos: Getty/Complex News