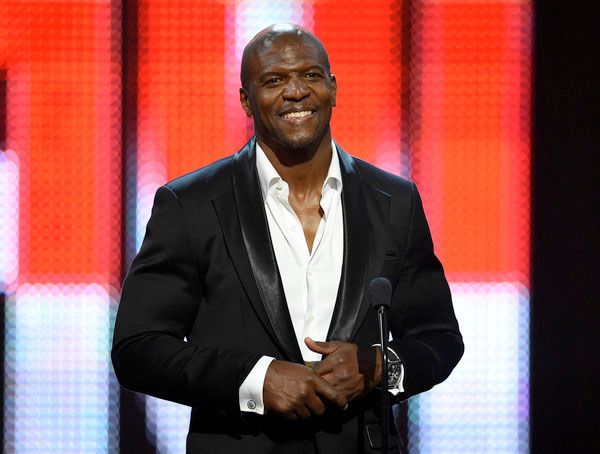 The Harvey Weinsten sexual misconduct scandal has caused Terry Crews to recount a time he was sexually assaulted by a high level Hollywood executive. Also, a the first black woman has come forward with sexual misconduct allegations against Harvey.
This Harvey Weinstein sexual assault scandal gets messier by the day. And its even causing celebrities to speak out about separate incidents that have happened around Tinsel Town.
"Brooklyn Nine-Nine" actor Terry Crews felt compelled to share a story where he revealed he was groped by a male Hollywood executive during a party last year. Not only that, his WIFE was with him. Chile…the nerve!
The 49-year-old hopped on Twitter to reflect on the incident, saying he wanted to whoop his a** after the man groped him but, he decided to leave the party in fear of being dubbed the stereotypical angry black man. Y'all know how white media would have spun this story about a black man beating a white man down. Also, the Hollywood exec is a big wig in the industry and he didn't want to be "ostracized" from the business. The exec eventually called him up and apologized, but never confessed as to why he did it.
After sharing his story, he said he hoped his story "will detet a predator and encourage someone who feels hopeless."
Peep the tweets (read from the bottom up).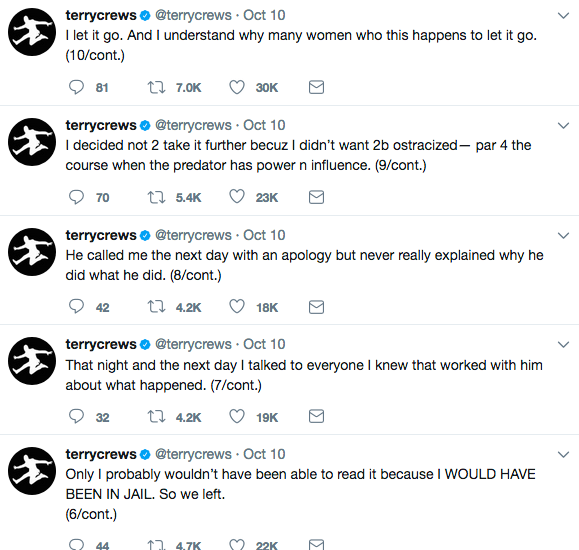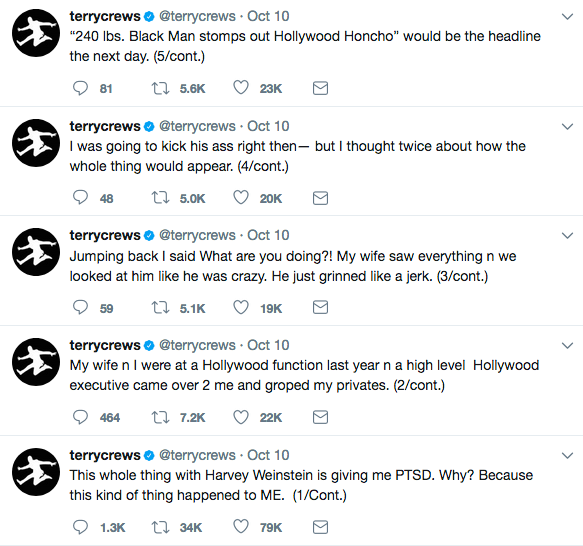 That's crazy!
Everyone, especially men who tend to be oblivious to what goes on in the minds of women, should hear Terry's sexual assault story on why victims wait. Maybe with this story coming from a man, they can empathize more.
Speaking of Harvey Weinstein....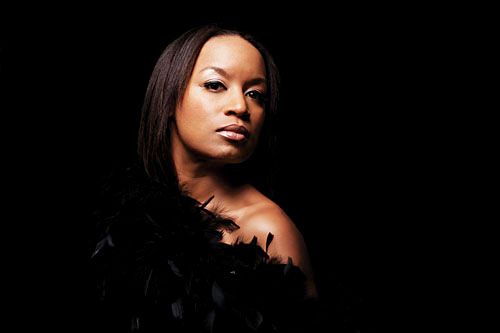 Several women have come forward with accusations that Hollywood mogul Harvey Weistein allegedly sexually assaulted them. And one of them happens to be a black woman.
Former aspiring actress Lucia Evans gave The New Yorker details about how Weinstein raped her while she was a student at Middlebury college. Here's an account of what happened:
Three women—among them Argento and a former aspiring actress named Lucia Evans—told me that Weinstein raped them, allegations that include Weinstein forcibly performing or receiving oral sex and forcing vaginal sex. Four women said that they experienced unwanted touching that could be classified as an assault.

Lucia Stoller, now Lucia Evans, was approached by Weinstein at Cipriani Upstairs, a club in New York, in 2004, the summer before her senior year at Middlebury College. Evans wanted to be an actress, and although she had heard rumors about Weinstein she let him have her number. Weinstein began calling her late at night, or having an assistant call her, asking to meet. She declined, but said that she would do readings during the day for a casting executive. Before long, an assistant called to set up a daytime meeting at the Miramax office, in Tribeca, first with Weinstein and then with a casting executive, who was a woman. "I was, like, 'Oh, a woman, great, I feel safe,' " Evans said.
Lucia said she was led to an office with exercise equipment and takeout boxes on the floor where they were alone.
"At that point, after that, is when he assaulted me," Evans said. "He forced me to perform oral sex on him." As she objected, Weinstein took his penis out of his pants and pulled her head down onto it. "I said, over and over, 'I don't want to do this, stop, don't,' " she said. "I tried to get away, but maybe I didn't try hard enough. I didn't want to kick him or fight him." In the end, she said, "He's a big guy. He overpowered me." At a certain point, she said, "I just sort of gave up. That's the most horrible part of it, and that's why he's been able to do this for so long to so many women: people give up, and then they feel like it's their fault."
"It was like it was just another day for him," Evans said. "It was no emotion." Afterward, she said, he acted as if nothing had happened. She wondered how Weinstein's staff could not know what was going on.

"I ruined several really good relationships because of this. My schoolwork definitely suffered, and my roommates told me to go to a therapist because they thought I was going to kill myself."

In the years that followed, Evans encountered Weinstein occasionally. Once, while she was walking her dog in Greenwich Village, she saw him getting into a car. "I very clearly saw him. I made eye contact," she said. "I remember getting chills down my spine just looking at him. I was so horrified. I have nightmares about him to this day."
Wow. This is horrific. And disgusting. Ladies, if you're ever in this type of situation, PLEASE find help and let police and others know.  It's imperative.
Photos: Getty/advertiser.ie