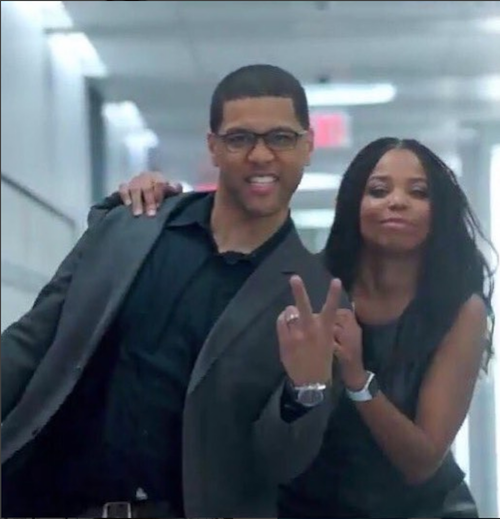 It's been a doozy of a week already, which kicked off with Jemele Hill's suspension from ESPN. Now, everybody is chiming in about it, and the tension is thicker than ever...
Once ESPN announced it was suspending SC6 host Jemele Hill for 2 weeks for "disobeying" the company's social media policy again, ish hit the fan. Individuals are still fighting against corporations (and government) who are trying to take away their constitutional rights to say whatever the f*** they lease about our government without breaking the law. And big names are now speaking up to defend Jemele.
Her long time co-host sat out Monday's show, but returned yesterday. Jemel thanked him saying:
I love you @michaelsmith for being my biggest supporter, a great friend, terrific husband & father. I truly don't deserve you. See you soon.

— Jemele Hill (@jemelehill) October 10, 2017
Other ESPN hosts jumped to her defense when Trump tried to attack Jemele personally:
None of this is normal. It is not okay. It's not normal. I love you @jemelehill

— Cari Champion (@CariChampion) October 10, 2017
@jemelehill=family.

— Jalen Rose (@JalenRose) October 10, 2017
Stop attacking our colleague Jemele Hill, any other journalists or media entities. We are doing our work. https://t.co/AygiHLUX0y

— Josina Anderson (@JosinaAnderson) October 10, 2017
Shouldn't a dude, ya know pass 1 item on his agenda, before pointing out the 'failings' of anyone else? Deflection: So hot right now.

— Michelle Beadle (@MichelleDBeadle) October 10, 2017
Now that the heat is all the way on the NFL to do right by their players and the effects of the boycotts continue to affect ratings, Trump wants to make sure NFL owners put on their slave master hats. So he's indirectly threatening to sic the IRS on them:
Why is the NFL getting massive tax breaks while at the same time disrespecting our Anthem, Flag and Country? Change tax law!

— Donald J. Trump (@realDonaldTrump) October 10, 2017
After this tweet, like....right after it, NFL commissioner Roger Goodell changed his tune about Trump being divisive and ridiculous. Goodell swiftly posted that he's "working on a plan" to make it a contractual obligation for every NFL player to stand during the anthem.
We've never seen a President of the Free World be THIS pressed over how a private organization and private citizens are exercising their constitutional rights.  We put 5 on it that it's because he's catering to his racist supporters who have a slave owner mindset (yeah, we're looking at you too Mike Ditka!).  The 2020 Preidential election is right around the corner, so you gotta keep those oblivious followers happy by any means necesary.
Trump even applauded the NFL for their "anthem crackdown"....and it hasn't even happened yet.  See how the power of "just say it and they'll automatically believe it and I will get the credit" works?
The fear and transparency chile....
Funny how the NFL has said and done FAR more about the protests of injustice than about injustice itself. Go figure. Hopefully NFL ballers -- in an organization comprised 70% of black men -- recognize their power. And soon.
If everybody was on one page and folks refused to hit that field until Goodell falls all the way back, watch how quickly things would change. Taxes would be the least of his worries....