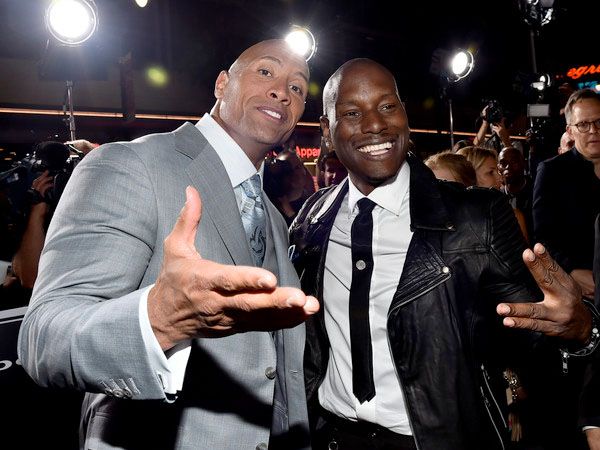 This Fast & Furious feud just won't stop. Find out how Dwayne "The Rock" Johnson popped back at his co-star Tyrese and more inside…
The Fast & Furious cast fight like they hate each other, yet still keep talking about the "brotherhood." Maybe that's just part of the process when you bump heads with people you love, but these guys STAY at each other's necks. We can only imagine what it's like on set.
Anywho, after Tyrese hopped on Instagram blaming Dwayne "The Rock" Johnson for the delay of Fast & Furious 9, the former wrestler is now responding. He's hilariously shady.  And we love it.
There have been rumors of a Hobbs spinoff circulating for years and now it has been confirmed. It's coming. And The Rock is more than happy about it, even if Ty is salty.
Here's what The Rock had to say:
Y'all peep that #CandyAssesNeedNotApply? That's what he called his male co-stars during the filming of Fast & Furious 8. Hmph.
Co-star Vin Diesel also joined in on the drama, posting up contradictory posts siding with both Ty and The Rock. Check them out below:
Oh and get this, Tank (Tyrese's former TGT bandmate) may even get a part in the Hobbs spinoff. He hit up The Rock about it, and The Rock responded:
Remember how Tank and Tyrese fell out after that TGT drama last year? He aint slick...
By the way, the Hobbs spinoff hits theaters July 26, 2019.
Photo: Getty