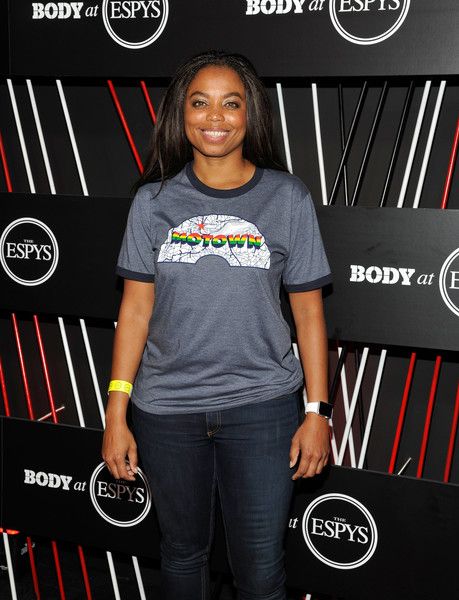 ESPN just checked another box off their To-Do list in order to get outspoken host Jemele Hill off the network. The latest on the "SportsCenter" host's two week suspension inside...
ESPN is on a mission to teach Jemele Hill a lesson, and seemingly also on a mission to force her to quit.
After "warning" her about her anti-Trump, anti-supremacist tweets that they claimed violated company social media policy, they pulled the trigger on a major suspension due to her tweets about a Jerry Jones/Cowboys boycott.
Yesterday, Jemele responded to Tweets on her timeline referencing Dallas Cowboys owner Jerry Jones' ridiculous statement threatening his own players about repercussions they'll face if they kneel during the anthem.  While many were calling for Dak Prescott, Ezekiel Elliot, Dez Bryant and more to protest anyway, even under the threat of being pulled from the game, Jemele said folks should take matters into their own hands.
She went on a Twitter spree applauding folks for thinking of a boycott against the advertisers who eat out of Jerry's hands.  She also gave her own take on how to make it work, but made it clear she wasn't calling for a boycott of the entire NFL.  Jemele basically said that if you REALLY want to effect change this is the way to do it.  And she's not wrong.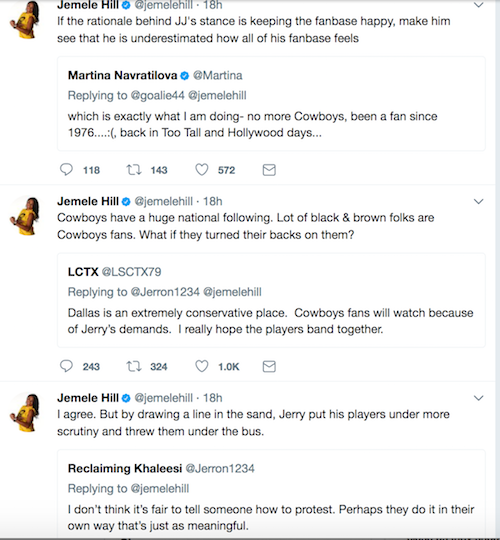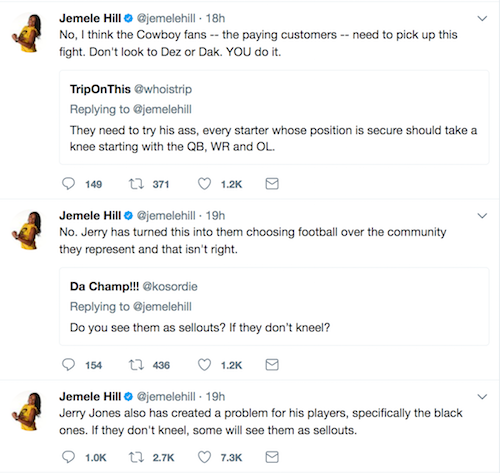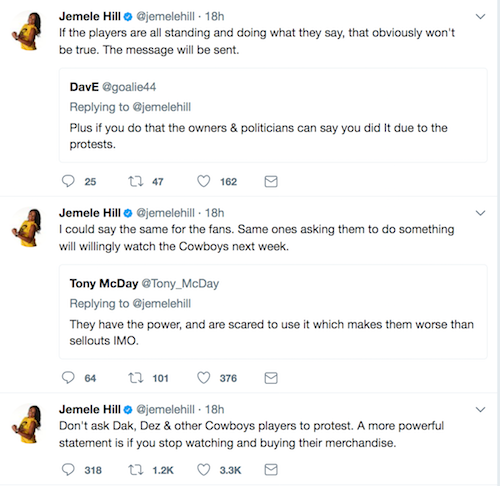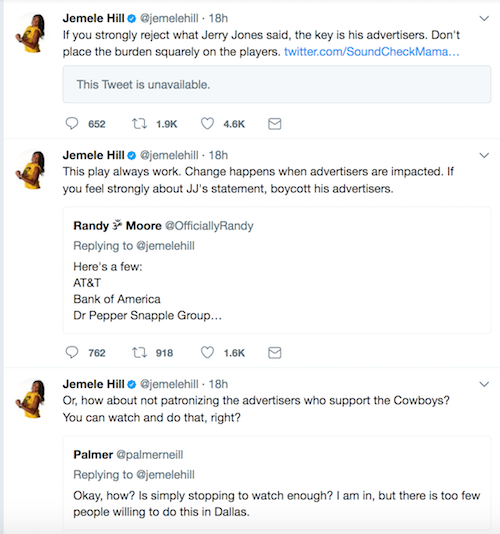 However, ESPN -- who has seemingly just been ITCHING for Jemele to Tweet some more ish after the last hoopla -- wasn't having it.  Now, the network is silencing her after they attempted to get her off the air previously (no other host would step in when they were asked, reportedly, so ESPN declined to suspend her then).
In a just-released statement, ESPN says she violated company social media policy for the second time, and is being punished with a two week suspension.
ESPN's Statement on Jemele Hill: pic.twitter.com/JkVoBVz7lv

— ESPN PR (@ESPNPR) October 9, 2017
Honestly, these tweets were some of the milder ones she's posted.  ESPN tried it.
Apparently, Ms. Hill is held to a higher standard on social media than our alleged POTUS. Go figure.
How Black Twitter getting ready to ride for Jemele Hill after finding out ESPN suspended her pic.twitter.com/eYGkN4JDPc

— Josiah Johnson (@KingJosiah54) October 9, 2017
Basically.
It's a blessing and a curse to work for a private entity.  It'll be interesting, though, to see how many black men come to Jemele's defense in return for her outspokeness on issues affecting them specifically.
Photos: Getty/Twitter