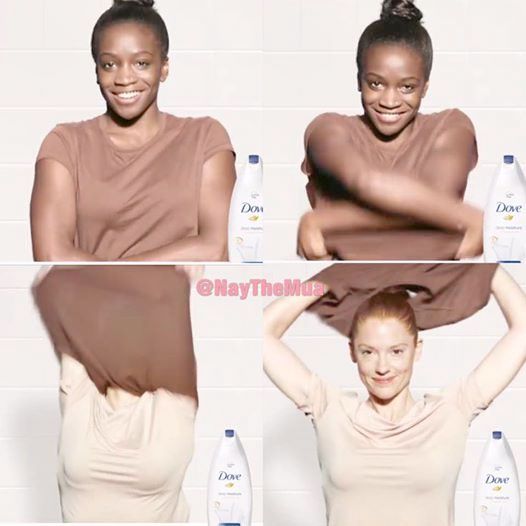 Dove just made the top of some black people lists on which brands to boycott after they unveiled a new ad that screams racism. See the ad, plus find out what Gabrielle Union and Justine Skye had to say about it inside…
Feels like déjà vu.
Another big company creating an ad that's racially insensitive and another weak "a**" apology. Anyone else tired of this ish?
This time, it was Dove who tried it. Apparently, the company put up an ad on Facebook where a black woman in a brown shirt is seen pulling her shirt over her head and magically transforms into a white woman in a white shirt. After the white woman appears, she takes her shirt off and a third woman appears.
Peep the full ad below, which was seemingly supposed to convey that the soap works for all skin types: 
Dove is facing backlash for this Facebook soap ad that is being perceived as racist. Do you think it's racist? pic.twitter.com/HvI40C1e37

— Pop Crave (@PopCrave) October 9, 2017
Makeup artist/model Naomi Leann Blake posted screenshots from the ad to her Facebook page and it quickly went viral.
As expected, people hopped on social media to DRAG the brand for filth. "Being Mary Jane" star Gabrielle Union and singer Justine Skye also added their 2 cents to the conversation:
I really would like to know who exactly had a seat at the table making this decision. https://t.co/rPRxB61Exl

— Gabrielle Union (@itsgabrielleu) October 8, 2017
Okay, Dove...
One racist ad makes you suspect.
Two racist ads makes you kinda guilty. pic.twitter.com/hAwNCN84h2

— Keith Boykin (@keithboykin) October 8, 2017
Let's be clear, Dove knew exactly what they were doing with their racist ad. Soap companies used to do this racist theme all the time pic.twitter.com/EzvAiExNcP

— Tariq Nasheed (@tariqnasheed) October 8, 2017
How can Dove be this stupid in this modern world??? pic.twitter.com/NBNHledQcL

— BILLION (@BillionTwiTs) October 9, 2017
As expected, once they received the backlash, it was time to apologize. They pulled the ad and then released this statement:
An image we recently posted on Facebook missed the mark in representing women of color thoughtfully. We deeply regret the offense it caused.

— Dove (@Dove) October 7, 2017
What mark were they aiming for? Just curious. 
Anyone else OVER IT?!
Also...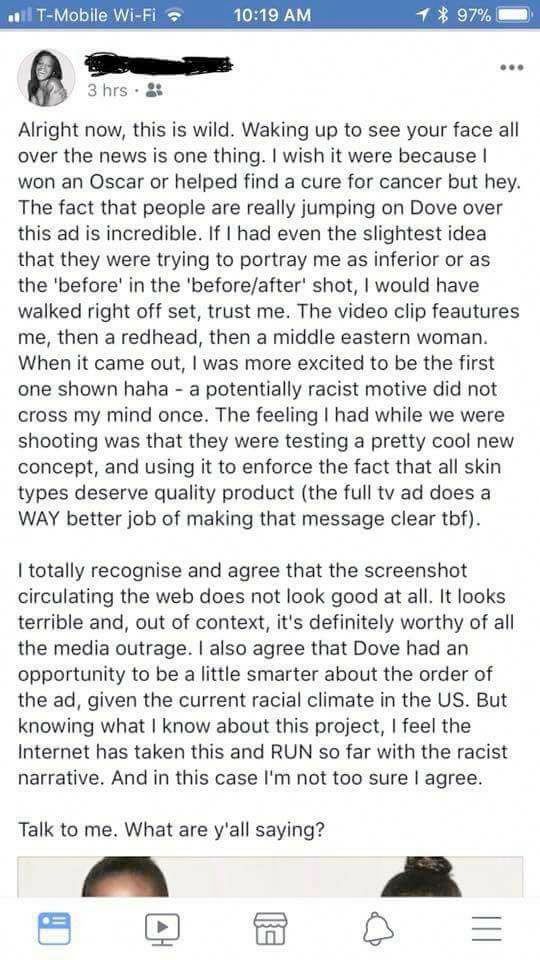 The model in the ad took to her Facebook account to address how she feels about it. She feels like the screenshots were taken out of context and she understands why people may be up in arms. However, she didn't feel like the ad itself was racist. Read her full response above.
Thoughts?
EXTRAS:
1. T.I. lead a protest against Houston's restaurant in Atlanta over the weekend due to the company allegedly discriminating against blacks. STORY