Model Slick Woods did a photoshoot with Khloe Kardashian for her Good American clothing line and it has us scratching our heads and wondering…WHY? More inside….
Why? Why? Why?
Model Slick Woods, who has modeled for Rihanna's Fenty Beauty collection, is starring in a new campaign with Khloe Kardashian for her Good American clothing line. And the pictures are just….UGH.
In one photo, Khloe is standing up looking while looking down at Slick with her hand on the back of her head as the YBF model kneels down while grabbing her leg. "This chick right here is crazy, sexy, cool all rolled into one @slickwoods!," Khloe captioned."Slick was so much fun to shoot with! She's a force to be reckoned with! #GoodSquad #GoodAmerican."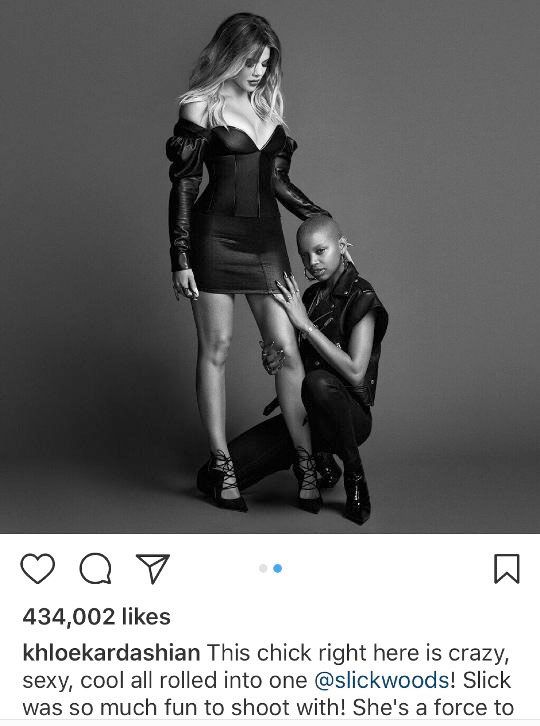 What in the white privilege hell is this? Does this image not reek of master-slave imagery? Or is it just us?
Below are some reactions to the photo:
"Just another stupid ass Kardashian move w their white privilege at the expense of Black folk. Disappear already and stop w your white tears after you done f*ck up"

"She's patting her head like, "Good girl". Photos are very degrading in my opinion.

"This is weak ... she looks like a peasant kneeling at that hoes feet. Get tf up sm

"This is straight up "Massa's Wife"! In the first one, homegirl is on on her knees worshipping. In the second one she's giving a shoulder rub. FTS I'm all tha way out. kmt"
We noticed Khloe has erased the pics from her Instagram account after the backlash, you know, the usual. There will probably be a fake PR apology coming down the pipeline and all will be well with the world.
Do we swipe Slick Woods' black card or nah?
Photos: Khloe's IG