Tamar Braxton had to fire her stylist over a "cheap" outfit. Meanwhile, her husband Vince Herbert (who was in a car accident recently) has to cough up millions to Sony. All the deets inside…
Tamar Braxton's wardrobe stylist TRIED it, so she fired his outfit-shaming ass.
Here's what happened….
The songbird was getting ready for an appearance with ESSENCE when something went down behind-the-scenes in her dressing room. It's unclear exactly what was said, but according to Tamar, her stylist made her feel "less than" because she was wearing a $40 cameo jumpsuit from Forever 21.
After she served him his pink slip, she hopped on Instagram to explain what happened and to offer up words of encouragement to her Tamartian fans:
Weird he would make her feel some type of way when celebs mix and match high and low end all of the time.
On the promo trail for her upcoming album...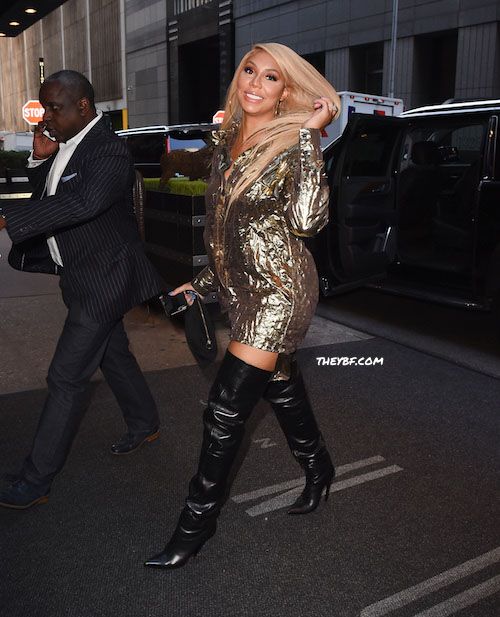 The "Love & War" singer stopped by the "Wendy Williams Show" in a plunging gold number and black thigh high Balenciaga boots to chop it up about her new album Bluebird of Happiness, how her husband Vince Herbert is doing after he was involved in a car crash last month, and how her mother Evelyn Braxton is doing after undergoing heart surgery and suffering a stroke.
She said she went out of town to do Black Gay Pride in Atlanta when she was informed Vine was involved in a car accident. She said she spoke with Vince and he said he was fine so she stayed an extra day in ATL. When she got home, Vince was in the hospital. He totaled the car, but luckily he's doing good now.
As for her "quitting music," she's still going on tour, she's just not making another album. She may even do some collaboration tracks. Tamar is also going on tour with XSCAPE.
Good news. Tamar and Tiny Harris have squashed their beef and they are back to being besties again. They'll be kiki'n it up when they head out on "The Great XSCAPE Tour," set to kick off in November. Apparently, she squashed her beef with Monica too, who is also going on the Xscape tour.
Tamar spilled some tea on her sister Toni Braxton as well. She confirmed Toni and Birdman are in fact still dating. And she even referred to him as her "brother-in-law" being that he has stepped up and has been acting in that role. Tamar's mom Evelyn had to have heart surgery and then she ended up suffering stroke. Thankfully, she's fine, but she said Birdman was by Mama Evelyn's side the entire time. She even joked that Toni and Birdman could already be married.
Peep the interview below:
The 40-year-old singer also performed her track "Blind"
By the way....
A judge has ordered Tamar's husband Vince Herbert to cough up some hella cash after losing a legal battle against Sony.
TMZ reports:
Music exec Vince Herbert has to cough up the dough after a judge sided with Sony in their legal battle over a 2013 advance. According to the suit ... Sony paid Herbert to find new talent, and part of the deal required payments back from Interscope Records.

However, Sony sued Herbert, claiming he started intercepting the money from Interscope in October 2015 ... thereby screwing Sony out of recouping the advance.

Herbert failed to respond to the lawsuit, and the judge issued a default judgment. Now, including interest, Vince has to pay $3,738,515.93 to Sony.

Interesting note -- Tamar recently announced her upcoming album, "Bluebird of Happiness," will be her last before retiring to focus on her marriage. Maybe the family checkbook too.
Yikes!
Speaking of Tiny...
Tamar came out to support Tiny with her new co-ed basketball endeavor during its debut game. The R&B singer looked on as the Atlanta Heirs (Tiny's team) defeated the New Orleans Gators (Master P's team) in Vegas.
Tiny, who's gearing up to go on tour with Tamar and Xscape, brought her daughters Zonnique Pullins and baby Heiress Harris. "Love & Hip Hop: Atlanta" star Mimi Faust was in the stands to cheer on her girlfriend/WNBA player Tamera Young. And Master P's son/"Growing Up Hip Hop" star Romeo flexed his basketball skills on the court.
Peep the pics below: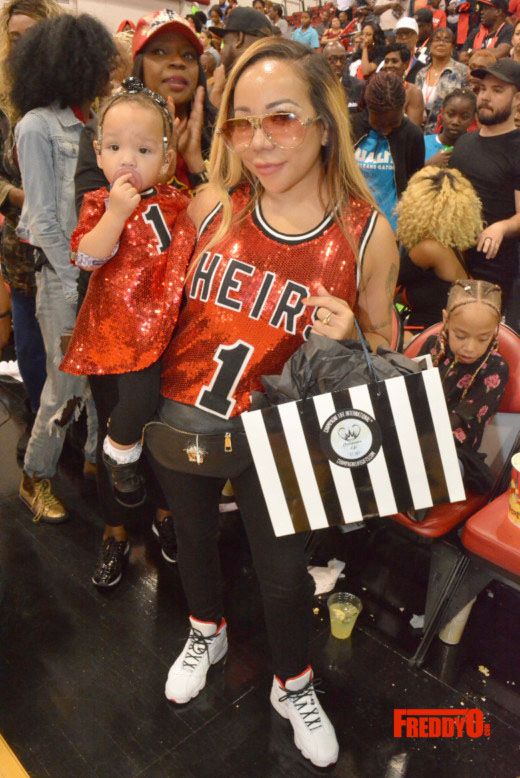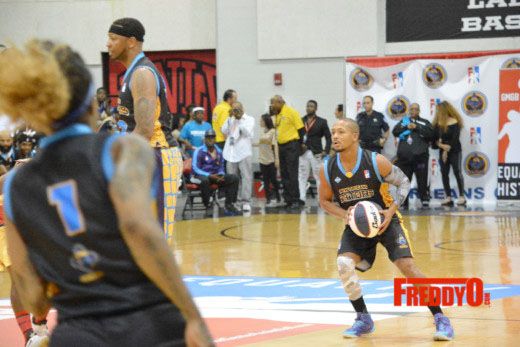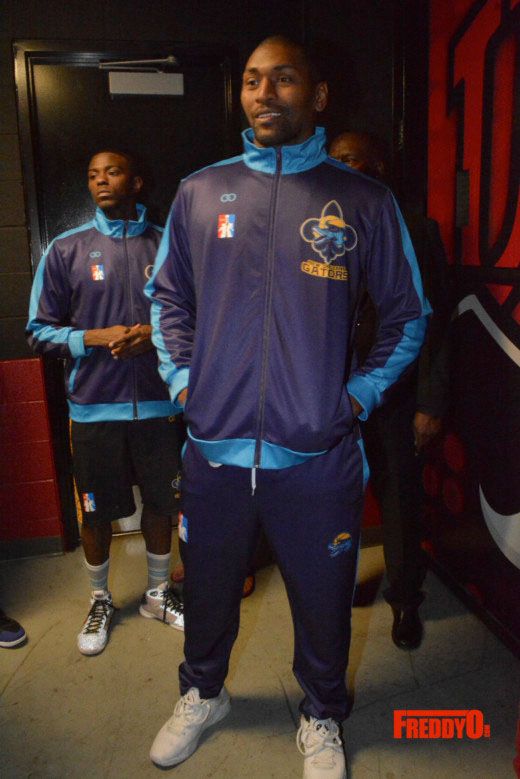 Fun times. 
By the way, Tamar also hinted a collaboration track with Cardi B.
Photos: Tamar's IG/Pacific Coast News/FreddyO