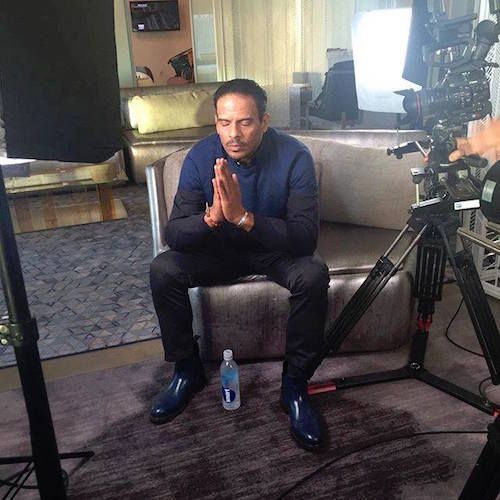 Remember singer Christopher Williams?  He was just arrested for allegedly stealing.  The foolery inside, plus what really went down at Gucci Mane's bachelor party with Offset, all caught on tape...
So....Christopher Williams. The Christopher Williams that everybody had a crush on in the 90's.  The "I'm Dreamin'" New Jack City Christopher Williams.  Y'all, apparently he's out here stealing headphones.
The 50-year-old R&B singer reportedly walked into a Kohl's in Georgia this past Saturday with a tote bag and swiped some $100 JBL headphones.  He thought he could disguise himself with a baseball cap and claim he simply "forgot" to pay.  TMZ reports:
Sources tell us the incident went down Saturday at a Kohl's in McDonough, Georgia where Chris walked in with a tote bag and wearing a baseball cap. We're told he went to the back of the store and grabbed a pair of JBL headphones ... priced at $99.99.

We're told he threw the headphones into his bag and tried walking out. When security stopped him, we're told Chris said he simply forgot he bagged them.
He was arrested on petty theft charges and released hours later.
He's been busy lately posting interesting videos on his Facebook page. And clapping back at folks who are shocked by how he looks now:
Bloop.
In other music news, Gucci Mane just dropped the visuals to his newest single "Met Gala."  The Metro Boomin'-produced track is off his album that dropped this past May, DropTopWop.
Remember when folks thought Offset surprised Gucci with a bachelor party when pics of him with big booty dancers (likely strippers) popped up on Instagram?  Either it was all for the video, or they turned an actual bachelor party into a video set.
The fellas get some twerk action from the living room to the bathroom.  And there's booty everywhere.  Check it:
We've got Gucci's fiancé Keyshia Ka'oir on The YBF Podcast today. We'll be sure to ask her about it all...
Photo: Facebook