Erica Campbell tried to come to her sister Tina Campbell's defense after she admitted to voting for 45, but folks whipped out receipts to shut her down.  Including the interviewer.  Get it all inside…
Interviews can get tricky when a specific portion of the conversation is highlighted and people respond to it.
Mary Mary singer Tina Campbell sat down with Karu F. Daniels to chop it up about a plethora of topics for The Root. One of them being our current president. In the interview, Tina revealed she voted for Trump and explained why.
"I was faced with two presidential candidates that I really did not approve of," Tina explained."And so I had to find something, a commonality with one of them, that would make me feel like if I have to vote, I should utilize my right to vote. Since I don't prefer either of them, what can I find that would make me vote? And some of Donald Trump's views on Christianity, honestly, is what caused me to vote for him."
Well this nugget set social media on fire. Once the (legitimate) dragging commenced, Tina's sister Erica Campbell hopped on Instagram to defend her.
Check it: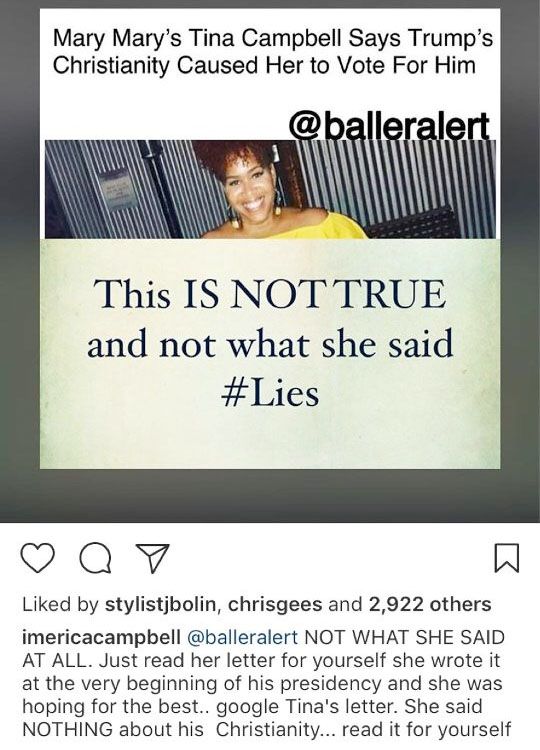 We assume she hadn't talked to her sister before she posted.  She eventually deleted this, by the way. And it seems Erica was referring to the open letter Tina wrote earlier this year about Trump. More on that later.
While she may have not said anything about Trump's Christianity in the open letter, she definitely did in the interview with The Root.
CNN analyst Angela Rye (who's currently dating rapper Common) hopped on Instagram with receipts to pop back:
TheYBF.com reached out to The Root and here's what writer Karu Daniels had to say about the piece:
"I have no reason whatsoever to misquote any celebrity notable I interview. EVER!!! Whoever says otherwise is barking up the wrong tree. For the record, I interviewed Tina Campbell with her publicist JoJo Pada present. it was recorded. Her sister/recording partner Erica Campbell was not involved with the conversation at all. May God bless them all."
Honestly, Tina voting for Trump doesn't shock us at all. Did y'all forget when she was caping for him after he won the presidency?
In an open letter she posted on Facebook, she said, "I choose to believe in President Donald Trump. I choose to stand with him, and pray for him; because, as a follower of Jesus Christ and a firm believer in the Holy Bible."
Yeah, we aren't shocked at all. She has a forgiving spirit, especially when it comes to forgiving her cheating husband.
In fact, she addressed what she would do if her husband Teddy Campbell were to cheat again during the interview with The Root:
"I don't have any thoughts, any concerns, whatsoever, whether or not my husband might do this again," Campbell, 43, revealed.

"Because first of all, I believe just like God fully changed me, he fully changed him. And if God had not changed me, I would never even be able to see that God changed him. I would never be able to forgive or see any differently than the mistake he made.
"I wouldn't want people to see me as the worst mistake that I ever made," she added. "I wouldn't want that to be your only perspective that you're ever going to have of me. You can never see me change and becoming better or anything. You saw me on my bad day and that's the sum of my existence forever. So I choose not to look at people that way. I'm not mad at my husband. I'm not mad at any of those women."
Oh.  Ok girl....