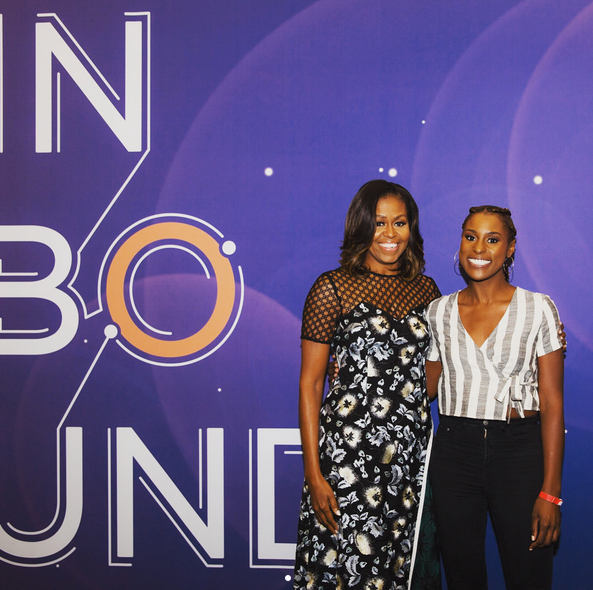 Former First Lady Michelle Obama had some fun with Issa Rae at a conference before delivering a powerful speech for women everywhere. Hear her speech and find out how hard former President Barack Obama had dropping Malia Obama off for college inside…
We haven't heard from our former First Lady Michelle Obama in a good minute, but she's back. And she has some encouraging words, per usual. We could use it. Women already have it hard out here, and when you're a black woman it's twice as hard.
The former FLOTUS linked up with "Insecure" star Issa Rae at the Inbound marketing conference in Boston where they chopped it up about Issa's hit HBO series. The season 2 even had Mrs. Obama on the edge of her seat with the twisted ending.
Issa was TOO hype to meet Mrs. O during the event. We mean, who wouldn't? She is the epitome of #BlackGirlMagic that all of us black girls and women aspire to be like. FLOTUS and Issa snapped a few pics together and the YBF actress explained Mrs. O's reaction to the finale in three pictures, captioning,"A) Me and My President. B) Me after my President told me she was mad about the #InsecureHBO finale fake out. C) Me hugging My President with eternal gratefulness. #INBOUND17"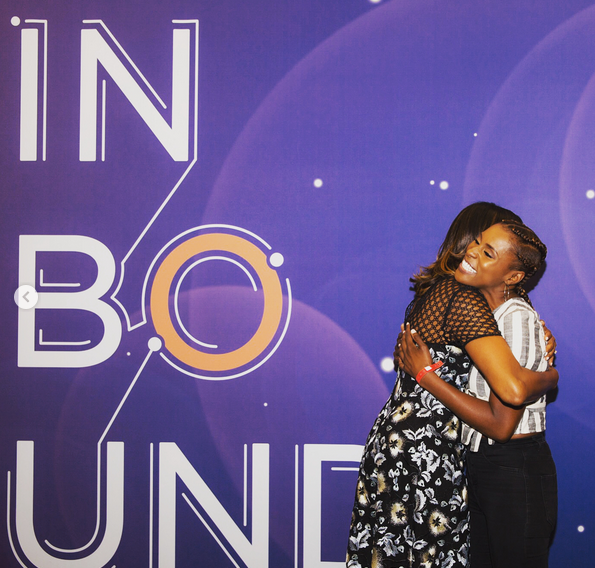 On the panel, Mrs. O dropped some gems like she always does. And what she said is something all women can stand to hear over and over again.
"We think 12 times before we open our mouths—'Well maybe I'm wrong'" she said.

"We argue with ourselves in our head and we think that 'Before I speak up, it has to be perfect,' while the guy is like blah blah blah … Not thinking about perfect, right, or anything—he's just like 'I'm used to hearing my voice.' That's what happens to a lot of people. And if you've been socialized to think your voice doesn't matter—and it's done in very subtle ways: maybe it happened at your dinner table with the father you adored who would talk right over you, or the brothers who just took up too much space and you learned to be quiet, or the mother who told you that being ladylike meant that you watched your words and you didn't interrupt … There's so much that goes on that shushes us."
These golden nuggets!
And about all those women who voted for Trump:
"Any woman who voted against Hillary Clinton voted against their own voice," she said at the Inbound 2017 conference in Boston, according to video from inside the event. "What does it mean for us as women that we look at those two candidates, as women, and many of us said, that guy, he's better for me, his voice is more true to me," Obama said. "Well, to me that just says you don't like your voice. You like the thing you're told to like."
Of course, she's catching heat from those very women who say she's wrong and condescending.  But if the shoe fits....
Mrs. O also touched on the current administration, her favorite track on Beyonce's LEMONADE album and more.
Peep the clips below:
Thank you @rgay for asking about @MichelleObama's favorite song on Formation. This weighed heavily on my mind as well #INBOUND2017pic.twitter.com/9tVeLgQsvW

— Trish Smyth (@trishwithapen) September 27, 2017
Thank you @rgay for asking about @MichelleObama's favorite song on Formation. This weighed heavily on my mind as well #INBOUND2017pic.twitter.com/9tVeLgQsvW

— Trish Smyth (@trishwithapen) September 27, 2017
Loved every minute of @MichelleObama this morning. #inbound17#MichelleObamapic.twitter.com/80AowcM4Jy

— Amanda Leeman (@amanda_leeman) September 27, 2017
Love her!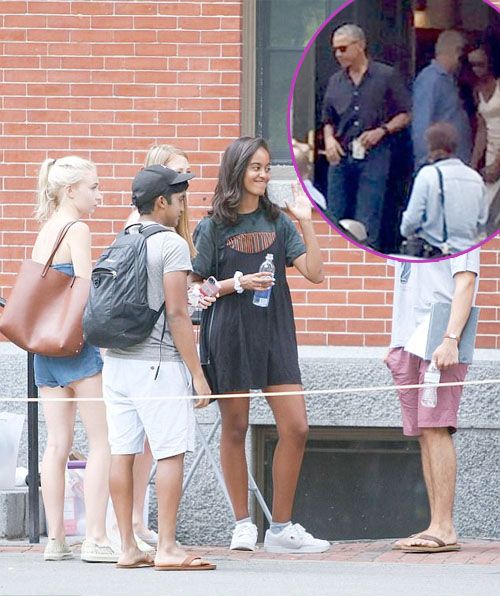 When former First Couple Barack and Michelle Obama dropped their daughter Malia Obama off at Harvard University last month, it was reported they got quite emotional.
Now, former POTUS is opening about the day he dropped his first born off at college. During a speech at Beau Biden Foundation for the Protection of Children (which was named for former Vice President Joseph R. Biden's older son), POTUS shared how dropping Malia off felt like open-heart surgery.
"For those of us who have daughters, it just happens fast," POTUS said."I dropped off Malia at college, and I was saying to Joe and Jill that it was a little bit like open-heart surgery, and I was proud that I did not cry in front of her. But on the way back, the Secret Service was all looking straight ahead pretending they weren't hearing me as I sniffled and blew my nose. It was rough."
Aww! We're sure all the YBF dads can relate to this one.
By the way, it seems like our Forever President is still living his best life.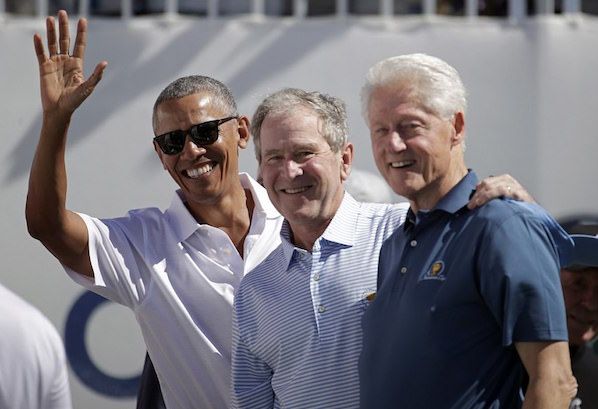 He joined fellow former Presidents George W. Bush and Bill Clinton at the opening ceremony of the Presidents Cup golf tournament in New Jersey today:
Everybody looks happy as pie to not be dealing with the pure f'ery of our current nation.  But we love that they have linked up in multiple ways to help anyway, forming The Fund this month to help hurricane ravaged areas.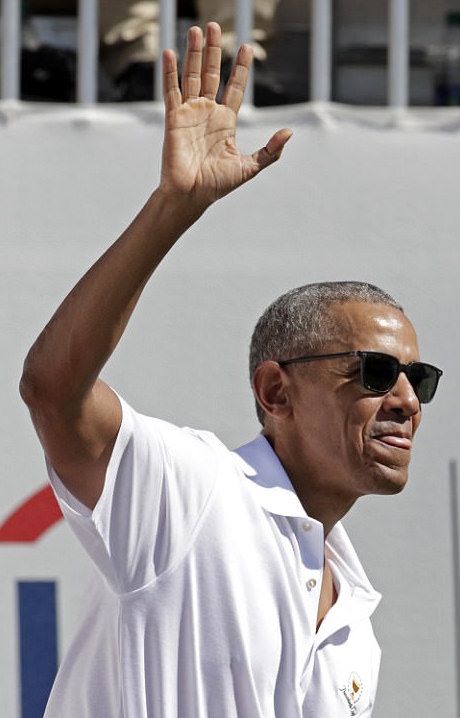 Loves it!
Photos: Issa's IG/DailyMai/EPA/Getty/AP