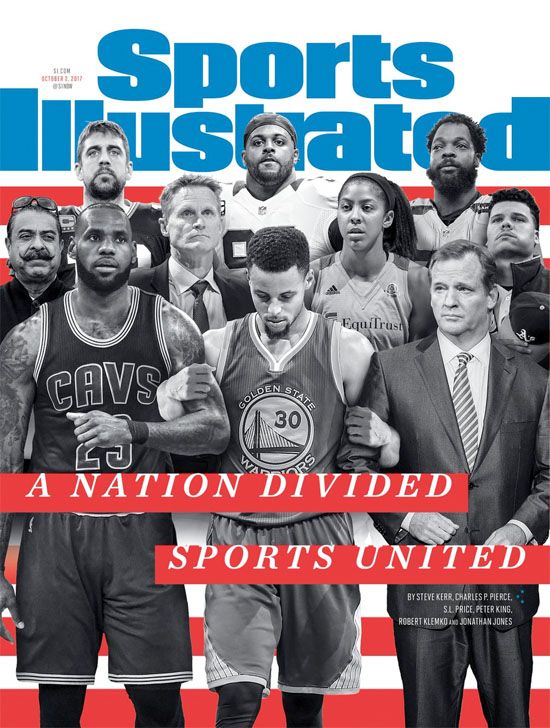 So, Sports Illustrated dedicated their newest issue to the professional athletes that are taking a stand (and a knee) against racial and social injustice. But they totally forgot to Photoshop in the person who started it all: Colin Kaepernick. More inside…
The hate and shade is SO real.
So, Sports Illustrated put their Photoshop skills to work for this week's issue about professional athletes coming together to speak out and protest against social and racial injustice. The cover features 10 prominent professional athletes – including LeBron James, Steph Curry, WNBA player Candace Parker and more- linking arms with the title, "A nation divided, sports united."
But, someone in the editing room had a major oversight. Or maybe it wasn't an oversight at all. Maybe it was just SHADE. Either way, the cover creators forgot to paste in former 49ers QB/free agent Colin Kaepernick. You know, the man who got us all talking about political protests in sports in the first place.
When SI dropped the cover, social media was in a frenzy asking the same question we're asking…"Where IS COLIN?!"
Well, SI executive editor Steve Cannella has a response, if you want to call it that.
"What we wanted to capture with this cover [was] yes the news of the weekend... but we thought the enduring message of what we saw, especially on Sunday in the NFL, was this sense of unity," he said.

"In some ways even though his picture is not there, in some ways Colin Kaepernick is there, I think we all know that," he said. "Colin Kaepernick is, for a lack of a better word, looming over everything that happened this weekend, and looms over many issues in society right now. I thought what we were trying to capture with this cover is the way new voices emerged this weekend, and the way this debate, this issue, this protest movement has sort of evolved even beyond Colin Kaepernick."

"He's the guy who sort of started it all, I think we see a lot more people in various ways sort of join the movement for lack of a better term this weekend. That's what we were trying to capture with this cover," Cannella went on. "Colin Kaepernick is on that cover, even if his face isn't, and his name's not there, we all know who stands behind this movement, we all know who got it started. Colin Kaepernick has many more brothers today than he did a week ago."
HOW Sway?  How? This protest is not about simple unity in sports, unless they're unifying to defeat racial injustices.
We can't.
Steph Curry, who's featured, isn't feeling the cover at all and called it "terrible""
Stephen Curry said the recent SI cover (in which he was on) not including Colin Kaepernick was "terrible" pic.twitter.com/HDSUxcQvdm

— Anthony Slater (@anthonyVslater) September 27, 2017
We agree. Thoughts?
Photo: SI