Kofi Siriboe and Sterling K. Brown had us ready to lick our televisions with all their melanin sexiness during their daytime appearances. Find out what Kofi said about singledom and see Sterling take it off inside…
With "Queen Sugar" set to come back for a brand new season soon (yesss!), Kofi Siriboe is currently making his rounds to promote.
The YBF hottie stopped by the "Wendy Show" this morning looking like a snack, hell a whole meal actually. Women were losing their minds and we can't even be mad.  Did he get more swole in real life, or is that just our minds wishing and hoping?
See?
The 23-year-old revealed he's currently single and will likely stay that way for a while. But, don't fret. It's for a good reason.
The "Queen Sugar" star said he wants to work on himself as he adjusts to fame and things like that. He wants to lay a good foundation so that when he's ready to be committed, he does it right. Plus, he wants tons of babies starting in the next 5 years. *raises hand slowly to offer ourselves up as tribute*
Besides, it would be hard for any woman to be in a relationship with him right now since he's for sure one of the HOTTEST actors in the game right now. Women would be laying thirst traps everywhere. The level of ho-spray you'd have to carry is something lethal.
About those Issa Rae rumors, he definitely played coy.  Something tells us it's nothing serious and nothing official, but he damn sure might want it to be.
Kofi also talked about blowing all of the money he made from the first season of "Queen Sugar," how his family felt about him being a sex symbol in Girls Trip and more.
Peep the interview below:
"Queen Sugar" returns for a two-night premiere October 3rd and October 4th at 10/9c on OWN.
During another daytime TV appearance...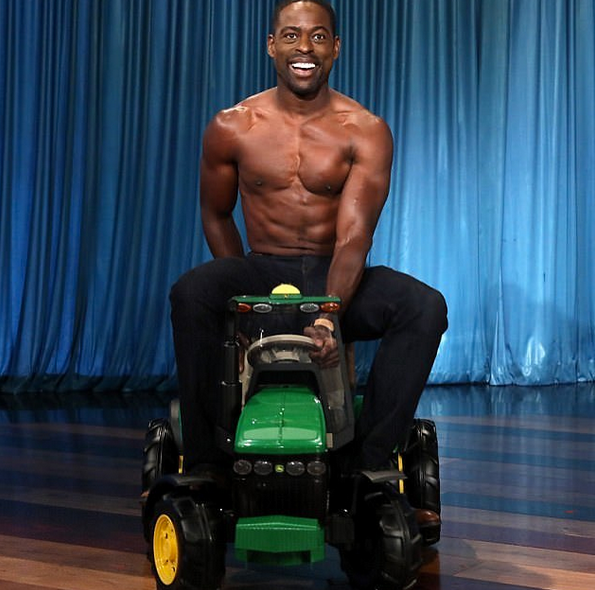 He was up for the challenge!
Sterling K. Brown stripped down to his bare chest for his first appearance on the "Ellen DeGeneres Show" as an initiation of sorts. The two-time EMMY winner appeared alongside his "This Is Us" co-stars Mandy Moore and Milo Ventimiglia where he was dared to ride a lawnmower shirtless since Mandy rode a lawnmower and Milo went shirtless for their debut appearances.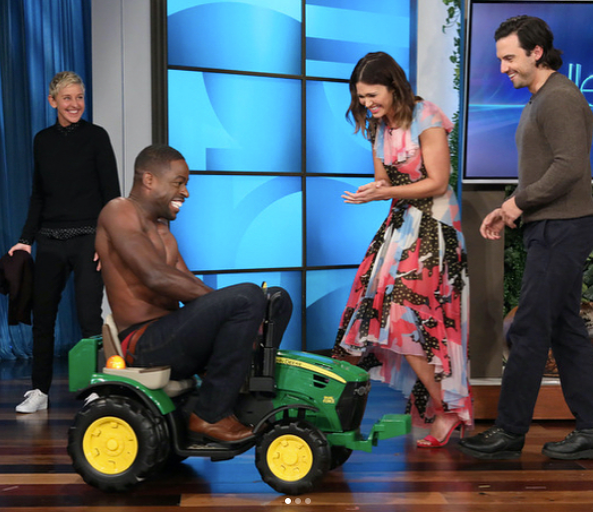 No sweat off Sterling's back, his body is RIGHT.
Peep the actor being a good sport below:
And since the EMMYs cut his epic speech short after he won for Outstanding Lead Actor In A Drama Series, Ellen let him get a do-over. Check it below:
By the way, Season 2 of "This Is Us" debuted with a premiere ratings high, raking in 12.94 million viewers, up 36% from its Season 1 premiere. Nice!
Photos: Getty/Instagram