The Cavs are back to work! It's media day for the Cleveland Cavaliers where LeBron James addressed his comments aimed at 45 and the team welcome new players Derrick Rose and Isaiah Thomas. Get it all inside…
LeBron James stands by his comments aimed at 45 after he tried to come for NFL players who joined Colin Kaepernick's peaceful national anthem protest. 45 referenced them as "sons of b******" and then went on Twitter urging NFL owners to fire any player who kneels (which is against the law for 45 to even say in the first place as president).
Then, 45 "uninvited" NBA baller Steph Curry to come to the White House to celebrate the Golden State Warriors' NBA champion AFTER he already said he wasn't going.
Well, King James came to Steph's defense and tweeted, "U bum @StephenCurry30 already said he ain't going! So therefore ain't no invite. Going to White House was a great honor until you showed up!"
He asked if he had any regrets about his comments today during the Cleveland Cavaliers Media Day. And here's what he had to say:
"No, name calling" he said. "What I say? That's not a name call. You bum. Me and my friends call me that all the time. I'm not his friend, though. I don't want to see that on the note. He's not my friend. No, when I woke up and saw what he said about Steph Curry. First of all, it's so funny because it's like you inviting me to your party, right? As a matter of fact, it's not like you invited me. It's almost, like, 'Tom, hey, I'm not going to be able to make it. I'm not coming and then you would be like, 'LeBron, guess what? You're not invited. I wasn't coming anyways, so that was funny to me when I woke up and saw that. So, my first initial response was, you bum."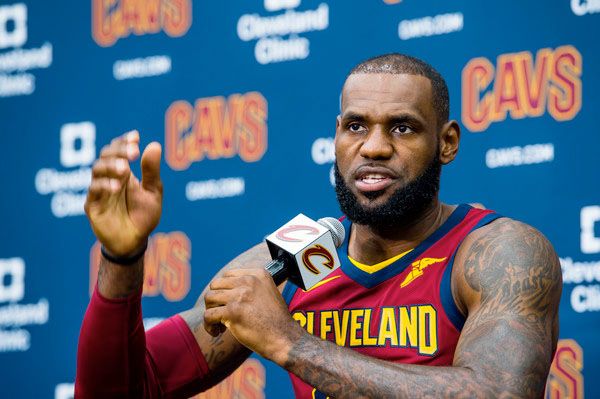 With the abundance of players taking a knee or taking some type of action during the NFL games yesterday, LeBon was asked if he plans on taking a knee during the national anthem once the NBA season kicks off. Based on his answer, it doesn't sound like he'll be taking a knee, but he's not knocking anyone else for doing so.
"We all have the right to express our feelings about whatever is going on at that particular time. I respect that from my teammate and I respect that from anybody else in the league. For me personally, my voice is more important than my knee. I talk (to media) every single day, what I say I think it should hit home for a lot of people. I don't believe I have to get on my knee to even further what I'm talking about. I don't down anybody that is doing anything in the NFL. I salute Colin Kaepernick for being as powerful as he was and being the one who had to fall on his sword unfortunate . I hate that and I hope--I wish I owned an NFL team right now I'd sign him today. But I'm not. But I think my voice what I do in my community and what I stand for, I don't think I have to show more by getting on a knee or doing something else. It's powerful what all these athletes are doing. We even had the first baseball player do it two nights ago, that's phenomenal. I commend these guys and I commend guys who are trying to make a difference."
He continued:
"Because it's not about the disrespect of the flag and our military and everybody has made this world free. It is about equality and people having the option and the freedom to speak upon things they feel that aren't just. It's not about the disrespect of the flag. I hope anybody that has anyone in the military - I do not - I do understand this is not a disrespect to the men and women who have served our world to help us become free. It's not about that. The people that are trying to divide us to say it's disrespect to the military families and the people who served our country. It is not about that, it's the furthest thing from that."
Peep his full interview below:
After chatting with the media, Bron snapped several new flicks for the upcoming NBA season:
And so did his new teammates, Isaiah Thomas and Derrick Rose:
Check out Isaiah's interview below:
Derrick Rose also talked about joining the Cavs: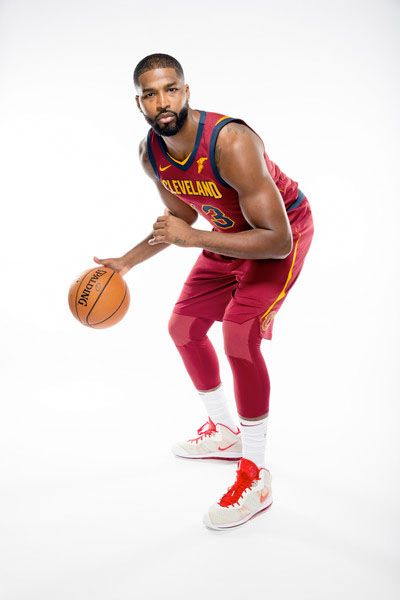 And here's Tristan Thompson's new media flick.
During media day, several flicks were snapped behind-the-scenes with the Cavs players: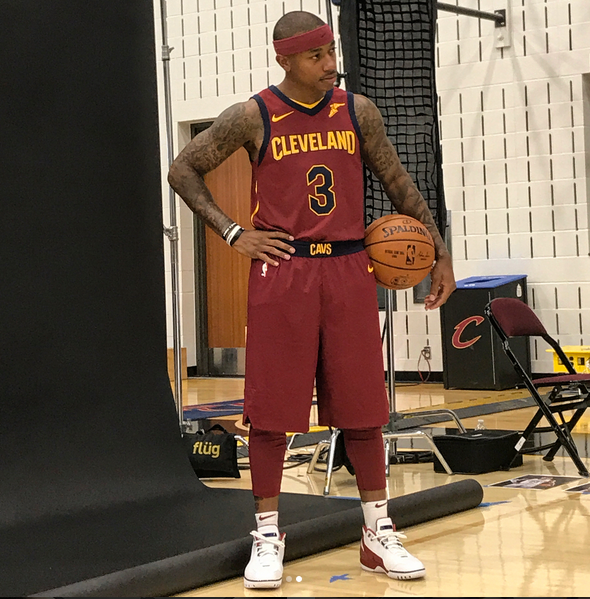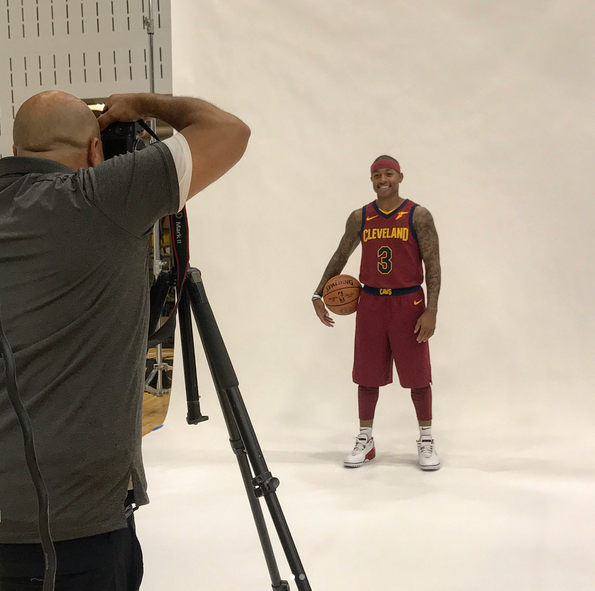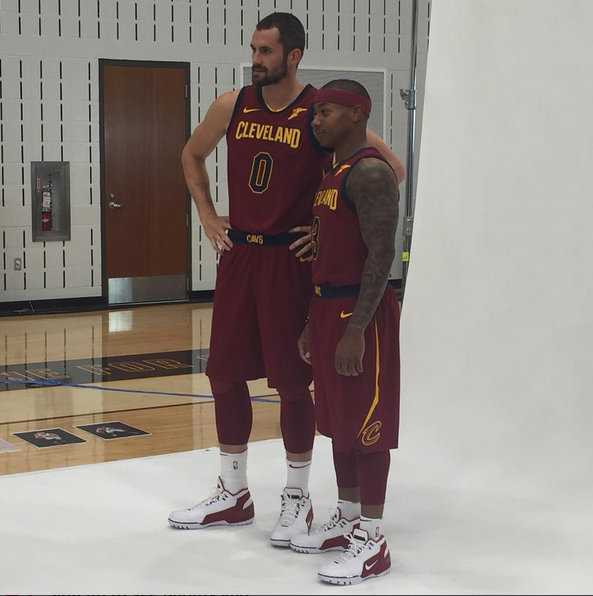 Looks like Isaiah got a warm welcome.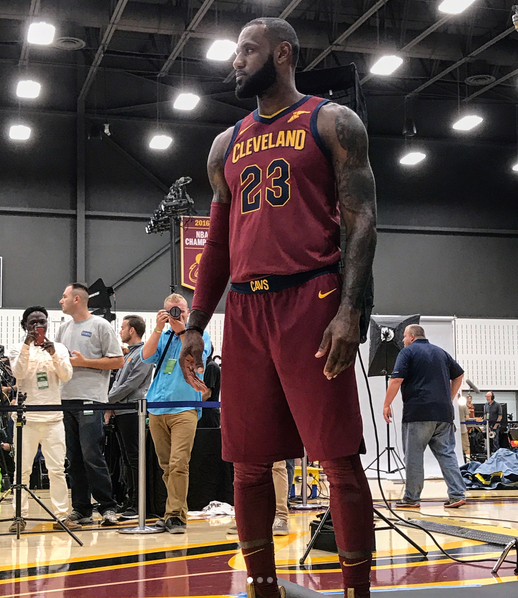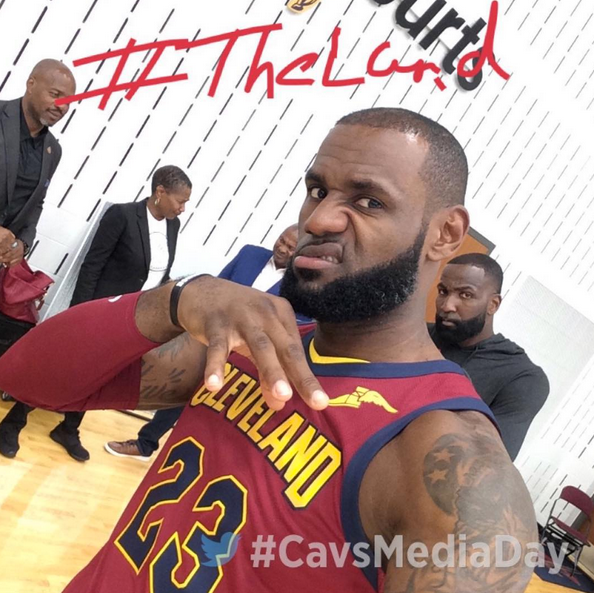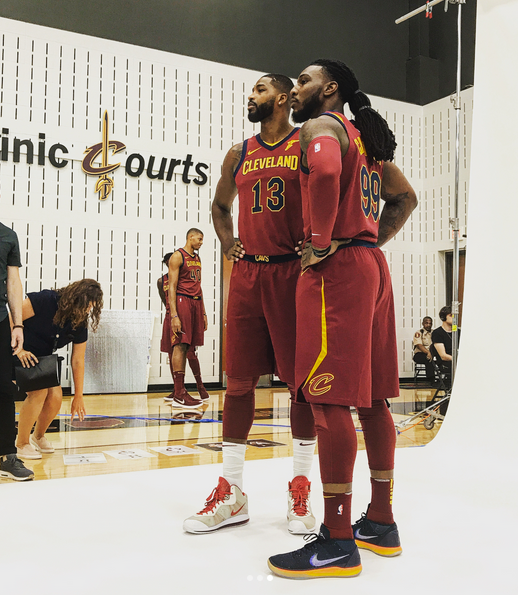 Tristan snapped it up with his teammate Jae Crowder.
Peep a few clips below:
Fun times.
EXTRAS:
1. Spurs Coach Gregg Popovich goes in on 45 and U.S. politics, "Our country is an embarrassment to the world."STORY
2. Cam Newton designs and launches C1N signature shoe. STORY
Photos: Getty/Instagram