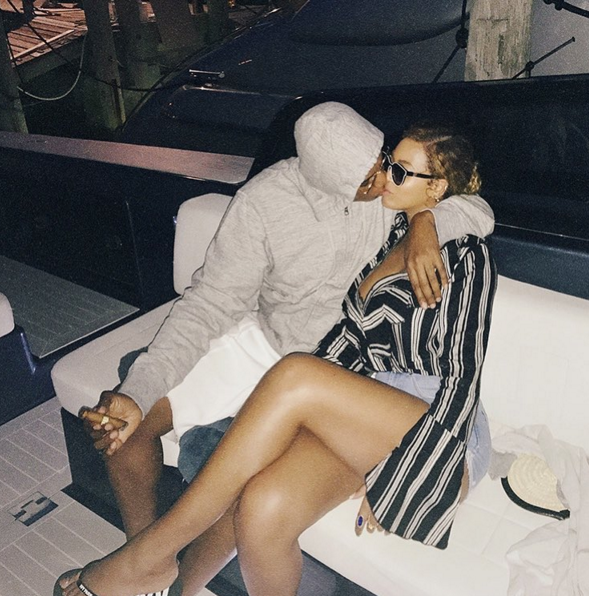 Beyonce and Jay Z are still all crazy in love. Peep their sexy, PDA filled date night flicks, plus details about the Carters doing a benefit concert inside…
Crazy in love!
Beyonce and Jay Z recently welcomed twin babies to their family fold, but they're still getting in some much-needed alone time together.
The power couple was all about the PDA action aboard a yacht as Hov went in to kiss his wife on the lips. Aww! Nothing like a mini getaway with the one you love. Life is surely hectic with them both being that they have twins, Sir& Rumi, big sister Blue Ivy and Hov gearing up to head out on tour next month.
They made their first public appearance together at Rihanna's Diamond Ball in NYC last week since Bey gave birth to the Carer twins in June. Before Mrs. Carter made her way to the Ball, she was busy helping hurricane victims in her hometown of Houston.
Speaking of relief efforts...
It was reported recently that Bey and Jay would be co-headlining a benefit concert at the Barclays Center in NYC, but that doesn't seem to be the case.
A rep from Bey's camp denied the US Weekly report that said Mr. & Mrs. Carter would co-headline the concert on October 17th at the Barclays Center in Brooklyn. However, a TIDAL rep said nothing has been announced about the annual benefit concert just yet.
"TIDAL will be hosting our annual benefit concert with details to soon follow," the rep said. "We have not announced or confirmed any line up or partner organizations, but stay tuned."
However, Rolling Stone is reporting details about the benefit concert that's set to go down October 17th. They report the concert will help raise money for natural disaster relief efforts in the aftermath of Hurricanes Harvey, Irma and Maria.
Powe 105 radio personality Angie Martinez will reportedly host the event and it will take place at the Barclays Center in Brooklyn. The lineup for the benefit show has not yet been announced and it's unclear if Bey or Jay will hit the stage.
This year's event will be TIDAL's third annual benefit show.
Photos: Beyonce.com