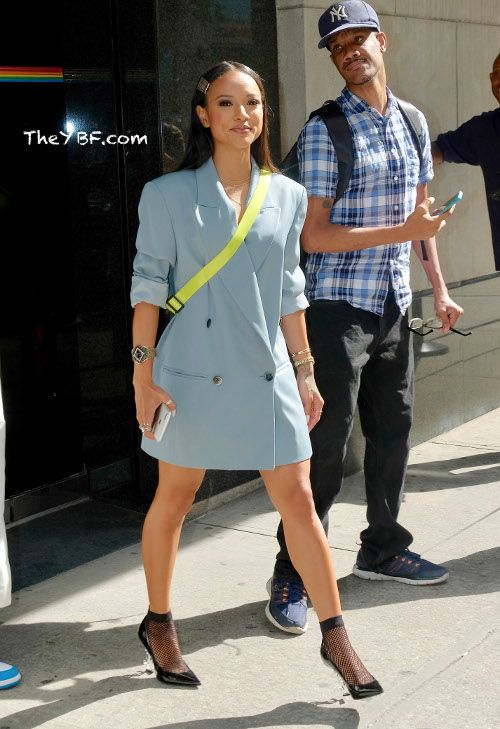 Despite dating rumors, Karrueche Tran says she's a single lady and she's not dating rapper Quavo. Find out what she said about her love life, plus the moment she realized she needed to file a restraining order against her ex-boyfriend Chris Brown inside…
"Claws" has already wrapped up its first season, but Karrueche Tran is still on the promo trail.
The actress stepped out in a blazer mini dress paired with a pair of mesh bootie Lucite heel shoes trekking through the streets of NYC after an appearance on the "Wendy Williams Show."
Rumors have been swirling that the actress is currently dating Migos rapper Quavo after they were spotted together on several occasions: she was backstage at his shows, they spent Memorial Day in Miami together and celebrated her 29th birthday in NYC this year. Yeah, these rumors didn't just appear out of thin air.
Despite spending so much time together, she claims she's single and thatshe's not dating Quavo.
"I'm so into myself right now," she continued. "I'm trying to self-invest with, you know, 'Claws' and everything, I just want to keep that momentum going and just protect me and make sure I am on the right path."
"No, we're dating," she continued. "I'm not dating anybody. I am single. I don't want to focus on anything else other than work, so that is my focus right now."
Mmhmm...
She also talked about how she ended up meeting Chris Brown and why she ended up filing a 5-year restraining order against him once they called it off for good.
"It came to a point where I felt like I needed to protect my safety," she said.
We know y'all remember that video he made when he said something along the lines of if he can't have his ex then no one will.
When asked if he ever threw rocks outside of her window to get her attention, she admitted he did, but she didn't want to get into details.
Luckily, she hasn't run into him during any Hollywood events. "It's so interesting. We have not recently in the past few months or whatever, we haven't cross paths," she revealed.
Peep the clip below:
Can't even front, Kae has definitely shocked us with her total 180.
EXTRAS:
1. "The Daily Show" correspondent Jessica Williams will star, write and executive produce a new Showtime comedy. STORY
Photo: Instar