LeBron James puts away any doubt to the rumors that he isn't "cool" with his teammate Tristan Thompson's girlfriend Khloe Kardashian. Hmph. Meanwhile, Kevin Durant is speaking out about his social media trolling and how it's affecting him. Everything inside...
Apparently, there were rumors that the Cleveland Cavaliers hate Tristan Thompson's girlfriend Khloe Kardashian. We've all heard of the "Kardashian Kurse" and folks were blaming the "curse" as for why the Cavs lost the NBA championship.
Well, there isn't much animosity on the Cavs players' part, specifically LeBron James. TMZ Sports cameras caught King James embracing Tristan's girlfriend Khloe Kardashian with a hug after a night out in L.A.
LeBron was third wheeling (well, not exactly) with Tristan and Khloe at the Halloween Horror Nights at Universal Studios over the weekend. OKC Thunder baller Russell Westbrook and Khloe's sister Kourtney Kardashian also tagged along.
As they were leaving to go their separate ways, Bron and Khloe embraced before hopping in their whips.
Peep the clip below:
Hmph.
Speaking of NBA ballers...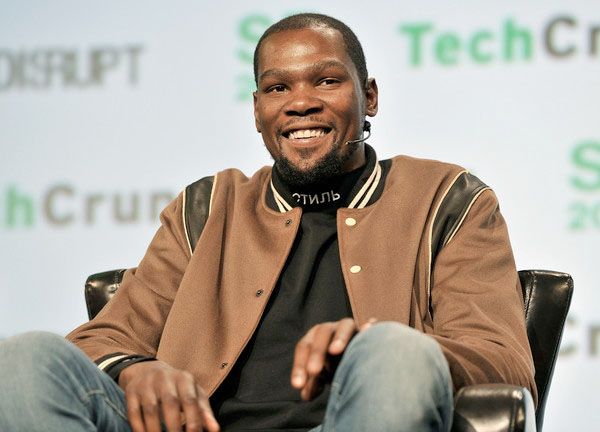 We learned the level of petty Kevin Durant is willing to go to when he started using fake social media accounts to blast his former OKC Thunder teammates and coaches. The kicker? He snitched on himself when he tweeted from his own account as if he was tweeting from one of his troll accounts. Ha! 
Now, he's speaking out about his "childish" social media antics. The Golden State Warriors baller sat down to chop it up on the TechCrunch panel where he was asked about his fake social media accounts.
"I happened to take it a little too far," he said during the panel."I don't regret clapping back at anybody or talking to my fans on Twitter. I do regret using my former coach's name and the former organization that I played for. That was childish. That was idiotic. All those type of words ... I regret doing that and I apologize to him for doing that."
Check it:
He said he still plans on being active on Twitter.
After the panel, the NBA Final MVP chopped it up with USA Today to further explain the sticky social media situation. He owned up to his pettiness and revealed he hasn't slept or ate in two days since he told on himself.
"That was just me being a total (expletive) idiot, he said. "I own up to it. I want to move on from it. It probably hit me probably harder than what everybody (thought). Everybody else was telling me to relax, to snap out of it, but I was really, really upset with myself more than anything. It's not the fact that people were talking about me, because I deserve that, but I'm just more upset with myself that I let myself go that far, you know what I was saying? It was a joke to me at first. I was doing it all summer, and it went too deep. I went too hard… I haven't slept in two days, two nights. I haven't ate. It's crazy, because I feel so (expletive) pissed at myself and I'm mad that I brought someone into it."
Durant tried to explain how it all happened, but his explanation doesn't really make much sense...at least not to us. 
"I was at home (in his Oakland Hills home)," Durant said. "I fell asleep watching football. I woke up, had charged my phone, and I just happened to look on Twitter. And I see (the person's comment that sparked his response), and I just don't remember it. I remember what I said and how I said it, but I just forget everything else. I forgot everything else. I was only focused on that convo, and that was unfortunate. I look like an idiot. My peers are going to look at me like an idiot. All the jokes – bring 'em. I deserve it.
However, he hopes he's forgiven and wants to move on.
"What I thought was a joke is serious to everybody else, and I lost sight of that and I apologize for that. But I'm going to move on. I'm going to move on, and I'm going to play basketball. You can take what you want from it, do what you want with it, but it happened. I'm going to take it on the chin and move on."
Even celebs have their extra petty moments like the rest of us.
By the way, Kevin Durant also covers a new magazine this month:
Thanks @sanfranmag for the love - cover story out now https://t.co/1YgWF29vWbpic.twitter.com/jYehjf6llE

— Kevin Durant (@KDTrey5) September 19, 2017
Photos: Getty