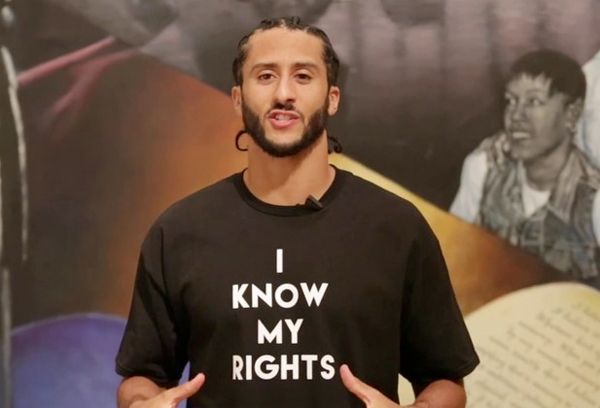 Colin Kaepernick is still fighting for the people and he's donating money to help young immigrants. Get those deets, plus the latest on Ezekiel Elliot being allowed to play inside…
Colin Kapernick is still putting his money where his mouth is.
The former 49ers QB is putting up $25,000 to assist young immigrants affected by #45's Deferred Action for Childhood Arrivals program (DACA) appeal. The president repealed the DACA, which left over 800,000 undocumented immigrants brought to the U.S. as children at the hands of Congress.
In collaboration with United We Dream, the $25,000 is a part of the unsigned free agent's $100,000/month for 10 months donation that he pledged to donate to help the less fortunate.
Here's how the funds will be specifically divided:
Addressing the inequities and obstacles faced by immigrant youth. Over 100,000 members. Current focus: Organize and work for immigrant children to keep DACA in force.

10k for upcoming travel. Air, hotel, lodging, and ground transportation. United We Dream recently held event in Washington DC and sent 300 dreamers to lobby to keep DACA. This budget will pay for 75-100 attendees for a similar rally upcoming.

10k for series of upcoming local gatherings in NY, CT, TX, FL, NM. Facilities rent and security, transportation, food, technology

5k for text service for the network of over 100,000 members.

For more action, check out their website: www.unitedwedream.org
Props, Kaepernick! 
Several celebs spoke out against Trump's controversial repeal, including former president Barack Obama. See what they said below:
"Adult illegal aliens." Just a disgusting display of prejudice, ignorance and heartlessness. But exactly what's expected of these cowards. https://t.co/zfYrS7uizb

— Ava DuVernay (@ava) September 5, 2017
That that horrible man chooses to rescind #DACA two weeks after calling the KKK & Nazis "fine people" tells you all you need to know. #SMDH

— yvette nicole brown (@YNB) September 5, 2017
Okay. The Bad Man continues to do bad.
Your move, Congress.#DefendDREAMers#DREAMAct#LetsGo

— Lin-Manuel Miranda (@Lin_Manuel) September 5, 2017
Great conversation with Colin Kaepernick yesterday. He's absolutely in football shape, ready for a call... if it ever comes. pic.twitter.com/fsuznfIKS7

— Cris Carter (@criscarter80) September 17, 2017
No NFL team has picked up Colin yet and he has yet to retire.
However, Patriots QB Tom Brady (one of the elite QBs in the league) hopes Colin gets another chance in the NFL.
During a web extra for CBS' "Sunday Morning," Tom was asked if he thought Colin will play again in the NFL and he answered with hope.
"I sure hope so. I've always watched him and admired him, the way that he's played. He was a great young quarterback. He came to our stadium and beat us, took his team to the Super Bowl in 2012. You know, he accomplished a lot in the pros as a player. He's certainly qualified, and I hope he gets a shot."
We do too.
Speaking of the NFL...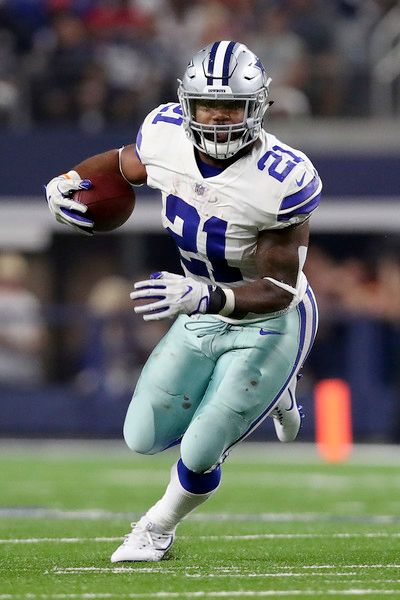 Ezekiel Elliott just inched closer to playing the enire football season with the Dallas Cowboys.
According to reports, the 22-year-old running back has been allowed to continue to play after U.S. District Judge Amos Mazzant handed down a preliminary injunction on Sept. 9th that prevented the NFL from suspending Elliott until his case made its way through the courts. He's currently fighting a 6-game suspension on domestic violence accusations that he was never criminally charged for.
CBS details what went down after the preliminary injunction was issued:
After Mazzant made his decision, the NFL quickly filed to have it overturned, but now the league has been shot down again. In a ruling issued on Monday, Mazzant denied the NFL's motion for an emergency stay of his preliminary injunction. If Mazzant had granted the stay, it would've overturned his own decision and likely led to the suspension of Elliott.

Instead, Mazzant's decision means that that NFL will be taking its legal case to the United States Court of Appeals for the Fifth Circuit. The league has already filed an appeal with the the Fifth Circuit Court and its hoping a decision will come down this week. If the court sides with the NFL, then Elliott's suspension could start soon after the decision is rendered.
It's looking even better for Zeke since the Fifth Circuit doesn't have a high reversal rate, meaning the injunction likely won't get overturned.
Cowboys fans better thank their lucky stars...or maybe not. Zeke played last night against the Denver Broncos and the Cowboys still got crush, 42-17. Sheesh!
Photo: Know Your Rights Camp/Getty