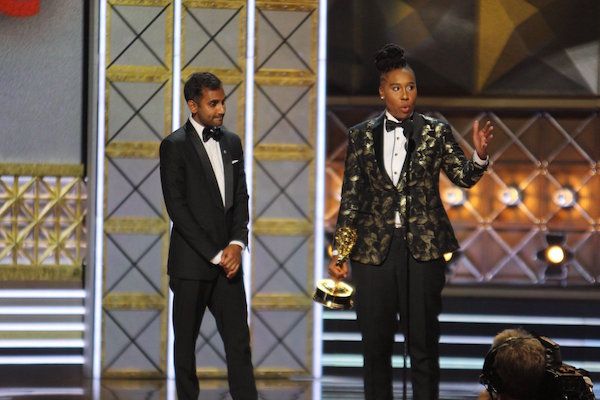 Lena Waithe is sprinkling her Black Girl Magic all through the Microsoft Theater, and she just made EMMY history!
With her epic writing alongside Aziz Ansari on the "Thanksgiving" episode of "Master of None," Lena Waithe just earned her first EMMY.  And she's making history as the first black woman to win the statue for Outstanding Writing in a Comedy Series. Yasssss!
Lena stars on the show as "Danielle," and co-wrote the episode with creator Aziz to tell her own coming out story.  Entertainment Tonight recalls:
For this episode in particular, which tells the story of Denise coming out to herself, her friends and family over five Thanksgivings starting when she's 12 years old, it's not one seen on TV very often. It's a black story. It's a female story. It's a queer story. It's all three combined, told through this unique narrative of gathering around the same dining room table over the course of 22 years.
Lena took the stage tonight after a standing ovation with the perfect acceptance speech, saying:
"Thank you for embracing the little Indian boy from South Carolina and the little queer girl from the south side of Chicago..."
And to the LGBTQIA community she said,"The things that make us different—those are our super powers."
Sweet.  Congrats on this EPIC moment, Lena!
Photo: @TelevisionAcad‏