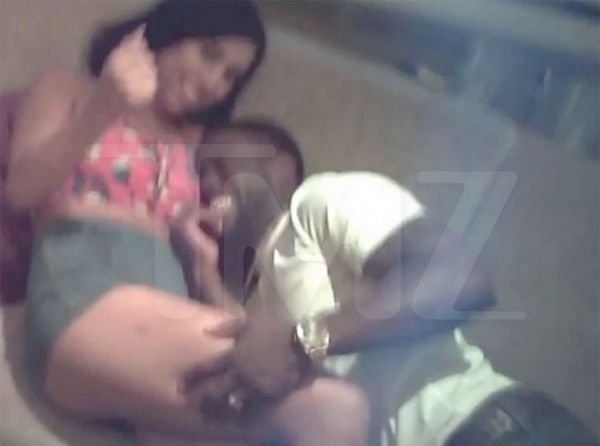 So, she wasn't lying. A screenshot from "sexually suggestive" video of a married Kevin Hart all up on another woman was just leaked. Check it out inside….
Kevin Hart had the Internet in a tizzy when he publicly apologized last night to his pregnant wife Eniko Hart and his children, Heaven and Hendrix Hart, for "bad decisions." Turns out, his "bad decisions" were in the form of a "sexually suggestive" video with a woman who is NOT his wife. And, as expected, the woman was looking for a quick come up.
The Jumanji actor didn't fall prey to her extortion efforts, but he isn't quite off the hook. The woman has released the video and some of it has been leaked online.
TMZ has the rundown on what's in the video:
The 4 minute and 47-second video is highly produced, with audio from Kevin on various radio shows as the video rolls. The video cuts to a bedroom scene where it appears 2 people are having sex on a bed. You can't see the people in the bed, but afterward you see a naked man walking in the room and it definitely looks like Kevin.

During the video you hear Kevin in interviews talking about being young and unfaithful in his first marriage but now that he's 36 he's learned to handle things differently, especially since it's so easy to get caught.
The full video hasn't been released just yet, but a snippet of it where she blasts him has been.  And she's not hiding her desire to get paid.
She made claims the comedian started raising money for relief efforts as damage control because he knew the video could possibly be released and hurt his reputation.
"The real reason Kevin Hart orchestrated the Texas Hurricane Relief Fund, this so-called good deed was done to get ahead as he knew this damaging footage was one click away from being exposed as the liar and cheater he is. Kevin Hart was privy to me wanting to expose him as I have made countless attempts to expose this information to various blogs, in an attempt to also get paid."
Check it:
People in Kevin's camp denied her claims that Kevin started the hurricane relief efforts to help his image. Now, the FBI is investigating the matter and reportedly have a suspect. It's unclear if it's the woman who leaked the video.  It's also unclear exactly when the video was taken.
Photo: TMZ