Racism and sports! The blacks are standing strong behind Jemele Hill over at ESPN, plus see how baseball fans brought racism to the center of the game inside...
Why is everyone doing the absolute most when it comes to a black women speaking her mind and spitting FACTS? Nevermind, we know the answer.
Ever since ESPN SC6's host Jemele Hill spoke her mind on her PERSONAL Twitter account about #45 being a white supremacist, white folks have been at her neck. ESPN didn't waste any time to distance themselves from her comments and then the White House had the NERVE to call for Jemele to be fired. Right, as if there wasn't any pressing world news to talk about.
Now, reports are popping up that ESPN is working hard behind-the-scenes to take Jemele off the air. The network big wigs have even gone so far as to ask other black ESPN hosts to fill her spot. Luckily, they're all standing with her!
Sources tell ThinkProgress that ESPN executives have reached out to several black ESPN hosts to take over "SC6," but none of them are with it. Even her co-host Michael Smith.
The site reports:
ESPN originally tried to keep Hill off the air on Wednesday evening, but [Michael] Smith refused to do the show without her, the sources said. Both sources also said that producers reached out to two other black ESPN hosts, Michael Eaves and Elle Duncan, to ask them to serve as fill-ins for the show — but Eaves and Duncan did not agree to take the place of Hill and Smith, either.
Man.. this day got me like..

— Michael Eaves (@michaeleaves) September 13, 2017
However, ESPN is denying those claims.
"Yesterday was a hard and unusual day, with a number of people interpreting the day without a full picture that happened," Rob King, the senior vice president for news and information at SportsCenter, told ThinkProgress. "In the end, ultimately, Michael and Jemele appearing on the show last night and doing the show the way they did is the outcome we always desired."
"We never asked any other anchors to do last night's show. Period," ESPN spokesman Josh Krulewitz emailed ThinkProgress after this story was published.
Somebody's lying out here. 
Jemele issued what seems like a "forced" apology to her employer on Wednesday:
So, to address the elephant in the room ... #Factspic.twitter.com/RTrIDD87ut

— Jemele Hill (@jemelehill) September 14, 2017
Why won't they just let our girl LIVE?!
In other sports news...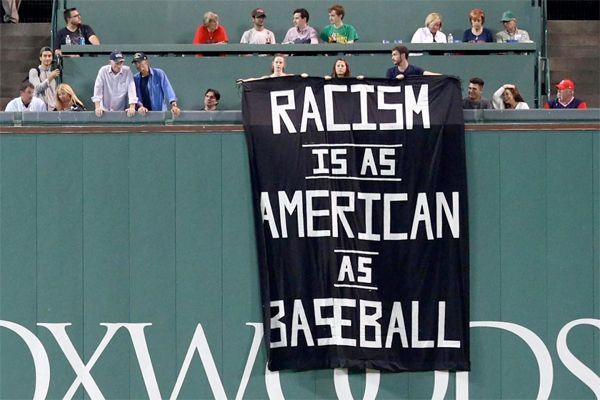 Racism became the hot topic of the moment during Wednesday's Red Sox-Athletics game at Fenway Park in Boston. A group of fans unveiled a controversial banner that reads "Racism is as American as baseball." Where is the lie?
If it wasn't clear at first, the banner is anti-racism, since acknowledging its existence is step one to erasing it.
One of the banner holders (who decided to remain anonymous) told the media the idea came after Orioles star Adam Jones opened up about being called the N-word and having peanuts thrown at him and being called the N-word on multiple occasions.
"The banner came in response to the racist comments at the beginning of the season at Fenway," said one banner holder."Overall, we saw, we see Boston continually priding itself as a kind of liberal, not racist city, and are reminded also constantly that it's actually an extremely segregated city."
Shortly after they rolled out the banner, umpires asked security to remove the fans and the banner.
The banner holder continued, "It has been for a long time, and that no white people can avoid the history of racism, essentially. So we did this banner as a gesture towards that, to have a conversation about that."
Not mad. At least they got their point making everyone uncomfortable - across to the masses.
EXTRAS:
1. Charles Oakley has filed a lawsuit against New York Knicks owner James Dolan and Madison Square Garden. STORY
2. Seattle Seahawks player Michael Bennett is suing the Las Vegas policeover wrongful arrest and assault. STORY
Photos: Getty