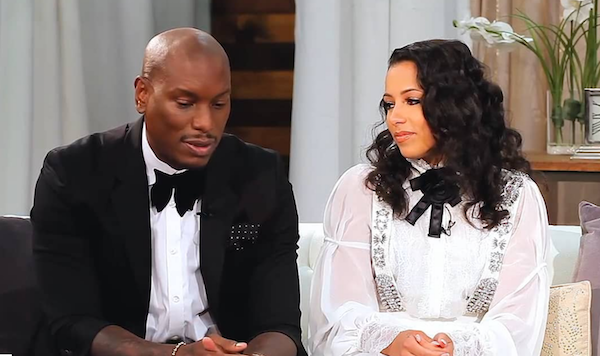 Tyrese and Samantha Gibson sat down with Pastor Creflo Dollar, who also did their pre-marital counselor, to give their first joint interview as a newlywed couple.  Interestingly, Tyrese unveiled it just one day after an ish storm of abuse accusations swirled the net.  Deets inside...
Tyrese and wife Smaantha Gibson headed to Atlanta to chat with Pastor Creflo Dollar, in a 15 minute interview produced by, you guessed it, Ty's Voltron company.  And here's what we learned:
Tyrese says he's found the woman he can't live without. Samantha says she was hesitant to get involved with him after meeting two years ago and she didn't want to end up like the movie "Temptation." The couple talked about how they deal with "haters" and Creflo applauded them for being a great man and woman of God. Also, Sam said she came from a dysfunctional family background and Tyrese revealed both his mother and father were abusive alcoholic "crack heads".
It's not all love and rainbows this week though for Tyrese.  His ex-wife Norma Gibson just filed for an order of protection from Ty, claiming he severely abused their daughter Shayla Gibson last month.  And we mean SEVERELY.
The website The Blast secured the documents, where Norma goes into detail about the beatings he put their 10-year-old through:
Tyrese is being accused of pinning his daughter to the ground and viciously beating her so hard she was unable to sit down afterwards, and now his ex-wife has received a restraining order seeking protection.

In documents obtained by The Blast, Norma Gibson claims on August 19, while their 10-year-old daughter was staying with the actor, he allegedly "went into a rage, pushed our daughter to the ground, pinned her face down, put his knees on her back, grabbed her hands with one arm and beat her with the other."
She said Shayla even begged for mercy, and that the incident was all over Shayla going into her own piggy bank:
She claims the fight started after Tyrese accused his daughter of "stealing her own piggy bank money that she received for her birthday."

Norma claims the child was beaten again several times after she "begged for mercy, " and screamed, "I'm sorry, I'm sorry!  Please stop! You're hurting me!"

She says their daughter later told her, "mum, dad beat me so hard that it hurts when I sit down."
The order of protection has been granted, as of today, and the exes are set to head back to court on October 2nd.  Norma says she's also worried Tyrese will "abduct" their daughter and take her to Dubai where he has significant influence, and she may not be able to bring her home again.
Tyrese is denying it all, even though this is not the first time he has been accused of domestic abuse.  Norma also accused him a few years ago of beating her while she was pregnant.
He even gets petty in an Instagram post telling Norma he's sorry she never re-married and sorry they split up. 
Tyrese admits he's crying out for help, and is asking for y'all to give him a hug if you see him in the streets:
Deep sigh.