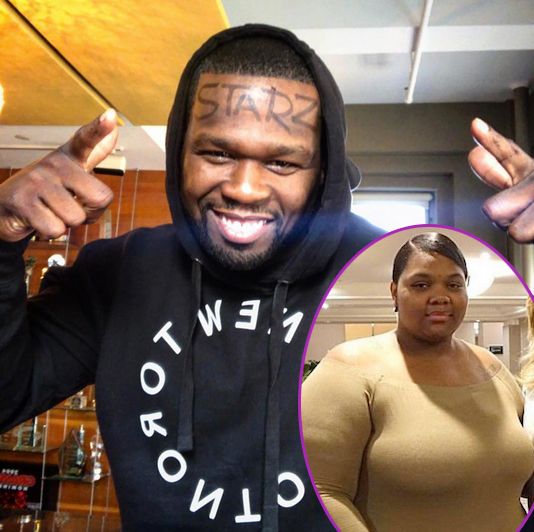 Usher's accuser Quantasia Sharpton LIED about having a sex tape with Usher. Meanwhile, 50 Cent turned a social media dragging into a new deal with the STARZ network. Find out how he did it, plus the latest on Usher's accuser inside…
Quantasia Sharpton, the woman suing Usher for exposure of herpes, is messing her credibility even more after she was previously exposed for lying.
This chick did an interview with YouTuber Miss Jacob claiming she had a sex tape with Usher and that he was down for it.
"I actually have videos," she said. "I keep everything in my phone. I have 250, I think it's gigabytes or megabytes or whatever, of, um, what is it called? Storage. I keep everything in my phone. I don't delete nothing. People lie, but video don't."
Well, that was a lie. At least, that's what her legal team is saying.
Her attorney Lisa Bloom addressed it, but she didn't call it a lie. She told TMZ it was a "misunderstanding." In fact, there is NO sex tape. Doesn't sound like a misunderstanding to us.
Good luck trying to convince a jury, girl.
In other news...
50 Cent loves to stir up controversy on social media, but his latest antic nabbed him a new deal with STARZ, the network his highly popular show "Power" airs on.
Before the season 4 finale, the "Power" star and producers took to his Instagram to encourage his fans to CANCEL their subscriptions. He felt the network didn't show his show the respect it deserved being it's the highest rated program on the network.
"I don't think the STARZ network realize your watching POWER because it's my show," he wrote in a post that he has now deleted. "So take STARZ out of your cable package after you see POWER tonight. Then they will understand I bet. #50centralbet."
There were rumors that STARZ accused Fif of leaking the episodes because he didn't get his way.
Well, someone got on the phone and it resulted in Fif and the network working out a new deal. Which means, more "POWER."
He posted:
Less of a wait for season 5? YES!!!
Fif also has three new shows coming to STARZ as well. He shared, "LOL yo this shit is unbelievable, I have 3 new shows coming on STARZ. BMF, Tomorrow Today, and I GOT AWAY. TICK, TICK BOOM. #50centralbet"
By the way, he also has a new show coming to BET called "50 Central":
Do we believe majority of this "beef" was just a PR stunt...sure.  But we wouldn't be surprised if there was at least a little truth to this as well...
Photos: 50's IG