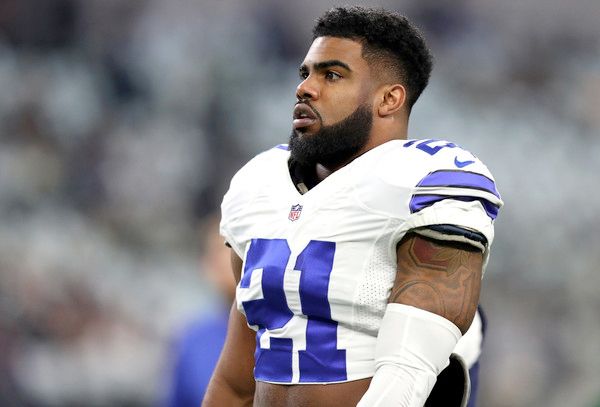 Cowboys baller Ezekiel Elliott's 6-game suspension is being upheld after his appeal hearing. However, he will suit up for the first game of the season. Meanwhile, Seahawks player Michael Bennett recounts how he was assaulted and wrongfully arrested by Las Vegas police. Get it all inside….
Dallas Cowboys running back Ezekiel Elliot is not a happy camper.
Harold Henderson, the designated arbitrator in Elliott's appeal, has upheld his 6-game suspension after domestic violence claims from his ex-girlfriend Tiffany Thompson. Zeke was never found guilty, but the NFL claims he violated the league's personal conduct policy.
Ezekiel Elliott 6 game suspension has been upheld by Harold Henderson, per source

— Chris Mortensen (@mortreport) September 6, 2017
But get this…
Yes, Elliott will play Sunday, multiple sources confirm, as @TomPelissero reported https://t.co/Mcz4FScSBU

— Chris Mortensen (@mortreport) September 6, 2017
While his 6-game suspension is being upheld, Zeke will get to play in Sunday's season opener against the New York Giants. It's actually uncertain when Zeke will hit the field again after that because there are a few avenues he could take before the 6-games.
According to CBS News:
Before Henderson's ruling came down, Elliott sued the NFL, asking the Eastern District Court of Texas to overturn Henderson's ruling, claiming that there was a "league-orchestrated conspiracy by senior NFL executives ... to hide critical information." Elliott is also seeking a temporary restraining order against the NFL, which would prevent the NFL from enforcing Henderson's arbitration ruling. According to Pelissero, the judge will rule on the temporary restraining order by Friday.

If he's granted the TRO or an injunction at a later point, he'll be allowed to play while the matter gets resolved in court, though he could still be forced to serve his suspension at a later point -- like how Tom Brady was allowed to play during the entire 2015 season, but ultimately served his four-game suspension the following year. If he's not granted the TRO or an injunction, he'll serve his suspension after Week 1.
A ruling is expected by 5 p.m. Friday.
Zeke and his legal team plans to fight this for as long as it takes to get him back out on the field.
By the way, folks are shading Zeke's accuser Tiffany:
In other NFL news....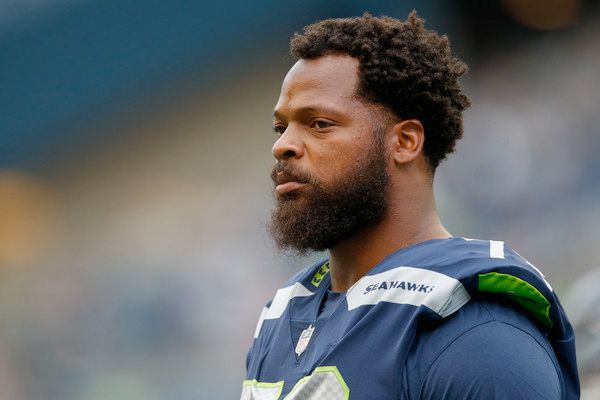 Sighs….
Another day, another black man being wrongfully accused, assaulted and arrested by police.
Seattle Seahawks player Michael Bennett was just trying to have a good time in las Vegas for the Floyd Mayweather vs. Connor McGregor fight. But, things when from bad to worst when Las Vegas cops wrongfully accused him of a crime. Apparently gun shots rang off and police swooped in on the NFL star.
The defensive end, who sits during the national anthem before games, claims police used excessive force while trying to arrest him for something he didn't even do. As he recalled the event on Twitter, he said he felt "helpless" and "terrified" during the ordeal and that he's considering filing a civil rights lawsuit.
Read his account below: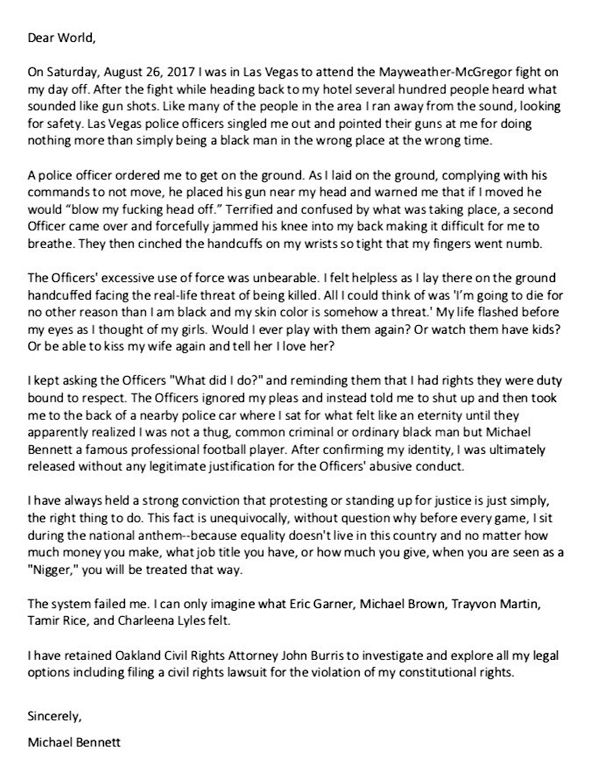 And here's a clip of what happened below:
Sighs...
EXTRAS:
1. Texas A&M head coach Kevin Sumlin speaks out after horrific game loss and the call for his firing. STORY
2. Steve Harvey says he should have listened to his wife and not met with Donald Trump. STORY
3. Michael Irvin is now under NFL investigation after that dismissed sexual assault case. Ezekiel Part 2?  STORY
Photos: Getty