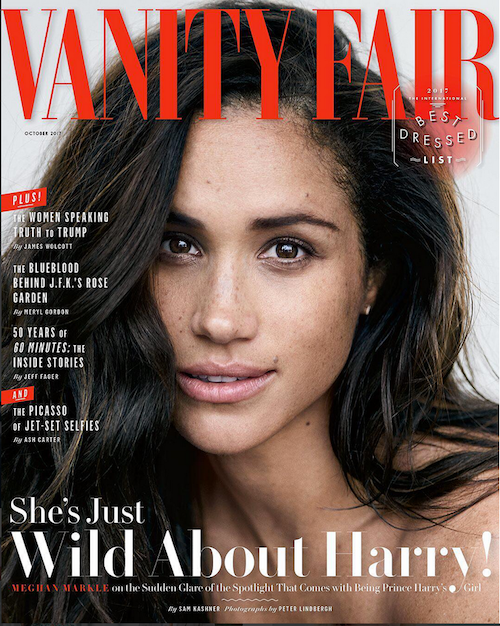 Meghan Markle was waiting for the perfect time to finally talk about her whirlwind romance with Prince Harry.  And that perfect time comes in the form of the October 2017 cover of Vanity Fair.  Get it all inside...
They've been talked about for over a year now. But never have we heard Meghan herself speak about her royal bae Prince Harry....until now.  And no, we don't think it's a coincidence that the "Suits" star - who was barely known before this latest relationship - lands the cover of one of the most coveted fashion magazines while speaking up.
She's a fab chick though, so we're not mad at any of these strategic moves.
Meghan seems to have been in "princess training" for a while now -- changing her Instagram page to focus on charities, ending her lifestyle blog, never speaking about her relationship, possibly quitting acting, and rarely ever attending Hollywood events.  When she does speak, it's about charitable causes. 
Harry did make an official announcement last October -- after dating for a few months prior -- that they are a couple.  He did so to ask for privacy in the midst of Meghan and her family receiving death threats and racist remarks.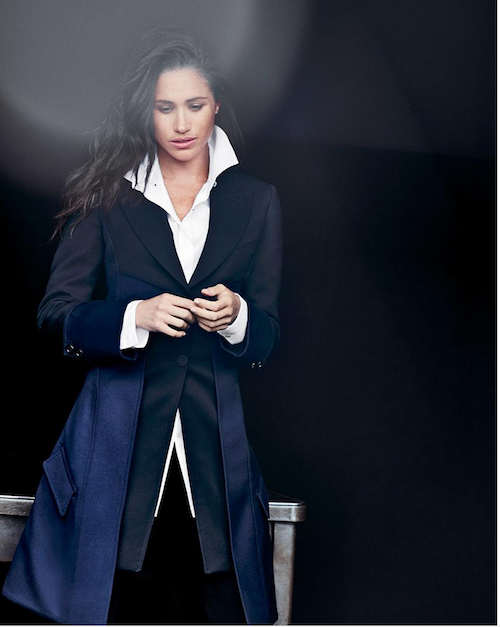 As for why the couple has kept their relationship mostly under wraps -- outside of Royal protocol which says they cannot attend official public events together as a couple until there's an engagement --  it's because they want to keep it private.  But, Meghan says they're definitely in love, and definitely a couple.
'We're a couple. We're in love. I'm sure there will be a time when we will have to come forward and present ourselves and have stories to tell, but I hope what people will understand is that this is our time. 'This is for us. It's part of what makes it so special, that it's just ours. But we're happy. Personally, I love a great love story.'
Meghan did attend Pippa Middleton's wedding reception, which went down in complete secrecy.  And she's attended a few private functions.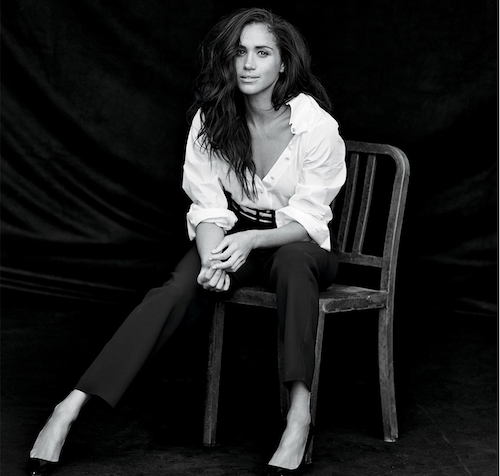 The 36-year-old called Prince Harry her "boyfriend," and revealed the pros and cons of having a real life prince charming:
'It has its challenges, and it comes in waves — some days it can feel more challenging than others. 'And right out of the gate it was surprising the way things changed. But I still have this support system all around me, and, of course, my boyfriend's support.'

'I can tell you that at the end of the day I think it's really simple. We're two people who are really happy and in love.'
Meghan says she tries not to read stories about herself on social media and in the press, and the people close to her know she's still the same chick:
'The people who are close to me anchor me in knowing who I am. The rest is noise.' She added: 'Nothing about me changed. I'm still the same person that I am, and I've never defined myself by my relationship.'
We've seen them both jetset to visit each other across the world.  We hear Meghan has even brought her mother to Britain to meet the Royals and Harry has traveled to Canada and L.A. to visit Meghan at work and at home.
We're here for it. All of it. You can read her full interview over at VF.   #operationsecuretheroyalring
Photos: Peter Lindbergh for Vanity Fair