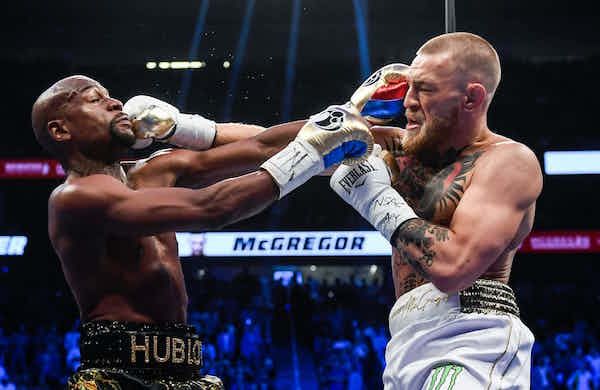 You would think they were besties if you only saw their post-fight press conference. That wasn't the case during last night's fight though where Floyd Mayweather and Connor McGregor literally threw all the punches to get a TKO ending. Find out how celebs are going nuts inside...
IssaTKO!  Floyd Mayweather officially nabbed his 50-0 record when the ref called the match in the 10th round last night during the fight of the year....possibly the decade thanks to all the hype.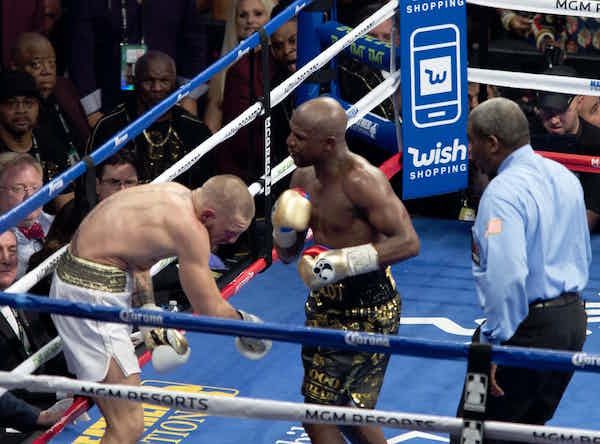 Irish MMA fighter Connor McGregor proved to be more of a bonafide opponent than most folks thought, but he ran out of steam toward the 10th round.  And it was a wrap.
McGregor may have landed a punch...maybe two.  The quick on his feet Mayweather dodged most punches and definitely landed a few of his own (you could see Connor's black eye at his fight after party).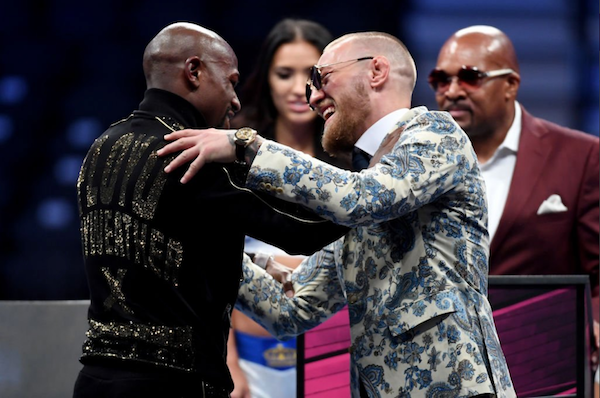 At the post-fight press conference, they exchanged niceties after berating each other for months.
Floyd said, "McGregor is a lot better than I thought he'd be."
Floyd also confirmed he's retiring on his perfect 50-0 record: "This was my last fight, for sure. I chose the right dance partner."
By the way, can we discuss Floyd's head to toe custom Philipp Plein pre-fight and walk out looks?
Mask on, mask off, all extra-ness. Twitter had all the jokes about that damn ski mask.
Celebs were here for Floyd's historical undefeated record, even though he was the favorite to win anyway.
Russell Wilson and Ciara had the Seahawks over for a fight party, and the QB decided to throw it back to the 90's with this TMT look.  Apparently it's because he lost a bet (not a bet on the fight). We can't even! Hilar.
Idris Elba, Manny Pacquiao, Kevin Hart and more chimed in too:
Respect to McGregor for taking a chance but congrats to Floyd on #50!

— Manny Pacquiao (@mannypacquiao) August 27, 2017
Kevin Hart got WAY into Mayweather vs. McGregor last night.

(Kevin Hart, Chris Paul | Snapchat) pic.twitter.com/duC3FGYt2B

— SB Nation (@SBNation) August 27, 2017
Mayweather. Period.

— Jada Pinkett Smith (@jadapsmith) August 27, 2017
RT if you had Conor and voted trump but you don't know how tell ppl

— Lil Chano From 79th (@chancetherapper) August 27, 2017
It's a lot of Floyd can't read jokes on my TL and I'm happy because it's helping me identify you salty mfs. AAAAAAAHHHH U SALTY AAAAAH
But not everyone was here for the Money Mayweather train:
Mayweather is a serial beater of women, a heavy Trump supporter, & down w/ the All Lives Matter camp. And yet... you cape. He's your hero. https://t.co/NP9iGdQWhk

— April (@ReignOfApril) August 27, 2017
Floyd and Connor both chimed in post-fight:
Thank you everyone in Las Vegas and everyone at home who ordered PPV. Thank you @SHOsports and my team @MayweatherPromo. pic.twitter.com/royY4mGHkc

— Floyd Mayweather (@FloydMayweather) August 27, 2017
Thank you to the great country of Ireland and all the countries around the world for supporting me.

— Floyd Mayweather (@FloydMayweather) August 27, 2017
50 - 0

— Floyd Mayweather (@FloydMayweather) August 27, 2017
Without God, none of this is possible. THANK YOU

— Floyd Mayweather (@FloydMayweather) August 27, 2017
Either way, the bag was reportedly secured for both. Floyd copped another $350M while Connor went home with an extra $100M. SOounds like a win-win to us.
Photos: Getty